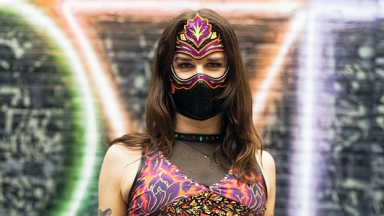 View gallery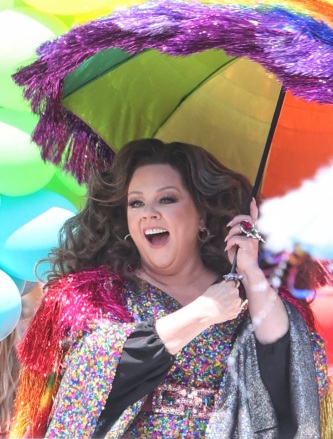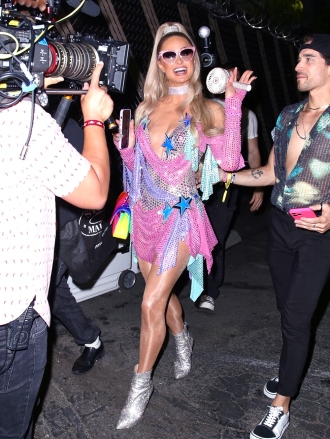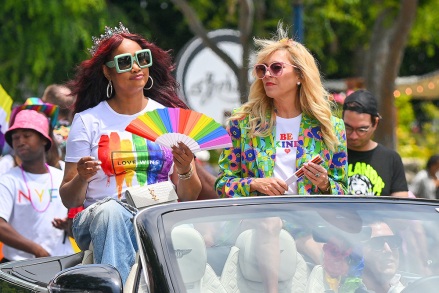 Image Credit: Kyle Olsen
It's Pride Month! Throughout June, HollywoodLife is celebrating with The Sound Of Pride, where celebs and stars of the LBGTQ+ community pick songs for the ultimate 2023 Pride Month playlist. It's the perfect soundtrack to planning your Pride party, researching how to protect LGBTQ+ rights, or reading about the history of Pride Month. In this corner, it's Edith Surreal, the hypnagogic grappler helping to put the "art" into the art of wrestling.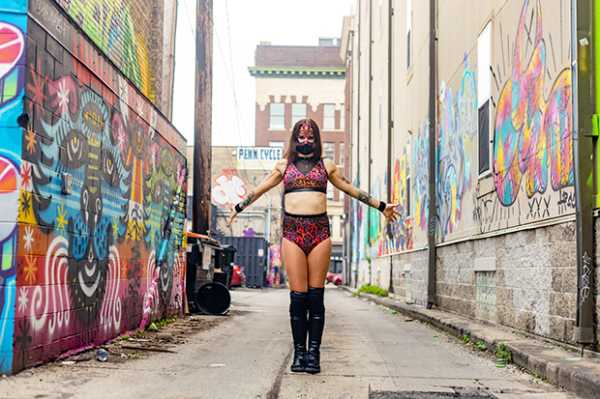 Edith among the art of the world. (Kyle Olsen)
From Girl With Pearl Earring to Woman With Championship Belt – Edith Surreal began life as a painting and now stands as one of the trailblazing combatants on the independent wrestling scene. Beginning her career as Still Life With Apricot And Pears, the future Edith would help wrestling fans rediscover the sport's artistic roots both with her gasp-inducing performances, and her equally outstanding merchandise (Andy Warhol was a devoted fan, after all, and he'd probably be sporting an Edith Surreal shirt if he was still with us.) Edith helped expand the concept of both "what is art?" and "what is wrestling?" leaving both better in her wake.
First identifying as nonbinary, Edith later came out as transgender, which puts her at risk if she performs in a state with anti-LGBTQ+ laws on the books. This is something she is well aware of during this Pride Month. "Our existence is constantly under legislative attack in 2023," Edith tells HollywoodLife when picking songs for The Sound Of Pride. "It's not a celebration this year; it should be a call to arms."
View this post on Instagram
Edith will not shy from the fight. In fact, she will be in action on June 17, putting her Enjoy Wrestling Championship on the line in a match with Su Yung of Impact Wrestling. Fans can see Edith and the other stars of Enjoy Wrestling at Something To Talk About, taking place at the legendary Mr. Smalls Theatre in Pittsburgh.
While buying the tickets for the event and registering to vote, read on for Edith's selections for The Sound of Pride.
Against Me!
"Against Me! has always been one of my favorite bands. So it was especially meaningful to me when Laura Jane Grace came out as a trans woman. Before her, there wasn't a well-known trans femme person that I could really identify with. She was a cool badass with chipped nail polish and wrote gritty songs about trans existence. I even have the lyrics to her song "Bamboo Bones" tattooed on my arm: 'What God doesn't give to you, you've got to go and get for yourself.'"
Editor's Note: Edith picked Against Me! so we will include "Bamboo Bones" on the playlist.
Orville Peck
"I have no choice but to love Orville Peck. Obviously, I relate to the mystique and freedom that comes with performing under a mask. Country music, like professional wrestling, is generally performed at the extremes of masculinity and femininity. However, as a queer songwriter, Orville circumvents those expectations the same way being a queer wrestler does. I'm particularly drawn to his covers of 'Smalltown Boy' and 'Fancy.'"
Editor's Note: We'll add "Fancy" to the playlist.
The XX
There is a certain essence that queer artists and performers have. Maybe it's because so many of us spend time in the closet, desperately holding onto a secret. I've always been drawn to the XX, even before I knew the two singers, Romi and Oliver, were queer. I also love their minimalist and simple approach to music, every note is intentional, and nothing is extraneous.
Editor's Note: "Swept Away" seems like a good pick for The XX.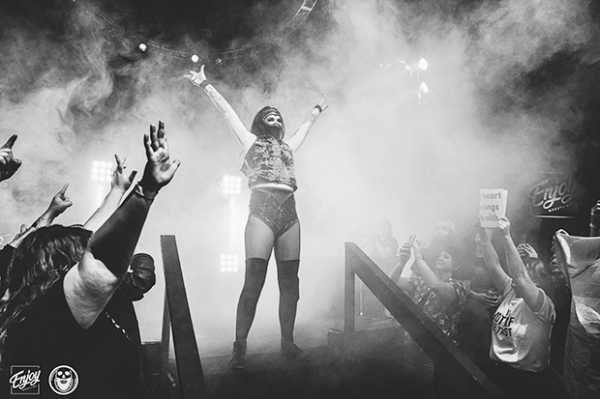 (Kyle Olsen)
How does Pride 2023 feel when compared to last year's?
"'There is no Pride for some of us, without Liberation for all of us,' said Marsha P Johnson has been sort of a rallying cry for us in queer wrestling circles. Our existence is constantly under legislative attack in 2023. It's not a celebration this year, it should be a call to arms.
Pride is a time to celebrate unsung heroes. Is there anyone you'd like to see get some more of the spotlight this year?
I've always looked up to Cassandro el Exotico. Many say he was the first exotico. Exoticos were typically played by straight cis wrestlers and used overly queer stereotypes to get heat from the crowd. Cassandro, however, reclaimed it with respect and dignity. Wrestling has a long history of using queerness as the butt of the joke, and I love how Cassandro made it a point of pride.
What do you have planned for June (and the rest of 2023?)
I'm most excited about my first big Enjoy Championship defense on June 17th at Mr. Smalls Theater. Enjoy Wrestling has a very inclusive roster and already has become of the top independent wrestling companies in the US. It means a lot for me to be their champion.
Do you have a Pride 2023 message to share with the HollywoodLife audience?
Please register to vote.
Keep reading HollywoodLife throughout June for more entries in The Sound of Pride and additional Pride Month coverage. And remember — fix your heart or die!
Click to Subscribe to Get Our Free HollywoodLife Daily Newsletter to get the hottest celeb news.
View Related Gallery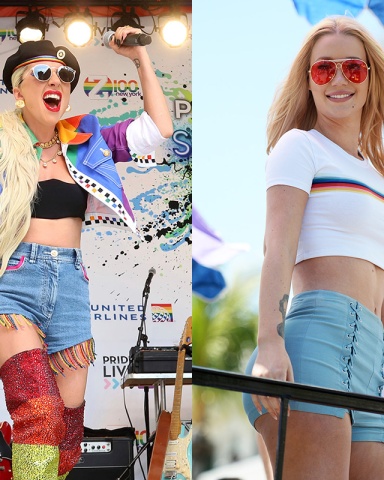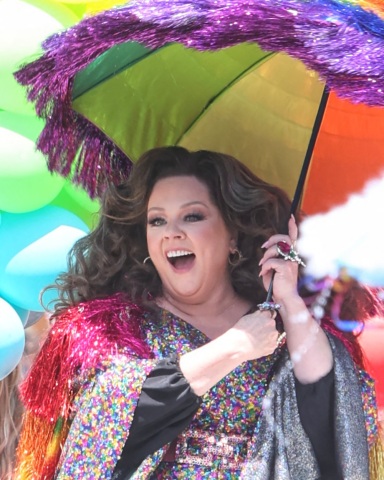 Melissa McCarthy is seen attending the WeHo Pride. 04 Jun 2023 Pictured: Melissa McCarthy. Photo credit: APEX / MEGA TheMegaAgency.com +1 888 505 6342 (Mega Agency TagID: MEGA990976_001.jpg) [Photo via Mega Agency]
Sourse: hollywoodlife.com