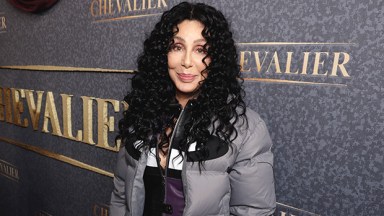 Image Credit: Todd Williamson/JanuaryImages/Shutterstock
Cher is coming out with her first Christmas album.
Cher Christmas does not have a release date yet.
Cher hasn't released an album since 2018.
Cher has big plans this holiday season. The iconic singer, 77, officially announced her first-ever Christmas album, Cher Christmas, on September 7. "Are you spending Christmas with me?" Cher wrote on Instagram alongside a photo of the cover art of her upcoming album. Cher Christmas is Cher's 27th album in her career and her first album since 2018's Dancing Queen.
Cher's fans are so excited to celebrate the upcoming holiday season with her new music. Here is everything you need to know about Cher Christmas.
When Will Cher's Christmas Album Be Released?
Cher has not announced the release date for Cher Christmas, which is available for pre-order now. The album will drop sometime before the holidays later this year.
After much speculation, Cher confirmed she was coming out with her first-ever Christmas album on September 7. The album's cover art features the "Believe" singer wearing a light blue shirt and blue jeans that are bedazzled with diamond stones while standing on a pile of snow in silver platform heels. Cher is surrounded by silver and red ornaments in the photo, which says "CHER" in big silver letters.
View this post on Instagram
Cher also released the Amazon-exclusive cover for her album on September 9. That art features Cher with blonde hair, instead of her signature brunette locks, and wearing a long silver dress with tassels while standing on snow in the water with frozen glaciers behind her. The words "CHER" and "Christmas" are both written in bright red. "Christmas already? But I've got nothing to wear…," she wrote on Instagram while promoting the second cover art.
View this post on Instagram
Cher has not released an album since 2018 with Dancing Queen. That album featured Cher's covers of all ABBA songs many of which were sung in Mamma Mia! Here We Go Again which Cher starred in. Cher's latest album with her own original music is Closer to the Truth, which came out in September 2013.
Who Will Be Featured On Cher's Christmas Album?
Cher will obviously be the main artist on her new album — but she won't be singing alone! Cher confirmed that Cher Christmas will feature guest singers during an interview on Good Morning Britain on Sept. 4. "I'm really, really excited because there's millions of people on it and I've never had duets," she said. "I've never had people on any of my records and this was a last-minute thing. I'm kind of a last-minute girl." The hosts asked Cher to name-drop the artists on her Christmas album, but she stayed tight-lipped. "I can't, I can't. But they're special," she said. "I mean, I'm in awe of all of them."
What Songs Are On Cher's Christmas Album?
The track listing for Cher Christmas hasn't come out yet. But Cher has promised that the album will feature her own songs instead of renditions of classic holiday music. "It's not your mother's Christmas album. It's a Cher Christmas album, whatever that brings along with the name," she told The Hollywood Reporter in August. "It's definitely my idea of a Christmas album. I had to do what I felt. There's no 'Silent Night.' "
Sourse: hollywoodlife.com