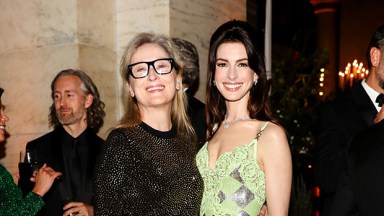 Image Credit: Neil Rasmus/bfa.com/Shutterstock
Don't be ridiculous. Everybody wants this. And Miranda Priestley was correct. Anne Hathaway and Meryl Streep gave us The Devil Wears Prada reunion we didn't know we needed at the Albie Awards on September 28.
Anne, 40, and Meryl, 74, posed together for a photographer during the New York City event, which was hosted by George and Amal Clooney. Meryl sweetly wrapped her arm around Anne for the photo. Meryl looked chic in a sparkly sweater and black pants. Anne, making Miranda proud, slayed in a low-cut green and silver Versace dress. The sparkling gown had a '70s-style pattern and was adorned with green lace.
Anne Hathaway and Meryl Streep at the Albie Awards. (Neil Rasmus/bfa.com/Shutterstock)
This latest reunion comes more than 17 years since The Devil Wears Prada hit theaters and changed our lives forever. The film became an instant millennial classic and earned Meryl yet another Oscar nomination.
Despite Anne being the only person who could have truly played Andy Sachs, she actually wasn't the top choice for the role at first. According to EW's oral history of the film, which was published in 2021, Rachel McAdams was offered the role three times and declined.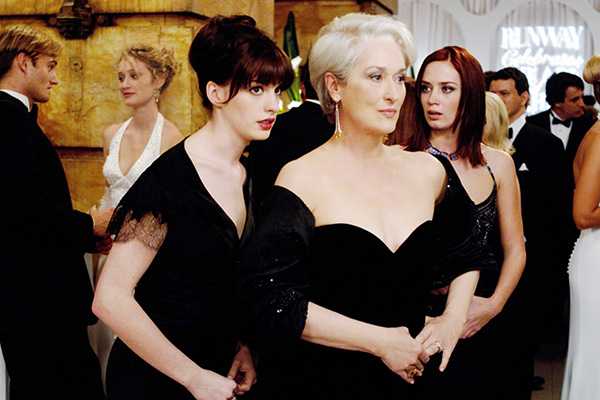 While The Devil Wears Prada team wanted Anne, the studio wouldn't move forward. It wasn't until Meryl stepped in that Anne got the role. "Meryl was eager to make the movie, and she said, 'Let me meet with her,'" director David Frankel said. "Brokeback Mountain was about to come out. Annie had a wonderful, small role in that. And Meryl watched that scene from the movie, she met with her and called up Tom Rothman at Fox and said, 'Yeah, this girl's great, and I think we'll work well together.'"
Anne and Meryl have reunited on red carpets a number of times since The Devil Wears Prada, including at the Vanity Fair Oscars after-party in 2009 and 2014 Oscars.
Sourse: hollywoodlife.com