View gallery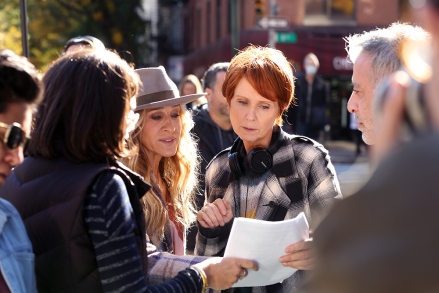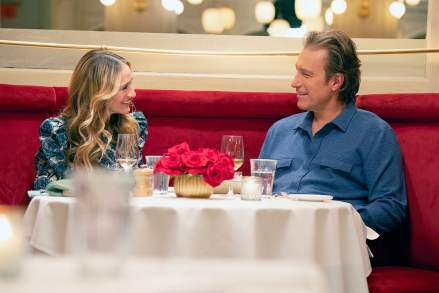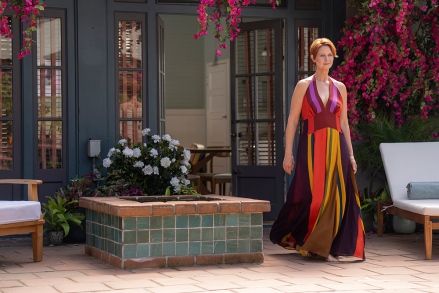 And Just Like That Season 2 is just two days away and series creator, Michael Patrick King, 68, gave fans a hint that Carrie Bradshaw (Sarah Jessica Parker) and Aidan Shaw (John Corbett) could be endgame after all. "I didn't bring Aidan back to fail," the Sex and The City director and writer told The New York Times on Jun. 20. John, 62, who played Carrie's on-and-off beau for two seasons on SATC, also noted that there has been a major change in his character's growth. "He's really, really listening to her now," he told the outlet.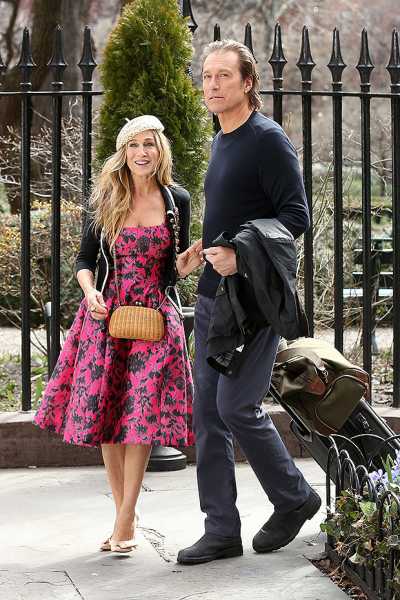 Carrie Bradshaw & Aidan Shaw's future in 'And Just Like That' could be one for the books, according to series creator. (Christopher Peterson / SplashNews.com)
SJP, who has played the beloved columnist for over 25 years, also chimed in via telephone and told the NYT, that Carrie and Aidan's romance has evolved. "It's not fevered; it's not demanding," she told the outlet of her on-screen romance. "There's so much heat between them, but there isn't that urgency from him." As many SATC fans know, Carrie and Aidan were previously engaged, however, their romance came to an end after Carrie had trouble with the idea of a lifelong commitment. More so, prior to their engagement, Carrie cheated on Aidan with Big (Chris Noth), which also strained their relationship.
View Related Gallery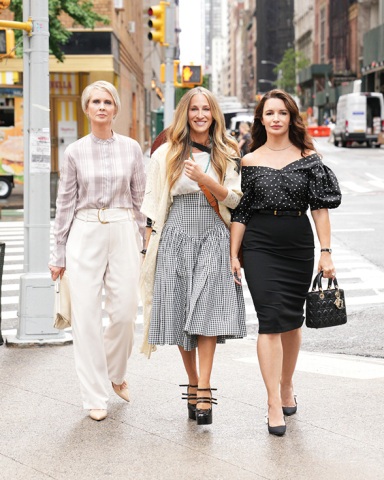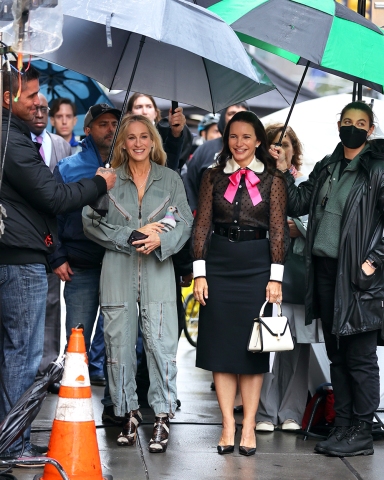 Sarah Jessica Parker and Kristin Davis are all smiles braving the rain to film at the "And Just Like That" season 2 set in Uptown, Manhattan. Pictured: Sarah Jessica Parker,Kristin Davis Ref: SPL5491277 051022 NON-EXCLUSIVE Picture by: Jose Perez / SplashNews.com Splash News and Pictures USA: +1 310-525-5808 London: +44 (0)20 8126 1009 Berlin: +49 175 3764 166 [email protected] World Rights
John went on to reveal that he was a bit "jealous" and had some FOMO when seeing his former co-stars film the SATC revival. "Especially when some of the photos would pop up of them shooting in the streets," he said. "I would get a little jealous that I wasn't asked to come back and do a cameo." It also was not lost on the My Big Fat Greek Wedding star how much the role of Aidan Shaw contributed to his successful career in Hollywood. "It's given me such a wonderful life, and asked so very little in exchange for that big sack of money that I got," John added. "I've gotten everything out of this life that I wanted."
As dedicated And Just Like That viewers know, Chris' character, Mr. Big (AKA John James Preston), was killed off in the first episode of the reboot which premiered in Dec. 2021. At the time, Carrie and Big had been married for a few years, but after he suffered a heart attack the remainder of Season 1 saw SJP's character go through a painful grieving process. Now, it seems things are turning around for Carrie, as the show's official Instagram confirmed Aidan would be coming back by sharing photos of the former lovebirds holding hands on Jan. 13. "Shh. Don't tell anyone," they captioned the now viral photos.
Later, SJP and the show's social media got fans in a frenzy on Feb. 9, after they shared a series of photos of Aidan and his ex-fiancé passionately making out. "And just like that Carrie is back on her tip toes," they captioned the PDA photos at the time. This season, which premieres on Jun. 22 on Max, will also see another familiar face, Kim Cattrall's beloved Samantha Jones. The 66-year-old will reprise her role as the PR executive for a brief moment. Most recently, SJP told E! News on Jun. 20, exactly how that came about. "The idea emerged because of the 25 years and wanting to celebrate that, but also acknowledge the affection that we had for Samantha—that we continue to have," she explained. "She's been present on the show in text form, so it just seemed such a nice way to put a face to the text, and just have a moment."

Click to Subscribe to Get Our Free HollywoodLife Daily Newsletter to get the hottest celeb news.
Sourse: hollywoodlife.com