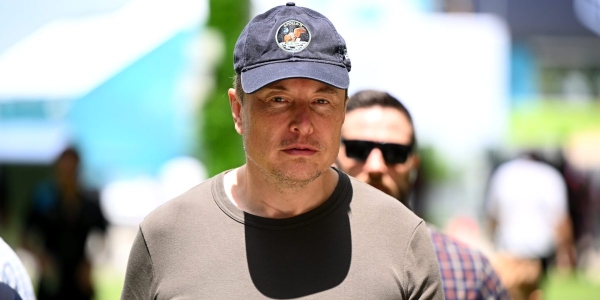 Tesla CEO Elon Musk doesn't appear to feel threatened by Ford and GM. Indeed he may view them as customers.
Both of the legacy carmakers recently announced that drivers of their electric vehicles would, starting early next year, be able to use Tesla Supercharger stations, and that they would adopt Tesla's North American Charging Standard (NACS) for connectors. That could lead to more crowded charging stations and encourage some EV customers who might otherwise buy a Tesla to instead purchase a Ford or GM vehicle—which, on the face of it, might sound like an unwise move by Musk and company.
But Dan Ives, a Wedbush Securities analyst, sees something bigger at play. Tesla, he believes, is just getting started with selling access to its infrastructure and technologies, and an "AWS moment" is at hand.
AWS, or Amazon Web Services, went from a risky bet to an enormous success for Amazon. What is today a dominant cloud computing platform started as essentially an internal cloud that the online retailer built for itself out of necessity. Selling access to the infrastructure it had developed turned out to be a genius business move for Amazon, despite the doubters, thrilling investors and making founder Jeff Bezos even wealthier. 
Today, Tesla has infrastructure and technology it's likewise developed for its own use that legacy carmakers could benefit from as well. 
"I believe this is just the first step," Ives told CNBC on Friday. "It's starting with Superchargers and, ultimately, I think the next step could be battery technology. I think that's the golden goose right now is that they've built the castle [and are] waiting for others to call." Ford CEO Jim Farley and GM CEO Mary Barra have made the call, he noted, suggesting others will follow.
As for the possibility that Supercharger access will help GM and Ford sell more electric vehicles, Ives suggested that's just fine with Tesla: "My view is that Musk needs GM and Ford actually to be successful for the broader EV vision, in terms of just adoption in the United States." 
This week, Musk tweeted that Tesla "aspires to be as helpful as possible to other car companies" and is "enabling other companies to use our Supercharger network." He added, "Also happy to license Autopilot/FSD [full self-driving] or other Tesla technology."
Ives said Tesla could generate billions from its Ford and GM charging partnerships in the years ahead and thinks the company is just getting started with that kind of services revenue. He referred to the two carmakers as early "ambassadors" to Tesla's plan of granting access to its technology and infrastructure. 
Piper Sandler estimated in a research note that Tesla could add upwards of $3 billion in charging revenue from non-Tesla owners by 2030 and $5.4 billion by 2032.
Such revenue, along with federal incentives, will help Tesla expand its charging network.
Tesla shares are up 126% year to date, helping Musk reclaim the title of the world's richest person from luxury tycoon Bernard Arnault.
"From batteries to Superchargers to storage—the sum-of-the-parts thesis is now starting, I believe, in the early stages to play out with investors," Ives said.