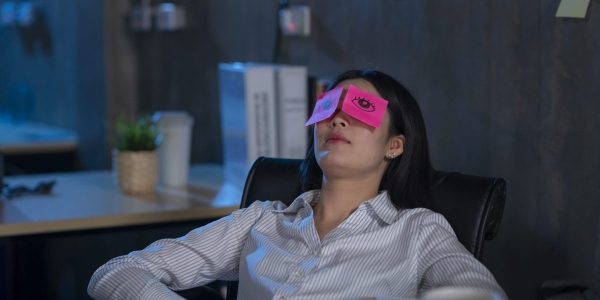 Napping on the job was once grounds for being fired. But new research shows that it may be wise for employers to actively encourage workers to take a power nap for better brain health.
In fact, researchers at UCL, one of the top universities in London, and the University of the Republic in Uruguay found that daytime napping could slow the rate at which brains shrink as we age.
The research team—who hope their findings will reduce any stigma that still exists around daytime napping—also found evidence that a short snooze can improve learning abilities and prevent dementia.
Dozing delays brain shrinkage
Previous research has shown that napping has cognitive benefits, with people who have had a short nap performing better in cognitive tests in the immediate aftermath, than those who did not nap.
So the researchers set out to establish if there was a causal relationship between daytime napping and brain health.
The genetic variants influencing our likelihood to nap were already identified in an earlier UK Biobank study that collated genetic, lifestyle and health information from 500,000 people aged 40 to 69.
Drawing on this data, the team at UCL and the University of the Republic in Uruguay used measures of brain health and cognition of 35,080 participants to see whether those who are more genetically programmed to nap had better brain health.
They found that, overall, people that are predetermined to nap had a larger total brain volume—a marker of good brain health linked to a lower risk of dementia and other diseases.
The study suggests the average difference in brain volume between habitual nappers and those who don't nap is equivalent to 2.6 to 6.5 years of aging.
"Our findings suggest that, for some people, short daytime naps may be a part of the puzzle that could help preserve the health of the brain as we get older," senior author Dr Victoria Garfield, from UCL, wrote in the journal Sleep Health where the findings were published. "I hope studies such as this one showing the health benefits of short naps can help to reduce any stigma that still exists around daytime napping."
Although the researchers were unable to pinpoint the exact duration of naps associated with the benefits, Garfield noted that previous research has suggested that up to 30 minutes of nap time may be beneficial.
Another study limitation the authors acknowledged is that all of the participants were of white British ancestry, so the results could differ for other ethnicities.
Napping on the job
Some bosses already hailed snoozing as a great way to improve productivity and well-being, long before the research touted its efficacy.
Google, Ben & Jerry's, Cisco and Nike are among the small but growing list of employers to have embraced napping as an on-the-job perk and introduced dedicated napping facilities in their workspaces.
Employees at Google have long been able to step into high-tech beds—which look more like a gadget from a sci-fi film than a cozy place to rest your head—to block out noise and light for the perfect 20-minute power nap.
Meanwhile, Ben & Jerry's has offered a small nap room at its offices in South Burlington, Vt., for more than 15 years. Use of the room, which includes a futon and blanket, is limited to 20-minute slots. 
Most recently, Elon Musk, the serial entrepreneur and multibillionaire known for his tough work ethic, allegedly turned office space at Twitter's San Francisco HQ into makeshift bedrooms for tired employees after acquiring the company.
However, the Tesla, SpaceX and Twitter owner who claims to have slept under his desk and on a factory floor in the past to prove his dedication to his job, isn't encouraging staff to take up the practice for their brain health—but rather so that they can spend more time at the office. 
Musk has insisted that workers "need to be extremely hardcore" and work "long hours at high intensity," to succeed.
Twitter responded to Fortune's request for comment with its customary poop emoji.