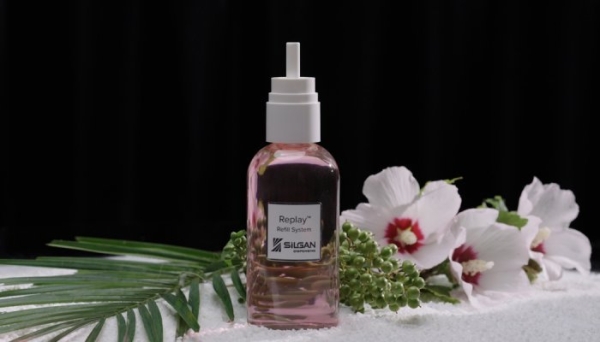 Just like every year, the Monaco-based event held on October 2-4, 2023 echoed the innovations in the flagship sector of luxury packaging: perfumes. Unsurprisingly, ecodesign prevailed in the various approaches highlighted.
Initially focused on lightening glass bottles and increasing the share of recycled content, manufacturers have broadened their ecodesign strategies to primary and secondary packaging as a whole for a 360-degree approach.
The refill gesture
By working on refills, dispensing specialist Silgan adopted a strategy that is largely praised in the perfume sector. The company launched Replay, a new bottle-refill solution claimed to be seamless and adaptable to different neck sizes, from samples to travel, and even full sizes. The PP-based accessory is designed to be attached to the refill, so the user just unscrews the pump to insert the refill container. Then, they press it downwards to start refilling, and it automatically stops when the bottle is full. This new refill solution fitted with an overcap goes with the Pirouette screw pump range, a best-seller of the manufacturer.
Bottle-refill pioneer Techniplast showcased a universal version of the RT Twist, an accessory also involving a screwing mechanism. This new launch offers a solution adapted to different bottle sizes.
Sustainable caps
Dow, a manufacturer of Surlyn, an ionomer widely used for perfume and cosmetics caps, announced the launch of two new sustainable versions: Surlyn Ren, made from biowaste, like used cooking oil, and Surlyn Cir, made from mixed plastic waste. According to Dow, they both offer the same aesthetic and mechanic performance levels as the original material. The LVMH Beauty division will be one of the first to use these new materials for its 75 brands.
Axilone announced they have been working on 100% aluminium-based perfume caps, which means they can be recycled through standard streams and can be used as an alternative to Zamak.
And of course, for sustainable purposes, caps can also be made from glass, like that of Flower Ikebana by Kenzo, developed by the Pochet Group.
Alternative gestures
As a full-service partner of beauty brands, the Superga group collaborated with the GBC formulation laboratory on an innovative range of alcohol-free perfumes called Neo Scents, based on the Aquaco technology brought by Expressions Parfumées. The three solutions put forward are meant to reinvent perfume gestures, create pleasure-of-use, and adapt products to on-the-go use, while offering a more natural composition.
And it is a success: Neo Hair Mist is a perfumed hair mist, Neo Concrete
is a scented wax between perfume and skincare, and Neo Perfume Stick is a non-oily, transparent stick based on light oils.
Home fragrance
It was the first time the Luxe Pack Monaco show had dedicated a whole area to the Home Fragrance segment, a fast-growing market and a springboard for innovations.
Superga Beauty pursued its innovation strategy by developing Mood, a range of scented home products imagined in partnership with Expressions Parfumées. Involving a set of neuroscience-based technologies, these fragrances can have a positive influence on emotions. For example, the fragrance diffuser and the room spray were scented with the Ray of Sunshine perfume selected for its energizing benefits. Boasting a formula adapted to fabrics, the pillow mist diffuses the fragrance To the Moon & Back, designed to make it easier to fall asleep and enhance the quality of sleep.
Also, Scentys, the company that developed the patented dry diffusion technology for perfumes encapsulated in polymer beads, showcased a version of its capsules based on a biosourced material.
In addition, for a "perfume discovery" application in retail or through sampling, they innovated with a pod version of their technology. The small-sized item contains a few beads to perfectly reproduce the fragrance without emitting any other particles in the air. Prada has already adopted this solution in its stores.
Virtuous decoration
Actively committed to developing decoration solutions with a low environmental impact in collaboration with Quali Glass Coat, glassmaker Stoelzle Masnières Parfumerie now offers inside lacquering with a water-based spray.
Inside lacquering makes it possible to coat the inside parts of bottles, guaranteeing full coverage and taking into account the bottle's volume and glass density. Despite direct contact with the juice poured inside, the lacquer's unique formula prevents any transfer, even with products containing alcohol, so no inner pouch is required.
Trends and innovations in the global perfume market will be presented at the Fragrance Innovation Summit on 30 November 2023 in Paris. Details and registration: www.fragranceinnovation.com

Portfolio