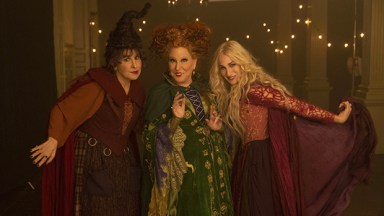 Image Credit: Disney+
The Hocus Pocus movies have become essential viewing every Halloween. The first film was released in 1993 and has since evolved into a cult classic. Bette Midler, Sarah Jessica Parker, and Kathy Najimy's Sanderson sisters have transformed into Halloween icons.
After nearly two decades, the trio reunited for the Disney+ film Hocus Pocus 2, which was released in September 2022. The movie became the most-watched movie ever on Disney+ and set a Nielsen streaming movie record with more than 2.7 billion minutes of viewing.
What does this mean for Hocus Pocus 3? Will Hocus Pocus put a spell on viewers once again in Hocus Pocus 3, or is it all just a bunch of hocus pocus? Your souls can rest because there is a third Hocus Pocus movie in development, and the team has big plans for one particular character. HollywoodLife has all the latest Hocus Pocus 3 updates.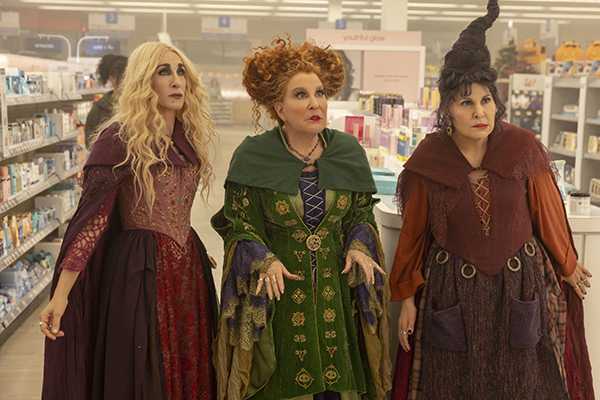 Sarah Jessica Parker, Bette Midler, and Kathy Najimy in 'Hocus Pocus 2.' (Disney+)
Has 'Hocus Pocus 3' Been Confirmed?
Yes, Hocus Pocus 3 is in development. Oh, what a glorious morning! In June 2023, Walt Disney Pictures president Sean Bailey confirmed a third Hocus Pocus movie is happening in his New York Times profile.
Since Hocus Pocus 3 is still in the early stages, there's no timetable for a release date yet. Given that SAG-AFTRA is still on strike, major productions like this will be on hold until further notice. However, we can deduce that the third Hocus Pocus would likely be released around Halloween in the future.
What Would 'Hocus Pocus 3' Be About?
Hocus Pocus 3 screenwriter Jen D'Angelo is currently working on the story for the next Hocus Pocus sequel. However, she teased that the Mother Witch will likely be a major focus point of Hocus Pocus 3.
"We're still in the story phase, we're still working on it," Jen told EW. "We've been working on some ideas. It's been fun to dive back into that world and we have so many directions in which to go and so many new characters to explore. We've only scratched the surface of Hannah Waddingham's mother witch."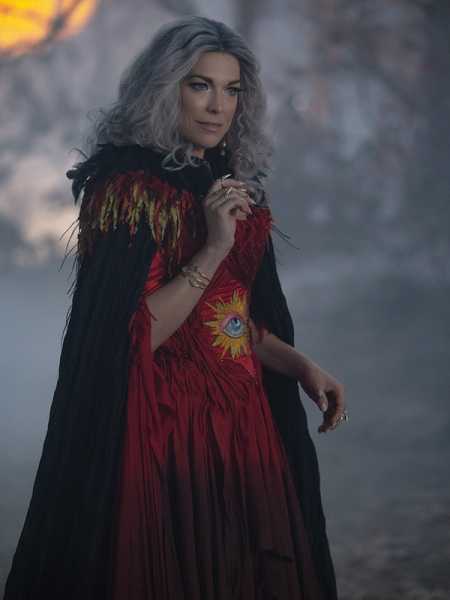 Hannah Waddingham as Mother Witch. (Disney+)
At the end of Hocus Pocus 3, Winifred is reunited with Sarah and Mary after they fade to dust. While it seems like that's the end of the story for the Sanderson sisters, anything can happen in the world of witchcraft! The sequel hinted at a third film when a crow — the same one the Mother Witch had shapeshifted into at the beginning of the film — is seen flying overhead at the end of the movie. In a post-credits scene, Gilbert's cat Cobweb walks across a box that reads "Black Flame Candle #2."
'Hocus Pocus 3' Cast
There's been no official casting announcements yet for Hocus Pocus 3. However, given that the screenwriter mentioned the Mother Witch, Ted Lasso star Hannah Waddingham would likely return for the third film.
Unless Hocus Pocus 3 went back in time or the film went in a different direction, new characters Becca, Izzy, and Cassie would likely pop up again. Whitney Peak, Belissa Escobedo, and Lilia Buckingham united to become a new trio of witches in the sequel.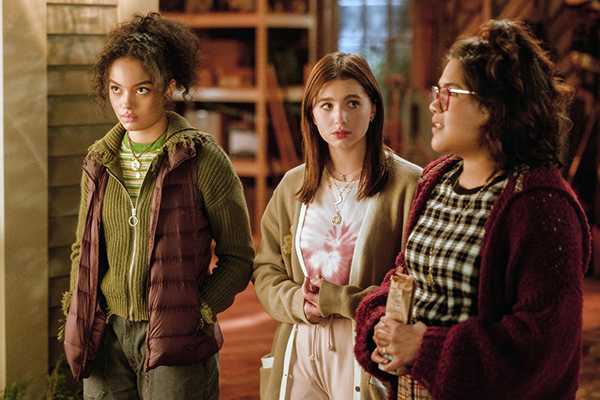 Whitney Peak, Lilia Buckingham, and Belissa Escobedo in 'Hocus Pocus 2.' (Everett Collection)
Whitney spoke exclusively with HollywoodLife about Hocus Pocus 3 ahead of Hocus Pocus 2's release. "I mean, I would be down. But I don't know if there is. I feel like everybody keeps asking me and I'm like, there is kind of a post-credits scene that leaves the door open, but you didn't hear from me," the actress said.
But what about Bette, Sarah, and Kathy? Hocus Pocus wouldn't be Hocus Pocus without the Sanderson sisters. The trio previously discussed the idea of a third movie.
"If there was a third one, of course, I'd sign on, but I don't know how," Bette told EW. "I can't imagine what the story would be, but I love Winifred, Sarah, Mary, and our relationship. It's good for women. We stick together through hell and high water, but we do cause mayhem, and not many women cause that much mayhem!"
Sarah said she'd "be happy to have a conversation" about a third movie, and it all "depends on what Kathy and Bette want!" On the other hand, Kathy noted, "I feel like we're done. We've pulled every story you could pull out of this. I guess, never say never, but I feel grateful that we got to do it again. I don't know that there are plans for a third one, but I know fans are dedicated to this film. I'm just happy we can bring this to them."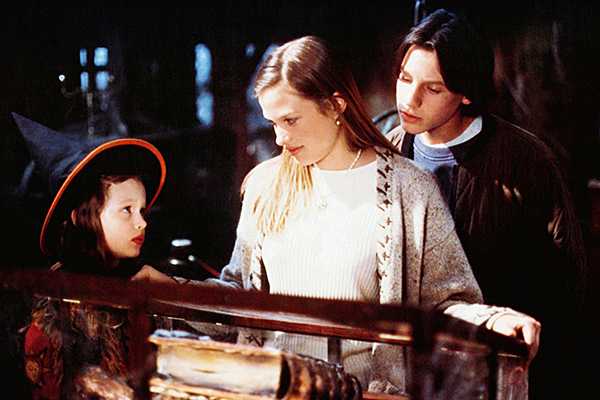 Thora Birch, Vinessa Shaw, and Omri Katz in 'Hocus Pocus.' (Buena Vista/Everett Collection)
Hocus Pocus fans were disappointed that Omri Katz, Vinessa Shaw, Thora Birch, and Jason Marsden didn't return in the sequel as their characters from the original film. "We weren't invited to that meeting," Omri said during the Hocus Pocus 90s Con panel. "So we don't really know why we weren't invited. I think the fan base really wanted to see something with us. … Yeah, I don't know. It's hard to really figure out the decisions that are made regarding what they want to do." Hocus Pocus 3 could bring Max, Allison, Dani, and Thackery Binx back into the fold!
Sourse: hollywoodlife.com