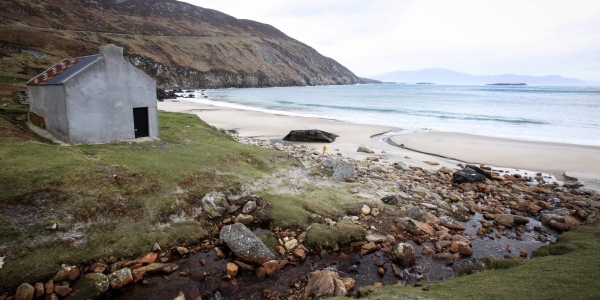 For anyone thinking about escaping the rat race and settling into a quieter way of life, Ireland is willing to pay tens of thousands of dollars to help make it happen.
The Irish government's "ambitious" plans to rejuvenate sparsely populated islands dotted along its coast were unveiled by Heather Humphreys, Minister for Rural and Community Development, earlier this month, and will go live on July 1.
One of the key aims of the "Our Living Islands" program is to "revitalize population levels on the islands," according to the government.
Around 30 offshore islands, described by the government as "an integral part of the fabric of rural Ireland" with "a special significance in Irish culture," will be included in the scheme. The coastal islands, which remain in public ownership, have year-round populations but are cut off from the mainland by the tide.
Among the islands are Inis Mór, one of the Aran Islands off of Ireland's western coast, which was used as a filming location for Oscar-nominated movie "The Banshees of Inisherin," and Bere Island, which describes itself as "a quiet paradise."  
From next month, those interested in moving to one of the islands can bag up to €84,000 ($91,692) for buying a derelict property in their chosen location and saving it from ruin.
To be eligible for a grant—which must be spent on revitalizing an abandoned home—properties must have been constructed before 1993 and been left vacant for at least two years.
The government describes the grants as "a major effort to turn vacant or derelict buildings on islands into long-term homes."
However, it is unclear whether people from overseas who do not have visas to live and work in Ireland are eligible to participate in the program. A spokesperson for the Irish government did not reply to Fortune's request for comment prior to publication.
The new funding builds on an existing scheme to encourage people to salvage deserted properties. People taking advantage of the scheme on Ireland's offshore islands will receive 20% more funding than those who do the same on the mainland.
Sparse population
Ireland's coastal islands are sparsely populated, with some of them having a single school and store to serve the locals. Clare Island, a five-mile long island that's a 20-minute ferry ride from the mainland, has a low season population of 165 people, while Arranmore, which lies off of the west coast of County Donegal, has just shy of 500 inhabitants.
In 2019, Arranmore wrote an open letter to the residents of Australia and the U.S., appealing for them to relocate to its shores.
The government's recently unveiled plans to revitalize the Irish islands are part of a 10-year plan to maintain their populations.
Over the next three years, the government has pledged to work on 80 commitments including improving housing and water infrastructure, providing better access for island residents to essential healthcare and education services, and developing sustainable tourism.
As well as injecting cash into boosting the population and revitalizing abandoned property on the islands, the "Our Living Islands" scheme is also aiming to diversify the islands' economies. In a bid to achieve this, officials are investing in infrastructure to make the isles much more appealing to remote workers.
"As a result of delivering this policy, we will see more people living on the islands and more people working on our islands, with good career prospects, regardless of where their employer is headquartered," Humphreys said in a statement as she launched the program. "We will see our Island communities, and especially young people, having an active role in shaping the future for their own islands."