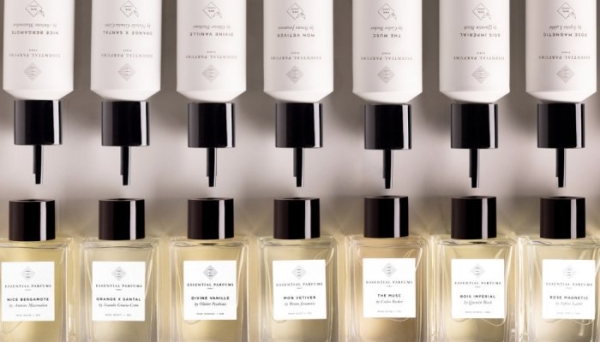 Created by Géraldine Archambault in 2018, Essential Parfums offers a haute perfumery collection signed by the greatest perfumers of the day. All while favoring natural and sustainable ingredients. The brand took the stance of offering affordable products with a minimal design that made the juices and the perfumers the stars of the show.
When the brand was created, the founder originally picked out the Gala bottle in a unique 100 ml format. Designed by Coverpla, it is manufactured by Italian glassmaker Luigi Bormioli.
A major leap towards refillables
In order to improve the sustainability profile of the packaging, the eight fragrances in the collection are now shifting to a bottle that the brand's founder means to be "infinitely refillable." This is how the new 100ml Gala bottle with a screw neck (CV15) was born. Coverpla piloted its industrial development with its glassmaking partner Bormioli Luigi.
To go hand in hand with this move, the brand also developed a series of 150ml aluminum refills offered in boutiques and online.
"We are proud to have risen to our customer's challenge: switching to refillable bottles without changing the visual identity of the bottle to which consumers are faithful," comments Florence Ghilardi, the Coverpla's sales director.
"Without the precious help and professionalism of Coverpla's teams, Essential Parfums could never have taken off so well! Its business model is unique for any brand launch," adds Géraldine Archambault, founder of Essential Parfums.
Portfolio