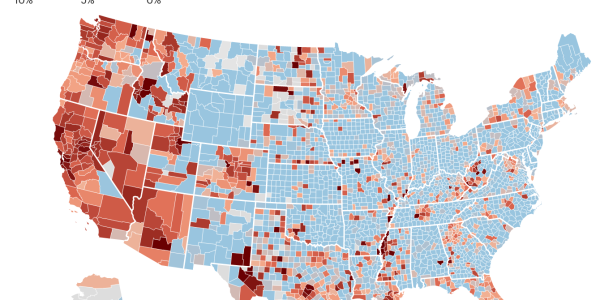 Back in early January, economists at Capital Economics put out a report arguing that U.S. housing market demand had finally bottomed out following last year's mortgage rate induced pullback.
Not long after that report was published, housing metrics began to show a bounce back up as the 2023 spring housing market came to life. After falling for seven straight months between July 2022 and January 2023, U.S. home prices as measured by the seasonally adjusted Case-Shiller National Home Price Index rose in February and March.
However, in that January report, the U.K. research firm predicted that U.S. home prices had not reached the bottom. Peak to trough, Capital Economics expected U.S. home prices to fall 8%.
Fast-forward to June, and Capital Economics put out a new report titled "Pause in house price declines to prove temporary." The report argues that following the resilient 2023 spring housing market, home prices in the second half of the year will revert back into correction mode.
"The seven-month run of house price declines recently ground to a halt, with the Case-Shiller index showing an increase in prices in both February and March. This was partly driven by the temporary boost to demand at the start of the year from declining mortgage rates," wrote researchers at Capital Economics. "But rates have since returned close to the double-decade highs set in October, which has caused demand to fall to its lowest levels in almost 30 years. Given this and a weakening economy, we expect sales will remain low and that price growth will turn negative again later this year."
With the exception of CoreLogic and Zillow, most economic models continue to project house price declines in 2023. The underlying reason is that housing affordability (or, better put, the lack of affordability) has become strained at levels not seen since the housing bubble.
In order for those forecasters to be right, they'll need home price declines in the seasonally slow second half of the year to be big enough to wipe out all the gains accrued during the seasonally warmer first half of the year.
Keep in mind that national home prices can fall without prices falling in every market. That's exactly what happened last fall, as the sharp correction in the Mountain West, Pacific Coast, and Southwest was the driving force pushing national house prices lower.
At the lowest point in January, seasonally adjusted U.S. home prices were 3% below their 2022 peak (-5.2% without seasonal adjustment). Following the uptick through March, seasonally adjusted U.S. home prices are 2.3% below their 2022 peak (-3.7% without seasonal adjustment).