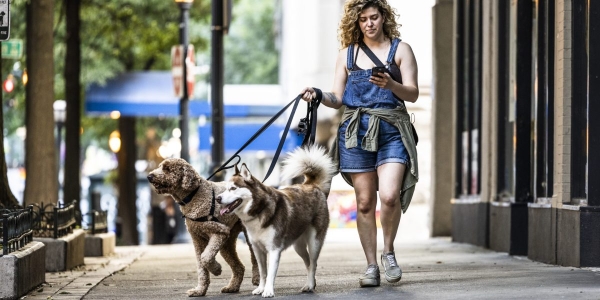 Waking up to work, even though you might not want to, has not so affectionately become known as part of the "hustle." And while the pandemic has made many workers denounce such hustle culture, the truth of the matter is that many workers are hustling harder than ever to make ends meet as the cost of living continues to outpace stagnant wages. 
As many as two in five adults in the U.S. have a side hustle, according to a recent Bankrate survey of 2,500-plus adults, backing up LendingTree data from earlier this year that found side gigs are up by 13% over the past two years and recent Deloitte data that found more millennials and Gen Zers are adding on part-time jobs. Younger workers are more likely to need an extra job: 53% of Gen Zers and half of millennials have one, Bankrate finds, compared to only 40% of Gen Xers and 24% of baby boomers.
It's a reflection of the state of the economy, which has left many Americans—even those earning six figures—feeling like they're living paycheck to paycheck. At the end of the day, side hustles have become a necessity for many who are struggling to compete with the pace of inflation and trying to save amid recession fears. It makes sense that younger workers are more likely to have one, considering that the cost of living has been their top concern and stressor for the past two years. Millennials in particular have been struggling to keep their heads above water for years after hopping around a rocky post–Great Recession job market, dealing with inordinate student debt, and shopping around a difficult housing market—all of which has made it harder for them to become financially independent.
Most Bankrate respondents (33%) said they need the job to afford "regular living expenses," while 27% said it helps with "discretionary spending." A quarter are using the extra cash from the side gigs for savings, and 12% are using it to repay debt.
"Side hustles have become more common, but like so many things in this inflationary environment, people are working harder but not necessarily getting ahead," said Bankrate senior industry analyst Ted Rossman in the report. "Side hustlers are much more likely to view this extra income as essential, rather than a passion project or a way to get ahead financially."
For millennials and Gen Zers, the cost of living has been their top concern and top stress driver for the past two years, Deloitte's global people and purpose leader Michele Parmelee recently told Fortune.
All the extra work is paying off for some; the average side hustler makes $810 monthly, Bankrate finds. Millennials make the most at an average of $1,022 monthly, while Gen Zers tend to make $753. But 28% of side hustlers make just $1 to $50 monthly, enough to "go see a Star War" but not much else. 
Naturally, people who have insufficient salaries from their main job are more likely to need a side hustle. Nearly half (42%) of employees living in a low-income household of less than $50,000 say that they need side gig income for daily expenses, greater than any other demographic surveyed. However, households earning over $100,000 are most likely to have a side hustle—but they're more likely to use their extra income for discretionary spending.
But side gigs aren't just a fad—at least, as long as minimum wages stay where they are. As Bankrate finds, almost a third of U.S. workers with side hustles (28%) say that they'll likely always need an extra gig to ensure they're making ends meet.