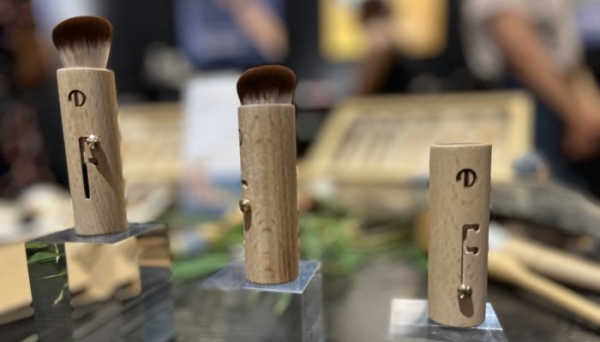 The manufacturer of cosmetic brushes, sponges, puffs, impregnated masks powder compacts and cushions for make-up and skincare brands presented at MakeUp in Paris its most recent innovations and developments where environmental concerns are expressed in several ways.
Taiki Cosmetics Europe, the European branch of the Japanese company Taiki Group, unveiled its latest innovations in cosmetic accessories at the MakeUp in Paris trade show, on 14 and 15 June 2023. Constantly striving for excellence in eco-design, the company is pursuing its efforts to reconcile sustainability with exceptional performance.
Eco-designed blenders and cushions
Among the highlights of this year's innovations, Bio-Blenders stand out for their composition based on bio-polymers (50-70% of the total composition, in addition to the traditional PU) derived from the upcycling of non-food waste.
"This approach considerably reduces the use of petroleum-based products, while offering an optimal user experience, even surpassing the softness of standard sponges," explained Alix Bellanné, Marketing & Communication Director at Taiki Cosmetics Europe.
Two standard models of Bio-Blender are available: the Pure Bio-Blender, made from 50% upcycled bio-sourced ingredients, and the Blooming Bio-Blender, made from 70% upcycled bio-sourced ingredients. Both models are available in three different densities and can also be customised with a laser engraved company logo or custom cut and coloured.
In the same vein, Taiki presented a new Duo Blender, a two-in-one accessory combining a convex hydrophilic sponge and a flat part made of Rubycell for the precise application of powders and creamy textures. This dual use reduces the number of sponges used, with the possibility of integrating up to 50% bio-sourced PU to reduce the environmental footprint.
Taiki has also redesigned its cushions, to increase the proportion of bio-sourced materials used in their manufacture while preserving the product's absorbency qualities. With its new Ecodesigned Cushion Puffs, the company can now boast a percentage of 30 to 37% bio-sourced materials in these accessories.
And the Asian Marshmallow Puff trend did not escape Taiki's attention. This sponge, two to three times thicker than a traditional make-up cushion delivers an exceptionally soft and plump feel.
A multi-function adjustable brush
Alongside these advances in blenders and cushions, Taiki Cosmetics Europe presented an eco-designed brush for bespoke make-up results. Dubbed Adjustable Ecobrush, this innovation features a wooden handle and a 2-in-1 retractable tuft. The plastic-free mechanism means the shape of the brush can be adjusted to the desired use:

Position 0: the brush is retracted, protecting the synthetic vegan fibres when stored,

Position 1: short head, dense fibres, ideal for sculpting cheekbones or jaw lines,

Position 2: long head, softer tuft, perfect for an even make-up of the entire face.
Finally, Taiki has also extended its range of skincare applicators, for which demand is growing: sponges for natural exfoliation and gentle make-up removal, brushes adapted to skincare textures and with handles made of wood, which remains the preferred material, or bio-resins (PLA in particular).
With these new eco-responsible breakthroughs, Taiki Cosmetics Europe is consolidating its position and moving a step closer to a more environmentally-friendly cosmetics industry.
Portfolio