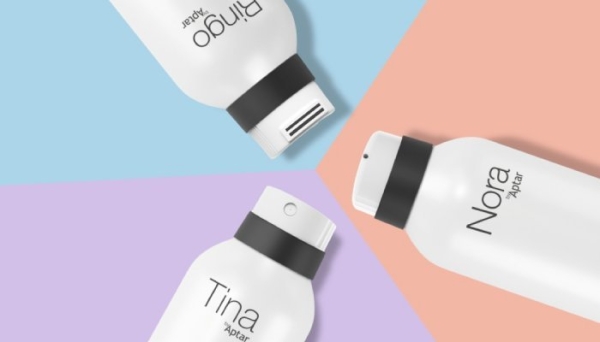 The manufacturer of primary packaging solutions and dispensing systems for the personal care and pharmaceutical markets has created a new range of aerosol actuators that eliminate the need for an overcap thank to an intuitive locking technology.
The new range of aerosol actuators created by Aptar Beauty has been designed to eliminate the need for an overcap, while still ensuring the formula is protected. The innovation was made possible thanks to an intuitive locking and unlocking technology, dubbed twist-to-lock.
No need for an overcap
The twist-to-lock technology eliminates the need for an overcap, meaning there is no cap to lose. It also for greater convenience and less material parts. According to Aptar, the it is easy and intuitive to use: the actuators are locked and unlocked with a simple 'twist' gesture. An audible click indicates when they are properly closed.
The locking and unlocking system also limits the risk of breakage or leakage, making the range e-commerce capable and safe for on-the-go usage. Moreover, anti-slip ribs ensure a good grip in dry or wet conditions like the shower.
Three actuators designed for a specific use
The new range is made up of three actuators – Ringo, Nora and Tina – designed to dispense foam, gel and spray formulas, thus covering the main applications for aerosols.
Ringo comes with two different nozzles, one for dispensing foam formulas, the other for gel formulas. It is designed for shaving, hair styling or shower products.
Nora features a small size nozzle suitable for applying gel products. It is aimed at shaving or shower gel products.
Tina is a spray actuator suitable for formulations such as hair spray, deodorant, sun spray or body spray.
The three actuators boast clean and lean lines and a matte finish. Their two-part composition allows bi-colour decoration for more creative freedom. "The range breaks the codes of standard aerosols, featuring premium aesthetics," highlights Aptar Beauty in a statement.
Recycled materials
As for the environment, the three actuators can be provided with a POM-free mechanism and up to 100% PCR (post- consumer recycled) content.
Moreover, the twist-to-lock aerosol range is compatible with a ball valve, vertical valve or bag-on-valve, with two different skirt lengths (short and long).
According to Aptar, production will start in 2024. In the meantime, Ringo, Nora and Tina will be showcased at Luxe Pack, from October 2 to 4, 2023 in Monaco.
Earlier this year, Aptar has previously combined the twist-to-lock technology with its PZ Twist pump to create a sunscreen dispensing system for Nuxe that also has no cover.
Portfolio