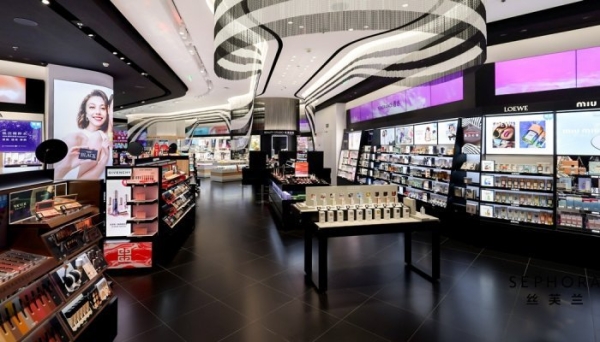 The world's leading prestige beauty retailer launched its first "Store of the Future" in China last week. Situated along the highly frequented East Nanjing Road in Shanghai, the new store is specially designed to combine differentiated services and exclusively curated brands with tech and digital elements for an immersive retail experience.
Sephora launched its first "Store of the Future" in China today. Situated along the frequented East Nanjing Road in Shanghai, this will be the retailer's second "Store of the Future" globally after the opening of a similar concept in Singapore late last year.
"The Store of the Future in Shanghai showcases our obsession for experiential retail, where consumers get to enjoy a curated and on-trend beauty offer, tailored and personalized services and classes, as well as digital touchpoints used to unlock consumer journeys within the store," shared Ms. Alia Gogi, President of Sephora Asia. "Specifically customized to the unique preferences of Chinese consumers, we believe this store will set a new benchmark in prestige beauty retail in China."
Specially curated product assortment
In tandem with this launch, Sephora is introducing over 220 new products from over 36 global beauty brands to keep consumers apprised of the latest beauty trends. Among these are several crowd favourites such as luxury cruelty-free skincare brand, Tatcha; Pat McGrath Labs, Hourglass, Anastasia, Dr. Dennis Gross and Courrèges.
In addition, Cha Ling, Maogeping Light, Wei, and other premium C-beauty brands will feature new assortments that were developed as part of the Sephora C-beauty Program.
"Sephora will continue to introduce new and differentiated products to the market while showcasing new trends," said Ms. Maggie Chan, Managing Director of Sephora Greater China. "Apart from incorporating beauty tech, Sephora's Store of the Future in Shanghai is part of our ongoing commitment to deepen our engagement with the beauty community in China. We are excited to continue learning from our customers and partners to deliver a retail experience that best suit their needs and desires."
Leveraging digital and tech for hyper-personalized services
In addition of a wide selection of curated offerings, the new store features innovative digital touchpoints, and new beauty services to unlock the consumer journey for a unique retail experience, including : Care Analysis, an advanced skin analysis device powered by big data analytics for a hyper-personalized consultation; Look Analysis, an AI-generated makeup trends for inspiration and tutorials on the latest beauty looks with product recommendations; Lift and Learn, panels and price tags equipped with RFID sensors to educate consumers on various product ingredients and provide access to millions of customer reviews; Mobile POS, allowing to check out anywhere with beauty advisors to skip lines; Personalized Gift Packaging.
Services and Beauty Live Studio
In addition to incorporating advanced beauty tech and digital tools in the store, Sephora's beauty advisors are at hand to provide 15-minute skincare consultations to discover the most efficacious products for every customer, 60-minute makeup services to help consumers achieve the look suited to their specific features, as well as a 15-minute beauty play service to bring virtual artist looks to life.
For the first time in China, Sephora will also have a purpose-built Beauty Live Studio to gather Sephora's beauty community for exclusive celebratory events or frequent and regular masterclasses on the trendiest looks, latest brands, and products.
Portfolio