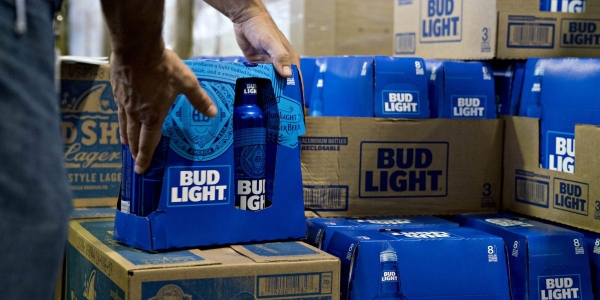 Bud Light's multinational parent company AB InBev, the world's largest beer producer by volume, is eating an American-size portion of humble pie. 
In reference to the ongoing boycott that has decimated sales of the once-dominant U.S. lager, the megabrewer's global chief marketing officer indirectly admitted on Monday that his team had failed in an attempt to broaden the brand's appeal beyond its core demographic.
A single Instagram post using transgender influencer Dylan Mulvaney to promote the beer to less "fratty" consumers resulted in a catastrophic plunge in sales. Even the support of country music icon Garth Brooks couldn't prevent America's favorite beer from losing the crown to Modelo Especial in the month of May, the first full month of the impromptu boycott. 
"In times like this, when things get divisive and controversial so easily, I think it's an important wake-up call to all of us marketers, for us to be very humble," said Marcel Marcondes, addressing an audience of peers in Cannes, according to trade publication AdWeek.
The native Brazilian was in the south of France on Monday to accept on behalf of AB InBev a coveted "Lion" award as the most creative marketer the second year running—the only brand to earn this distinction in the 69-year history of the advertising world's version of the Oscars.
The organization praised its "reputation for producing brave creative and innovative marketing solutions," citing how its U.S. operations served as a best practice blueprint for other territories. It announced the award in mid-March, about two weeks before the April 1 post by Mulvaney on Instagram sparked controversy. 
Management needs to 'really understand' Bud Light consumers
With the 2024 election season already effectively underway, business has found itself in the crosshairs of the political debate as Republicans and Democrats clash over the question of whether corporations should serve any deeper purpose beyond earning profits for shareholders.
"It's tough to see all the controversial and divisive debates happening in the U.S. the last couple of weeks involving lots of brands and companies, including, especially, Bud Light," Marcondes noted, saying his company was reminding itself of the need "to really understand our customers."
While other companies like Target and Starbucks have been thrust into the spotlight as a result of Pride Month, Bud Light unwittingly became the focal point of a broader conservative backlash over diversity and LGBTQ issues in particular. 
Last month the Wall Street Journal went so far as to call it a "case study in how not to handle a culture-war storm," while analysts at JPMorgan believed there is a "subset of American consumers who will not drink a Bud Light for the foreseeable future."
One possible reason why the boycott of Bud Light has been so successful compared with other attempts to punish companies that step out of line is that most ubiquitous, mass-produced beers compete on the strength of their brand image and can be readily substituted. 
By comparison, an attempt by progressives to boycott a Harry Potter video game backfired, creating more awareness for what critics called a uniquely immersive experience exploring J.K. Rowling's Hogwarts School of Witchcraft and Wizardry.
New ad campaign along with financial aid for distributors
At the start of June, an Anheuser-Busch president in charge of sales and distribution who left the company last year warned his former employer it now faced the risk of losing retailer shelf space permanently to other rivals like Miller Lite if it didn't act soon to stop the bleeding.
Two weeks later, the CEO of AB InBev's U.S. arm announced fresh measures to recapture sales with new summer advertising scheduled to launch in the course of this week. 
"You can look forward to Bud Light reinforcing what you've always loved about our brand," Brendan Whitworth said in a statement last Thursday.
He also said the company would provide financial assistance to its independent wholesalers. According to a report by ABC News, salespeople at one Florida distributor that wished to remain anonymous lost roughly $2,000 worth of commissions as their sales of Bud Light plummeted by as much as 60% over Memorial Day.
For Whitworth, time is of the essence. On July Fourth, Americans across the country gather to celebrate one of the most hallowed holidays in the U.S. calendar, Independence Day.