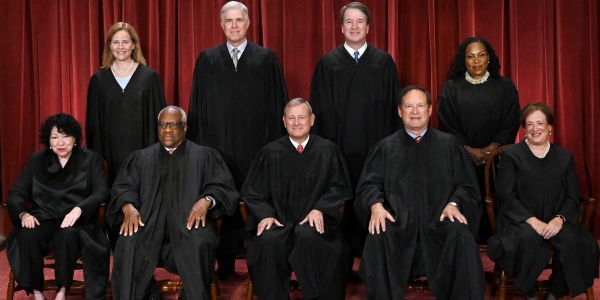 It's been a couple of months since ProPublica revealed that Supreme Court Justice Clarence Thomas had a secret billionaire benefactor, the commercial real estate mogul Harlan Crow. The scandal wasn't that it was secret—although it discloses decades of lavish gifts and trips and even a real estate deal, none of which were disclosed to the public. The scandal was that Thomas and Crow confirmed all of the reporting, and basically shrugged it off. Now the other Supreme Court justices are making their own disclosures, including real estate (Clarence Thomas wasn't among them). So what did Chief Justice John Roberts and the other judges disclose? 
Each justice is required by the Ethics in Government Act of 1978 to submit financial disclosures. Those financial reports were released this month for the 2022 year and were previously covered by the news outlet SCOTUSblog, the premier source dedicated to court coverage (the first part of its name is an acronym for "Supreme Court of the United States"). 
Of the nine justices, two did not submit their financial disclosures, using an extension period allotted to them—Justice Samuel Alito and Justice Thomas. So we'll have to wait to see their real estate portfolios, following each one's 90-day extension (if Thomas ever makes his). 
Here's a look inside the real estate fortunes of the highest court in the nation.
A rental property in Ireland and a parking space in D.C.
In his 2022 financial disclosure, Chief Justice John Roberts included rental properties in Knox County, Maine, and County Limerick, Ireland. The former earned $15,001 to $50,000 in rental income and was valued between $250,001 and $500,000 for the reporting period (Jan. 1, 2022 to Dec. 31, 2022). The latter earned $1,000 or less in rental income and was valued at $15,000 or less. He reported the same two properties in his 2021 financial disclosure. The estimates are included in the financial disclosures, categorized as "income during reporting period" and "gross value at end of reporting period."
Justice Elena Kagan also included a rental property in her financial disclosure, but it wasn't a home—it was a parking spot, in a building in Washington, D.C., to be exact. That parking space earned $2,501 to $5,000 and was valued between $15,001 and $50,000. Previously, for her 2021 report, Kagan had not specified that her rental property in D.C. was simply a parking space. 
And Justice Sonia Sotomayor listed a rental property in New York City that was appraised in 2021 (and also listed in her report for that same year). Unlike the others, she listed her mortgage on the property as a liability. The rental property earned $5,001 to $15,000 and was valued between $1,000,001 and $5 million.  She has owned the apartment since before her confirmation hearings in 2009, at which time she told the Senate that she hadn't decided where to live in D.C. if she got the job. Sotomayor purchased the apartment on 3 Bedford Street in 1998, began renting it out in 2010, and apparently still is, according to Curbed. To get an idea of its current value, Corcoran is currently advertising two listings for units in the same building. 
None of the other justices who submitted their financial disclosures listed property holdings. Supreme Court Justice Neil Gorsuch did list stock holdings in real estate investment trusts, some of which he had sold (perhaps he read Fortune's coverage of the "apocalyptical" climate in the sect). 
Shortly after Gorsuch was appointed to the Supreme Court in 2017, he sold a property he co-owned in Colorado, without disclosing the identity of the buyer. As Politico first reported, in April of this year, that buyer was the head of a law firm that has brought cases before the court. 
Justice Amy Coney Barrett, on the other hand, disclosed holdings in two real estate investment trusts. 
Although she didn't list any real-estate-related investments, newly appointed Supreme Court Justice Ketanji Brown Jackson disclosed three gifts, including a $1,200 congratulatory floral arrangement from Oprah Winfrey and a $6,580 designer outfit worn in a photo shoot from Vogue.
The real estate deal between Crow and Thomas 
One arrangement between Crow and Thomas, revealed in ProPublica's reporting, involved the purchase of a home and two vacant lots in Savannah from Thomas and his relatives by Crow's companies. In 2014, this was the first known financial transaction between Crow and Thomas. As for the home, Crow renovated it and apparently allowed Thomas' mother (who was a co-owner listed in the sale) to live there rent-free. 
In a statement released after ProPublica's report, Thomas said that after speaking with colleagues, he felt he did not have to disclose these gifts. However, he said, "these guidelines are now being changed, as the committee of the Judicial Conference responsible for financial disclosure for the entire federal judiciary just this past month announced new guidance. And, it is, of course, my intent to follow this guidance in the future." So it's likely that all eyes will be on his financial disclosure once it's released. But for now, we can take a look at the justices who revealed their own property holdings earning them rental income.
Crow is the chairman and former CEO of Crow Holdings, a Texas-based real estate investment and development firm that was founded by his father Trammell Crow 75 years ago, reportedly making him the largest landlord in the U.S. at the company's peak. Aside from his oddly close and personal relationship with a Supreme Court justice, Crow has attracted attention outside of his real estate empire for his eccentric, even questionable art collection that includes a painting by a young Adolf Hitler.