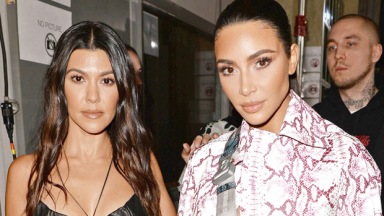 View gallery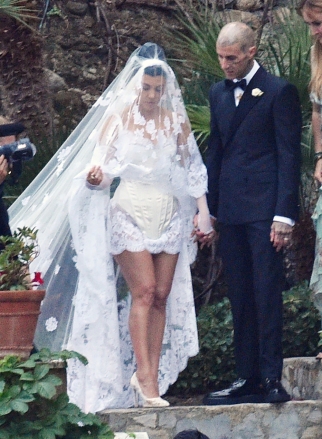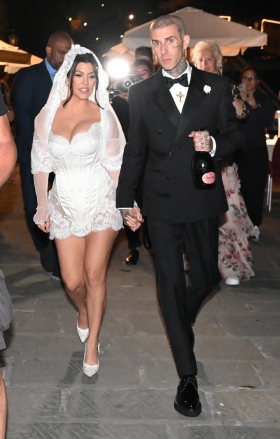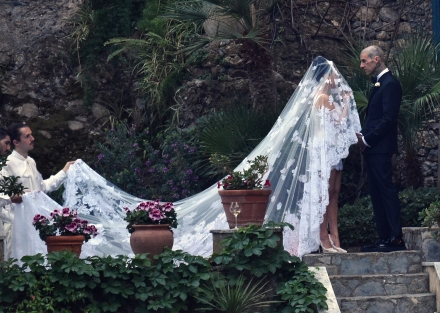 Image Credit: Barry Marano/Shutterstock
Previews for season 3 of The Kardashians have centered around a fight between Kourtney Kardashian and Kim Kardashian, and the tensions began to mount during the show's June 15 episode. The episode, filmed in Sept. 2022, featured Kim in Milan, preparing to debut her new clothing collection with Dolce & Gabbana — the same designer who worked on Kourtney's wedding just four months prior. While preparing for the collaboration, Kim was worried about stepping on Kourtney's toes, and said she wanted to be "really respectful" of her sister as she moved forward. She made a point not to use any of Kourtney's wedding looks as inspiration for the collection she was designing.
However, Kourtney was still upset with how things went down. She met up with Kendall Jenner to explain why she was so in her feels. "While we were at our wedding, I guess Kim was having these conversations with Dolce that I didn't know about," Kourtney explained. "She had called me and told me she was doing a SKIMs collab with Dolce & Gabbana. Just telling me [about it]. I go, 'Hey, what's the point of this call? Is it to get my blessing? Is that why you're calling?' And she's like, 'I guess.' She wasn't like, 'Hey, I got this offer, how do you feel about it, I really want the money,' or whatever it was. Then she called me another time and was like, 'Hey, I wanna see if you wanna go to Milan for my Dolce thing. It's not with SKIMs anymore but they're trying to figure it out. And that was the last I heard about it."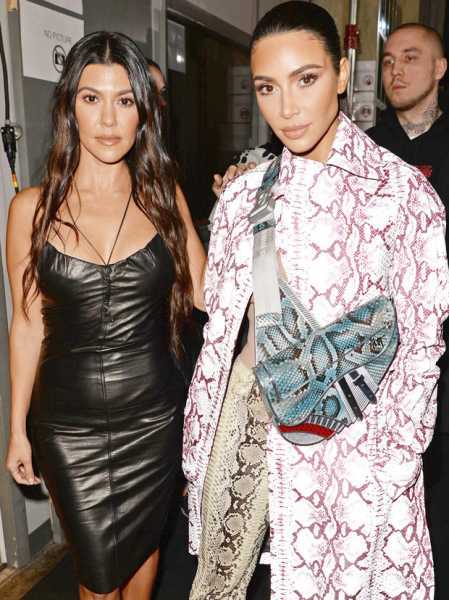 Kourtney and Kim at Miami Fashion Week in 2019. ( Barry Marano/Shutterstock)
Kendall admitted that she saw both sides of the argument, and Kourtney began to get upset as she explained that she felt Kim was worried more about business than hurting her. "It took precedence over hurting your sister," she said, through tears. "It's just legit copying my wedding. Everything I did was pulling references from the 90s. It's just stupid because it's a deeper thing that it's about. It's grabbing whatever's in the way."
Kourtney then went on to accuse Kim of not being excited at her Italy wedding, which took place at Dolce & Gabbana's villa. "She wasn't happy at my wedding," Kourtney insisted. "Everyone was like, 'Whoa, this is amazing, we're having the best time.' She could never give acknowledgment and be like, 'This is amazing. I love the whole vibe. Do you mind or how do you feel about me doing something [similar]?"
The eldest KarJenner sister also admitted that she doesn't think Kim was consciously trying to hurt her. She felt like Kim only saw the dollar signs and jumped to take the chance. Kendall continued to play devil's advocate, empathizing with Kourtney's feelings, but also pointing out that, as sisters, they all have to understand when someone is presented with a good job opportunity. Kourtney could agree with that, but said she was upset by the lack of communication about the situation.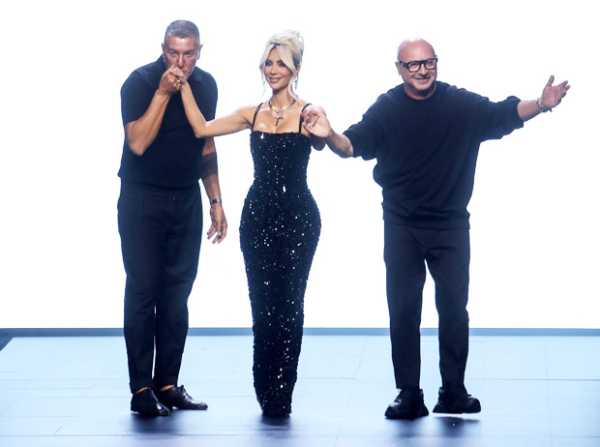 Kim Kardashian at her Dolce & Gabbana show. (MATTEO BAZZI/EPA-EFE/Shutterstock)
"Mom never mentioned it to me [either]," she pointed out. "And mom feels like she's entitled, almost. Like she doesn't hav to get my permission. If I did it to Kim, she would freak out. To me, it was more personal, and that's why it hurt my feelings. It was my ACTUAL wedding. The year your sister got married you made a deal to do the fashion show? Don't do it the same year. It's my actual wedding. That wasn't a business deal for me."
Matters were made even worse when Kris Jenner texted the family and asked them to post on social media promoting Kim's collection. "I go, 'Post what?' and she goes, 'Post the t-shirt that they sent,' and Khloe [Kardashian] goes, 'You know, Dolce, the people that did your wedding?' And that triggered me," Kourtney explained. "I kind of didn't really care, but that set me off. I'm like, 'Does no one see that this feels weird?' I go, 'Actually, this feels really inauthentic to me and I can't fake it and I don't feel like supporting this.'"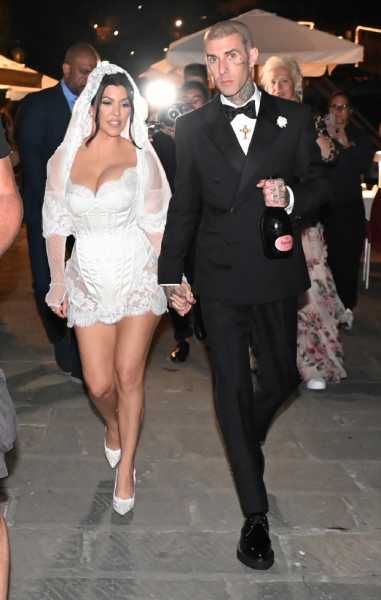 Kourtney and Travis on their wedding weekend. (Cobra Team / BACKGRID)
Meanwhile, over in Milan, Khloe urged Kris to acknowledge Kourtney's reasoning for not wanting to post the t-shirts. However, both ladies were confused over what Kourtney was so upset about. "Are you sure it's really about the t-shirts?" a producer asked, to which Khloe responded, "As far as I know it is." The night before the fashion show, Khloe filled Kim in. "It's not rational," she warned her sister.
"This is the first time I've heard that Kourtney is upset about us doing the Dolce show," Kim said. "I couldn't have been more mindful. I said, 'Don't do anything Kourt wore to her wedding,' out of respect for Kourtney. She doesn't know but I have the email [chain] begging them to push [the collaboration] a year. What I realized in this lifetime is everyone has their own truth of how they think something happened, and it's weird, but it's all going to come out on the show. This is our therapy." The drama continues with next week's episode!
Click to Subscribe to Get Our Free HollywoodLife Daily Newsletter to get the hottest celeb news.
View Related Gallery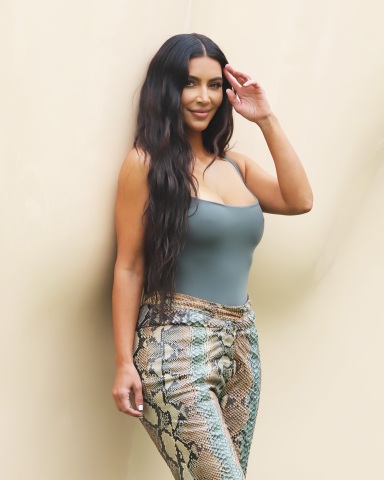 <a href="https://hollywoodlife.com/celeb/kim-kardashian/">Kim Kardashian</a> has given her closet a full makeover since her split from Kanye West. The 'Keeping Up with the Kardashians' star used to let her ex-husband do all her styling, but after filing for divorce in Feb. 2021, Kim started to embrace her own sexy looks. Since she was declared <a href="https://hollywoodlife.com/2022/03/02/kim-kardashian-legally-single-status-court-ruling-kanye-west-divorce/">"legally single"</a> in Mar. 2022, the star has been rocking some truly striking ensembles. And now that she's with Pete Davidson, there are plenty of date-night outfits to put on display. The star has even opened up about <a href="https://hollywoodlife.com/2022/03/14/kanye-west-kim-kardashian-career-over-kardashians-trailer/">the influence Kanye</a> used to have on her fashion, admitting "I got to a point where I would ask him for advice for everything, down to what I wear." In the same 'Kardashians' episode, she also confessed that fashion was 'the last thing [Kanye & I] had really in common." Here, Kim shows off her signature style in a Skims look. She teamed the Body Basics' "Square Neck Bodysuit" with python print pants from the Gucci by Tom Ford collection as she handed out ice cream at her SKIMS pop-up event at The Grove in Los Angeles on April 7, 2021. We've compiled even more of Kim's best looks as an independent woman. From leather ensembles to THOSE Balenciaga gloves, Kim's style has only gotten better since she split from Kanye.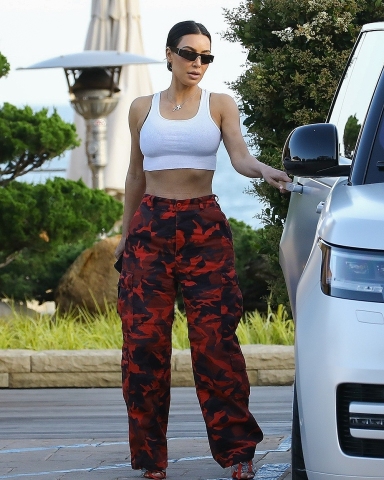 Malibu, CA – *EXCLUSIVE* – Kim Kardashian returns to her car after dinner with an animated North West and friends at Nobu Restaurant in Malibu. Pictured: Kim Kardashian BACKGRID USA 2 JUNE 2023 USA: +1 310 798 9111 / [email protected] UK: +44 208 344 2007 / [email protected] *UK Clients – Pictures Containing Children Please Pixelate Face Prior To Publication*
Sourse: hollywoodlife.com