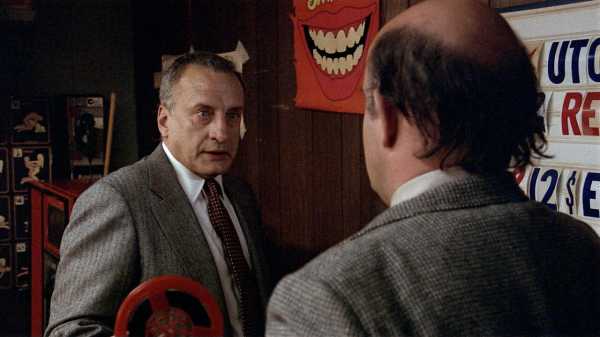 Save this storySave this storySave this storySave this story
Paul Schrader's second feature, "Hardcore," from 1979, is his version of John Ford's "The Searchers." Both movies are dramas of an isolated, stoic, rigidly principled man who takes it upon himself to rescue a young female family member from a way of life—captivity, or something like it—that he deems unfit for her. But Ford's film, from 1956, is a Western, a philosophical drama set just after the Civil War, in a place and a time far removed from the director's birth in Maine, in 1894, whereas Schrader's is contemporary—set in his home town of Grand Rapids, Michigan (where he was born in 1946), and in the religious community of rigorous Calvinists in which he was raised. Built on the very bedrock of Schrader's being, "Hardcore" is one of the key works of his career, a cinematic declaration of identity and principle that echoes throughout his body of work. It's now streaming on the Criterion Channel and is also available on other sites.
In Ford's film, John Wayne plays a former Confederate soldier who spends years searching for his niece (Natalie Wood), who, as a child, was abducted by Native Americans who killed her parents. Schrader's drama is the story of a Michigan businessman, Jake VanDorn (George C. Scott), whose teen-age daughter, Kristen (Ilah Davis), vanishes during a church-run trip to California. Jake flies out there; consults with the police, who offer little help; and hires a private detective named Mast (Peter Boyle), who discovers a pornographic film in which Kristen performs. One of "Hardcore" 's exemplary scenes involves the cynical yet professionally dedicated Mast renting out a Grand Rapids adult theatre in order to give Jake a private viewing. The footage, which Jake has to look at but can't bear to see, lacerates his soul, and his raving agony propels him to take matters into his own hands. He takes a leave of absence from the furniture factory he owns, heads to Los Angeles, fires Mast, and searches for Kristen in the city's XXX-rated shadow world.
Jake is a single father who has brought Kristen up in the severe Calvinist tradition, marked by Bible disputations of Talmudic intricacy and by a radical detachment from secular and popular culture. One of Jake's family members, at a Christmas gathering, denies the assembled children even a bit of bland, holiday-themed TV. (Schrader has spoken of having been barred from watching movies in his own childhood and adolescence.) As with Ford's protagonist, who's on a mission of vengeance aimed, with racist hostility, at all Native Americans, Jake's rescue attempt is also a matter of revenge, fuelled by hate as well as by love. Jake despises the sex-soaked contemporary culture that seems to have swallowed Kristen up, and that, long ago, lured his own wife away from him. He sees that culture manifested overtly in the explicit pornography which he confronts, but also implicitly in seemingly innocuous sitcoms and talk shows and more or less everything that doesn't issue from his church and its doctrines.
Jake's manner is taut and clipped, and he's well aware that he's out of place on the seamy side of the city. In a brilliant twist that's both a matter of dramatic import and of symbolic power, Jake soon discovers that his appearance arouses suspicion. (For starters, he's regularly asked whether he's from the vice squad.) Making no headway in his regular business attire of a jacket and tie, he decks himself out in denim jackets, flashily patterned shirts, and an ostentatious fake mustache to pass himself off as a wannabe porn producer, "Jake DeVries," in the hope of gaining access to industry folk who could lead him to Kristen. Jake eventually takes a Virgil for this money-fuelled descent into degradation—a porn actress named Niki (Season Hubley)—but his pursuit is fundamentally a lonely one, his need for secrecy detaching him from the familial and religious communities that previously defined him. Following trails that may lead him to Kristen, he shifts from the circuits of conventional, consensual bedroom porn to a covert underground of torture porn and snuff films. Along the way, he patiently explains to Niki his stern religious principles, starting with the doctrine of "total depravity," which allows no redemption through good works (though he seems to leave himself a significant margin for bad ones). The zeal with which he adopts his new identity renders him indistinguishable from those he considers depraved. Indeed, it's perhaps only his ready recourse to violence, however motivated by love, that distinguishes him from them.
Schrader's directorial manner is tightly restrained, spare and unshowy, not even conspicuous in its austerity, but marked by a sleek and fragile tension that suggests a volcano that's ready to blow just beneath the surface. In this regard, Schrader's work—here and throughout his career, notably, in his recent trilogy of "First Reformed," "The Card Counter," and "Master Gardener"—resembles, above all, the films of the French director Éric Rohmer. Although Rohmer is acclaimed as a master of romantic maneuvering by way of philosophical dialogue, the energy of his films is generated by furious passions, especially sexual ones. His characters' suavely dialectical manners may mask and sublimate these passions, but they remain ready to explode with crude and dangerous power. In Schrader's films, the passions beneath the surface—and only just beneath—are total, as befits the religious inspiration of his art. His characters are consumed by a conjoined fury of love and hate, enthusiasm and rage; when circumstances allow these passions to break through, his characters will risk destroying their world in order to save it.
In Scott's clench-jawed performance, Jake glows with a white-hot rage that blazes far beyond its immediate target of pornography and illuminates much more than a path to Kristen; it casts a lurid light on American life at large and risks igniting the full run of everyday business and ordinary pleasures. In impersonating a would-be pornographer, Jake discovers how thin the line is that separates his own sober enterprise from the business of pornography. (This fact is no surprise to others, such as a porn kingpin named Bill, played by Joseph Prus, who used to run a car wash and a Dairy Queen and says, "Always in action, though, and always made a dollar.") Even as Jake gets a long-overdue lesson in how people live—in what some do for money and others do for fun—he also finds a long-stifled meaning to his own life in this obsessive quest and in the furious outbursts of violence that it leads to. In a way, his life will never have been as full as when it seemed so empty, and his religious devotion will never be as total or as pure as when he thoroughly betrays its strictures. ♦
Sourse: newyorker.com