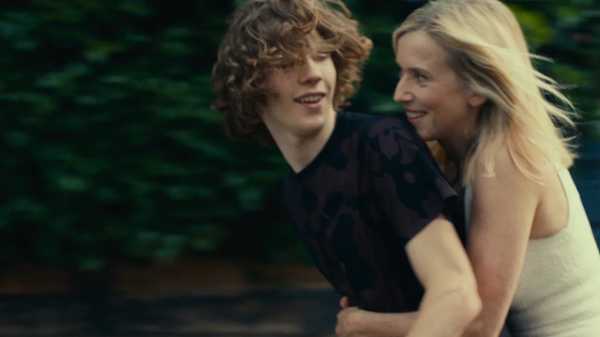 Save this storySave this storySave this storySave this story
When a filmmaker is as prolific as Hong Sangsoo, paying his work the attention it deserves can seem almost unfair to everyone else. Not for the first time, the New York Film Festival has two new films of his on its main slate, and rightly so: "In Water," which screened this past week, and "In Our Day," which will screen from October 11th to 13th. The parallels and contrasts between the two reveal a lot, not only about Hong's art but also about some baseline cinematic ideas. "In Water," which I wrote about last week, tells the story of an actor-director and his two associates, a cameraman and an actress, as the three of them try to make an improvised short film during one week in a seaside town. Compared with this compact tale, "In Our Day," is virtually sprawling. It runs considerably longer (eighty-three minutes versus sixty-one) and is centered on two trios of characters rather than just one, and it only gradually becomes apparent how the two trios are connected. The shorter film is more vigorous: a tale of youth on the brink, it has an inherently romantic flair. "In Our Day" is a drama of exhaustion and withdrawal; it's a sedentary film, set mainly in and around two apartments, taking place within the confines of a single day. It has young characters, too, but, in each of its parallel stories, the focus is on an older artist figure—an actress and a poet, respectively—from whom the younger seek inspiration.
The actress, named Sangwon (Kim Min-hee), is maybe forty or so but has had a long career. Recently, though, she has quit acting and is now studying something called "architectural aesthetics." She has returned to Seoul from unspecified wanderings and is staying with her friend Jungsoo (Song Seon-mi). The two women's friendship, marked less by what they say than by all that they keep to themselves, gets a shakeup with the arrival of Sangwon's young cousin Jisoo (Park Mi-so), an aspiring actress who wants to ask the veteran for advice. As for the poet, Uiju (Ki Joo-bong), he seems to be pushing sixty and he doesn't seem to be writing much poetry. Instead, he is living in the light, or, rather, the shadow of his fame. (He's introduced in a title card stating that he "has belatedly become popular with young people, but all he wants is to live a peaceful life free of pain.") Divorced and living alone, Uiju suffers from heart trouble and is deprived of his basic pleasures of smoking and drinking. Poorly feigning modesty, he basks in the attention of a young woman (Kim Seung-yun) who's filming a documentary about him, and he makes excessively sure that she catches the details of his domestic routine. Here too, a third person arrives: a young aspiring actor (Ha Seong-guk) who peppers Uiju with questions about art and life, while the documentarian films their long discussions.
As he intercuts between these two trios, Hong creates strange echoes: between the bundle of gifts that both Jisoo and the young man bring to their would-be mentors, or their shared idiosyncratic way of eating instant ramen. Yet what really matters—the core, the heart of the film—is their shared approach to art, which is also an approach to life. Sangwon and Uiju are never seen together and they never mention the other by name, but it's hinted that they have a history—that he was a great influence in the course of her career, her life, and in the development of her ideas and ideals, which she expresses volubly, passionately, and with literary flair and depth. Speaking about the intellectual and emotional demands of acting, Sangwon describes the unpleasant experience of delivering, for directors' cameras, prefabricated performances of preëstablished scripts written by others, and being merely impatient for her workday to end. (In so doing, she offers a stealth endorsement of Hong's methods: he famously sketches his stories at the time of the shoot and lets his actors improvise dialogue.) As for Uiju, with thoughts of death never far off, he finds all attempts to find meaning—whether in poetry or life—artificial and superficial, mere distractions from the vastness and irreducibility of ordinary existence. At one point he delivers, in action, a chilling metaphor for the existential abyss that awaits those who are artists in their soul but who aren't seizing the day and making art.
Hong's movies almost always feature long takes of intricate and fervent conversation, filmed from delicately incisive angles. Here (though I wasn't timing) the takes seem to be even longer than usual, and the discussions seem all the more exultant and revelatory for ebbing and flowing over vast spans of time. "In Our Day" is essentially a sort of wisdom cinema, a distillation of the emotional complexity, the aphoristic brilliance, and the severity toward oneself and toward others that marks the world of admired creators—and it's a work of paradox. Even as it exemplifies Hong's own independent and free-spirited methods (he's the film's director, writer, producer, cinematographer, editor, and even creator of its score), it suggests what looms as an enticing possibility should he hazard to make an elaborate, scripted, historical drama: I can't think of another filmmaker who would do as original a job of filming nonfiction masterworks of literary conversation and the ordinary life of the artists who are its masters and the acolytes who lovingly transcribe it, such as Boswell's "Life of Johnson" or Eckermann's "Conversations with Goethe."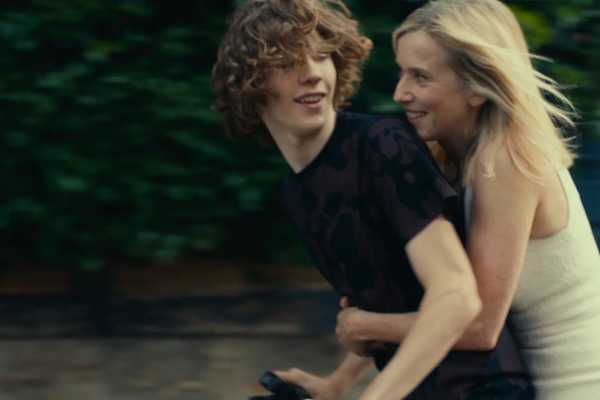 "Last Summer."Photograph courtesy New York Film Festival
The word "family" ripples like a fun-house guffaw through "Last Summer," Catherine Breillat's ice-cold melodrama of lust and power about a family-court lawyer named Anne (Léa Drucker) who has a sexual relationship with her husband's seventeen-year-old son, Théo (Samuel Kircher). The film pits morality against legality. Anne's breaches of trust and responsibility are grievous, but she is committing neither incest nor statutory rape; Théo is neither her biological child nor her adopted one, and he has reached the age of consent. The tale is set in an haut-bourgeois paradise that seems to be rotting from within. Anne lives in a lavish home in the Paris suburbs with her husband, Pierre (Olivier Rabourdin), a prosperous businessman whose business is facing an intrusive tax audit, and their two adoptive daughters. Théo has been living in Geneva with his mother, Pierre's ex-wife, but his parents move him to Paris after he is suspended from school for assaulting a teacher. The truculent and diffident teen-ager, all floppy hair and hormones, disruptively acts out his frustrations, while nonetheless becoming a good big brother to the two girls; meanwhile, his sparks of playful flirtation with Anne ignite an uncontrollable conflagration of desire. Anne, remorseful and fearful, swears Théo to secrecy, but the coverup quickly becomes the bigger and better drama: a conflict of terrifying intensity and bitter irony, taut with emotional violence and looming menace.
In the French press, Breillat has been accused of casting an approving eye on a quasi-incestuous relationship, and her remarks in interviews confirm that she is vocal in her defense of consensual passions that defy conventional mores. But her remarks are beside the point. For a start, viewers shouldn't need any finger-wagging by Breillat, in drama or in statements, at her characters' behavior in order to form their own view of the matter. More important, the anguish, the fury, and the deceit that the affair unleashes—and the pitiless precision with which Breillat films them—provide a surer and clearer judgment on the action. Indeed, the freedom of a movie to escape from its director's intentions is a prime mark of artistic inspiration.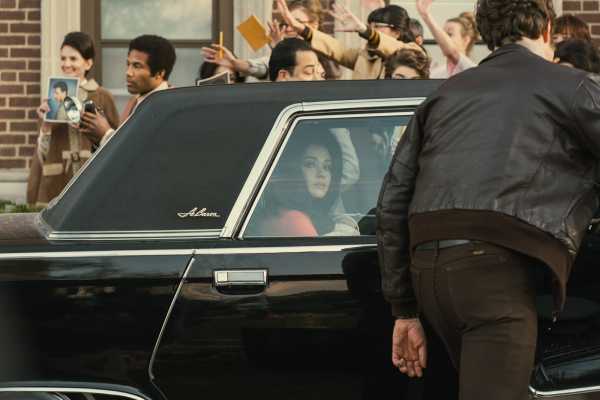 "Priscilla."Photograph courtesy A24
Sofia Coppola's new film, "Priscilla," screening tonight, October 8th, and October 15th, is a sombre and calmly indignant drama, a modern American follow-up to her 2006 film "Marie Antoinette." The differences between the films are in a way embedded in the drama and the style of the new one, which follows Priscilla Beaulieu (Cailee Spaeny) from her meeting—as a ninth-grader on a U.S. Army base in Wiesbaden, in 1959—with Elvis Presley (Jacob Elordi) through their courtship, her move to Graceland, and their marriage, which ended in 1973. The fourteen-year-old Priscilla, though unsurprisingly starstruck, wasn't so much smitten with Elvis as bewildered by the intensity of the attachment that this world-famous man ten years her senior displayed. She was also desperately homesick for the U.S. and thrilled by the exciting new world that the relationship opened up to her. Yet, far from liberating her, her entry into his vortex of fame merely transferred her from the control of her father (Ari Cohen), an Air Force officer, to the control of Elvis—and, when Elvis wasn't around, of his father, Vernon (Tim Post). Living in Graceland with Elvis and his entourage, she's seen to have even less freedom than an average teen. Elvis doesn't let her take a part-time job in a local boutique, declaring that she has to choose between him and her "career": "When I call, I need you to be there for me."
Elvis quickly initiates Priscilla to pills—pills to stay awake, pills to sleep—and his nocturnal life, with its endless round of parties, leaves her little time or energy for school. Thus she doesn't get much of an education, and, as an adult, Priscilla also has less activity, less experience, and less first-hand knowledge of life at large than most people her age. All she has is "everything": she can shop to her heart's content, but Elvis quashes and controls even her taste. The movie doesn't look hard at Elvis's music, because Priscilla doesn't, either—and because the one time she does try to express herself on the subject, he throws a heavy object at her. (The movie, written by Coppola and based on a memoir by Priscilla Presley, also emphasizes Elvis's frustrations—notably, his thwarted ambitions to study at the Actors Studio and seek a serious movie career akin to that of Marlon Brando or James Dean.)
When Coppola unleashes images of rarefied style, as in a melancholy zoom back that leaves Priscilla trapped in a window frame of the Graceland mansion, they hit hard, but, in general, "Priscilla" doesn't have the style of "Marie Antoinette." And that is the point: Priscilla herself doesn't have the style of Marie Antoinette, and through no fault of her own. At least the Queen of France had a foundation of noblesse-oblige training on which to build her ruinous glories of high style and fashion. "Priscilla," however, is a flat smack of a confrontation with a male-supremacist culture—abetted by a consumerist one—that produces an emptied-out life. The music that her husband performs and that brings him fame is inseparable from the hard-partying boys' club of his entourage. This, too, is a preoccupation of "Priscilla" and a source of its overwhelming sense of loss. Who is the female Elvis? The fact that one has to even think about it is, in effect, the subject of Coppola's film. ♦
Sourse: newyorker.com