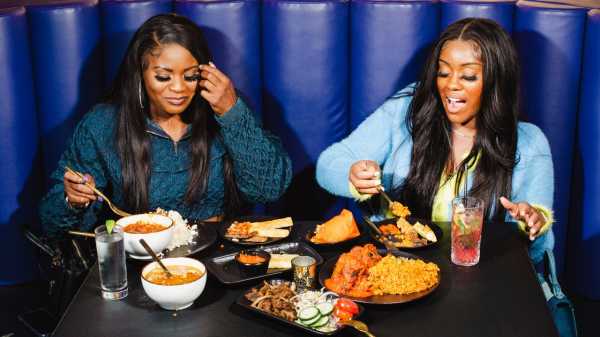 Save this storySave this storySave this storySave this storyYou're reading the Food Scene newsletter, Helen Rosner's guide to what, where, and how to eat. Sign up to receive it in your in-box.
Some skepticism is warranted whenever a restaurant has a Times Square address. "You know, I suggested we come to this restaurant kind of as a joke," the writer and recipe developer Yewande Komolafe told me recently, spooning out a serving of pepper soup at Lagos TSQ, a three-story Nigerian restaurant-cum-night club on Seventh Avenue near Forty-eighth Street, a block from the TKTS booth and just across the street from the enormous M&M's store. I had asked Komolafe, who is the author of the new cookbook "My Everyday Lagos," to bring me to one of her favorite Nigerian spots in the city. It turns out that list is short—practically nonexistent.
Lagos TSQ
727 Seventh Ave.
(Dishes $12-$90.)
The Nigerian essayist Yemisí Aríbisálà has described the nation's food as "not yet given its due." She writes, "Our soups are some of the best-kept secrets in the world. While the rest of the world has gone on and on about their cuisines, we have remained mute, with our mouths full of food." Komolafe explained that she tends not to find what she's looking for at most West African restaurants in New York: the flavors are dulled to cater to unfamiliar palates, or the food is wrapped in a fairy-tale cultural narrative that speaks past actual West Africans, playing instead to the expectations of (mostly white) cultural tourists. (She admitted that she hadn't yet visited my favorite Nigerian restaurant, Brooklyn Suya, a street-food counter in Crown Heights.) This was her first visit to Lagos TSQ, and she had been pessimistic. "But this food is good," she said. "It's good good."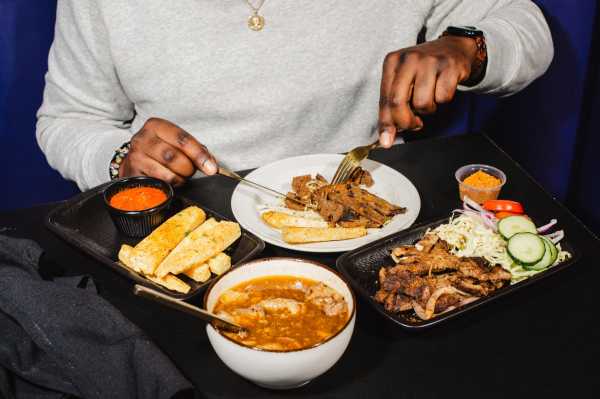 The restaurant's beef suya and a bowl of exemplary pepper soup.
Nigerian cuisine is not a monolith—the foodways of the Yoruba are distinct from those of the Igbo; the dishes of Calabar aren't those of Lagos. Still, the country's expanse of stews and fritters and braises are tied together by a vividly flavorful pantry: heady spices, preserved seafood, the seductive florality of red palm oil. The bowl of pepper soup that Komolafe and I had before us was note-perfect: a thin, opaque broth sultry with spice and heat, with pieces of tender goat meat hidden beneath the surface. Every cook has their own blend of spices in pepper-soup seasoning: vanilla-like uda pods; the mellow heat of grains of paradise; floral uziza, or African black pepper; a whisper of bouillon powder. "I'm surprised by this soup," Komolafe said. "This is the real thing. The spices, even the bouillon, that's how they make it for real!"
Komolafe was born in the Nigerian capital, and came to the U.S. as a teen-ager, on a student visa. After graduating from college, she enrolled in culinary school, where a scheduling miscommunication led to her visa status being revoked; she remained in the country as an undocumented immigrant, until marrying her husband a decade later. (I first met Komolafe years ago at Saveur magazine, where I was an editor and she worked in the test kitchen.) During her undocumented years, she couldn't risk returning to Nigeria; finally visiting again in 2018, two decades after leaving, with her papers in hand, she discovered that the Lagos that lived in her memories collided with a place that had changed in her absence. In "My Everyday Lagos," she compares the city—the most populous in Africa, and a cultural and financial epicenter—to the tumult of a restaurant kitchen: "Its energy is overwhelming, its chaos and disorder acutely unnerving. But once you adjust to it, you feel as though it heightens your senses."
Helen, Help Me!
Email your questions about dining, eating, and anything food-related, and Helen may respond in a future newsletter.
Lagos the restaurant has an overwhelming energy, too. The ground-floor dining room is walled in royal-purple panelling flecked with gold; the bar is longer, somehow, than you might ever expect a bar to be, its endless line of gold bar stools shining like mirrors. A steady flow of tourists and influencer types strike practiced poses before a wall of faux greenery, into which the name of the restaurant is set in letters of reflective gold. Enormous televisions show soccer, cricket, and football. "Meet me at Lagos," a purple neon sign set over a staircase glows. There, on party nights, a bouncer might be stationed, to make sure that only the most soigné are permitted upstairs, which is a whole scene unto itself: guest d.j.s, bottle service, sparklers.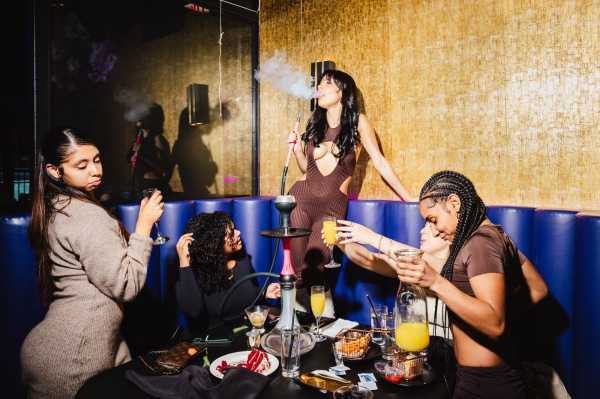 Hookah service helps lend the restaurant a party vibe.
On the main-floor dining room, drinks flow from that long, long bar: bottles of Nigerian beers like Gulder and Star; Ikoyi frosé, named for the ritzy Lagos neighborhood; bottled Chapman's, a nonalcoholic soda punch with a hint of bitterness; a Suya Margarita, a ginger- and habanero-spiked drink, rimmed with a peanut-based spice blend that's more traditionally found dressing skewers of grilled meat. There's proper suya on the menu—strips of grilled beef tossed in that nutty spice, which the chef Barakat Wahab presents alongside slices of raw onion and cucumber and a small pile of dressed cabbage. It was delicious, though our server had promised that it would burn our mouths off and it barely nudged the mercury upward. (Komolafe's own recipe for suya, published in the Times, where she's a staff writer for the Food Section, is heavier on the cayenne and hot paprika.) Jollof rice, perhaps the most widely known West African dish, was more thrilling—the rice was sunrise orange, sweet-smoky with tomato and pepper; enormous hunks of goat alongside were tender and sticky-sweet with sauce.
The food on offer at Lagos TSQ isn't entirely Nigerian: there are cheeseburger sliders, fish tacos, Colorado lamb chops with fingerling potatoes on the side. But it would be misguided to brave Times Square's sensory overload only to enjoy the restaurant's concessions to blander tastes. An enormous bowl of ofada stew was thick and caramelized, aromatic with peppers and irú (fermented locust beans), a slick of red palm oil across its surface. The "assorted meats" that the menu alluded to turned out to include a bit of stewed beef, some tender pieces of tripe, and then something chewier—cow's skin, Komolafe guessed, pointing to the slippery richness of the stew's liquor. Sides of sweet plantain and moi-moi (bean paste ground with aromatics and then steamed in leaves) softened the pepper—"You can tell how serious the kitchen is by their moi-moi, and this one is good," Komolafe said. If you must get sliders, go for the Akara version: fried black-bean cakes alongside a pot of red stew, a rich braise of tomatoes and spices.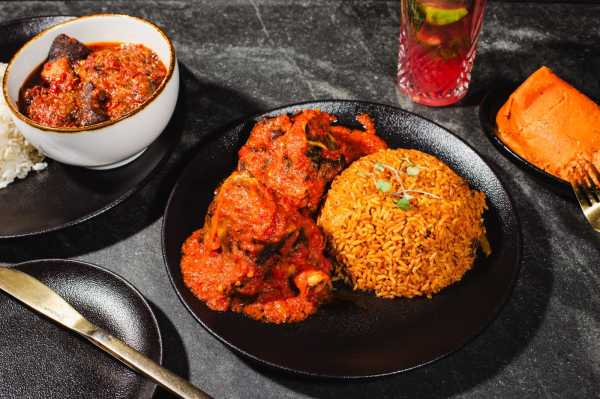 Ofada stew, jollof rice with goat, and the steamed bean paste known as moi-moi.
I was reaching in for another plantain when, suddenly, the room grew dark, the music pumped up, and a chorus of masculine "woooo"s sounded from a table on the other side of the room. It was 9:30 P.M., which is apparently, on a Tuesday, the precise moment when dinner becomes a night out. A suave man in a black dress shirt approached, thrusting a horizontally held smartphone toward us: "HOOKAH?" the screen read. We demurred, but a moment later two servers carried an acrylic hookah engraved with the Lagos TSQ logo to a nearby table, setting it on the floor near a pair of gentlemen. They leaned back in their chairs, drawing luxurious draughts of the sweet vapor. A strobe flashed; a bottle clattered. Outside, the lights of Times Square blazed their daylight into the night. "This is ridiculous," Komolafe half shouted, over the music. "And amazing!" ♦
Sourse: newyorker.com