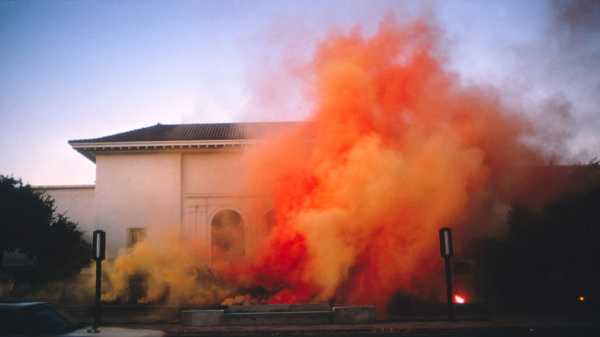 Save this storySave this storySave this storySave this story
Rachel Syme
Staff writer
You're reading the Goings On newsletter, a guide to what we're watching, listening to, and doing this week. Sign up to receive it in your in-box.
On a recent temperate Tuesday night in New York City, Mitski took the stage at the Town Hall for a stripped-down, acoustic set. The thirty-three-year-old singer-songwriter has toured with a full rock band in the past; her yearning songs of loneliness and displacement take on epic proportions when underscored by a fuzzed-out wall of sound. But for her current slate of shows, to support her seventh studio album, "The Land Is Inhospitable and So Are We," Mitski has gone minimalist, singing straight through the thirty-two-minute record accompanied by only a guitarist and a standing bassist. The result is raw and exposed, but it does not feel fragile; Mitski's voice, which flips seamlessly between a raspy alto and a bird-sweet soprano, sounds stronger than it has in years. With her pared-back performances, which continue through October across Europe, Mitski places herself in the lineage of iconic folk artists, who need little more than a chorus and a few chords to move listeners to tears. Her vocal tone has shades of Joan Baez, and her lyrical wit echoes that of Joni Mitchell ("Hey, what's the matter? Lookin' like your sticker / Is stuck on a floor somewhere," Mitski sings in the whimsical "Bug Like an Angel"). For her encore at Town Hall, Mitski covered "Coyote, My Little Brother," by Pete Seeger, citing her admiration for his environmental activism in the Hudson Valley. As she yodelled through the lament about man-made climate tragedies, her upper register vibrated with anger. It was an electric moment, one that made me excited to see what she will do with her voice next.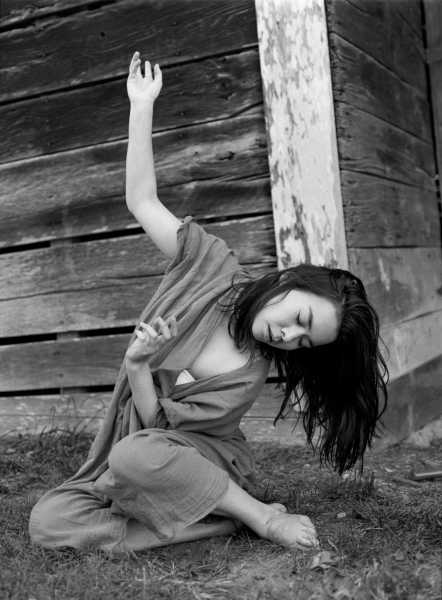 Mitski.Photograph by Ebru Yildiz
This fall marks a bountiful time for new music and tours by women working at the height of their talents. Boygenius, a rock supergroup of Lucy Dacus, Phoebe Bridgers, and Julien Baker, who play the Hollywood Bowl on Halloween, has a new four-song EP, "the rest," out on Oct. 13, a quick follow-up to the band's successful début studio album, "the record." The eclectic English singer Corinne Bailey Rae dropped "Black Rainbows" in September, her first album in seven years, and is touring throughout the fall to promote it. Allison Russell, a virtuoso Canadian artist whose lively songwriting draws from disco, alt-country, and Black roots music, recently put out a masterly sophomore record, "The Returner," and plays the Music Hall of Williamsburg on Nov. 30. Margaret Glaspy, an indie rocker who channels the crunchy nineties energy of Alanis Morissette, Shirley Manson, and Shawn Colvin, performs songs from her new album, "Echo the Diamond," on Oct. 20 at Bowery Ballroom. On Oct. 12-13, you can catch the sardonic Australian singer Courtney Barnett at National Sawdust; Oct. 20-21, the sultry English artist Jessie Ware plays two nights at Terminal 5; and, also on Oct. 21, the irrepressible Héloïse Letissier, who performs as the shape-shifting French pop act Christine and the Queens, descends on Hammerstein Ballroom. It is a thrilling time to put together an autumn mixtape, with a cornucopia of fresh songs to soundtrack your walks through falling leaves.
Spotlight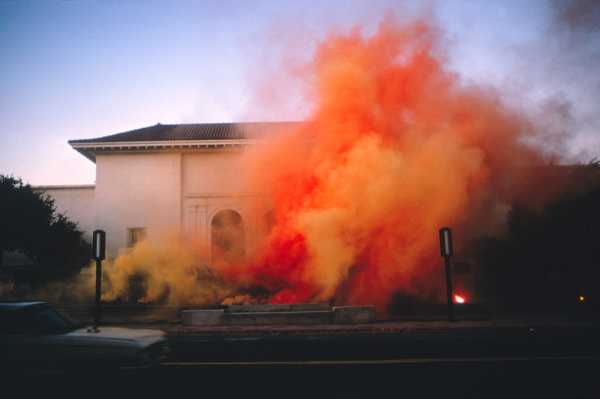 Art work © Judy Chicago / ARS; Photograph © Donald Woodman / ARSArt
Those who know the artist Judy Chicago only by her feminist installation piece "The Dinner Party" (1974-79) may be surprised by the eclecticism of her survey exhibition "Herstory," opening Oct. 12 at the New Museum. In 1968, a year when police officers were busy tear-gassing peaceful protesters, she covered a Pasadena, California, street in benign white smoke. Similar performance pieces followed, and there's a strong argument to be made that smoke is the medium in which she has done her finest work. In 1969, she briefly engulfed the façade of the Santa Barbara Museum of Art in a yellowish-orange haze (pictured). "I wanted to see if I could make it look like it was burning down," she explained. "Museums were very inhospitable to women artists' work."—Jackson Arn (New Museum; through Jan. 14.)

About Town
Alternative Rock
When the Singaporean singer-producer Nat Ćmiel first unveiled their musical project yeule on SoundCloud, in 2013, the artist's catalogue consisted primarily of dreamy, vaporish pop. Ćmiel dubbed the sound of their début album, "Serotonin II," from 2019, cyber goth and post-pop, hinting at the music's mechanized nature and its subtle, synthy gloom. The yeule avatar allowed Ćmiel to reckon with gender dysphoria, and the music—glitchy electronica haunted by lithe, wispy vocals—fixated on artificial intelligence. With the wholly synthesized album "Glitch Princess," from 2022, yeule completed an automated musical evolution. But just when it seemed as if the artist had gone full cyborg, a new album, "softscars," takes a decidedly human approach. Scuzzy and thrashing, it embraces alt-rock in search of a form that can feel.—Sheldon Pearce (Webster Hall; Oct. 15.)
The Theatre
In a dark room, an unnamed technocrat (Steve Mellor) sits at a microphone and grumbles his life story into something called a time encapsulator: How dare others get credit for his ecocidal inventions? And why won't his co-workers—especially the ones he hasn't personally maimed—support him? The gravel-voiced Mellor, super dry and super droll, is an Olympic-level outraged bristler, and "Mahinerator," Jerry Lieblich's hilariously gruesome sci-fi monologue, fits him like a hair shirt. Lieblich composes in a discombobulating argot, equal parts religious rhapsody (he invokes "the salami of injustice") and neologisms (e.g., "broomlicloset") recalling "A Clockwork Orange." The resulting brew, co-directed by Lieblich and Meghan Finn, is revolting yet thrilling—it uses language alone to melt your brain.—Helen Shaw (The Tank; through Oct. 22.)
Opera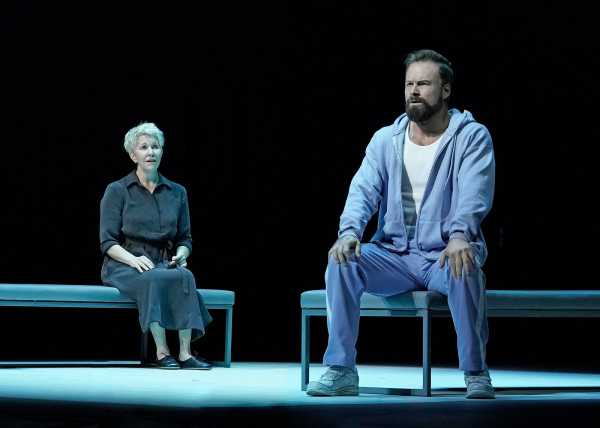 Photograph by Karen Almond / Courtesy Met Opera
The composer Jake Heggie's gripping "Dead Man Walking," based on Sister Helen Prejean's memoir about ministering to murderers on death row, puts off its moral reckoning to the opera's final twenty minutes. Onstage, a camera crew trails Helen (a trenchant Joyce DiDonato) and the convicted murderer Joseph De Rocher (a rugged Ryan McKinny), bringing into extreme closeup two characters who have trouble seeing themselves amid their self-pity (to say nothing of the hellfire smoke billowing from offstage). In Ivo van Hove's new production, DiDonato's pulsating voice cuts through the lush superficiality of the score (vividly conducted by Yannick Nézet-Séguin) as she and McKinny, his bass-baritone edged in darkness, finally find each other in the long, grim shadow of capital punishment.—Oussama Zahr (Metropolitan Opera House; select dates Oct. 12-21.)
Dance
Mythology, magic, the mysteries of nature and of gender—these are all subjects of fascination for the choreographer Christopher Williams. His latest project is a rethinking of two works made in the early twentieth century for Diaghilev's Ballets Russes: Vaslav Nijinsky's "Jeux" (or "Games") and Léonide Massine's "Contes Russes." In "Jeux," Williams offers up alternative scenarios to Nijinsky's tennis metaphor to tell a story of shifting erotic attraction. In "A Child's Tale," the choreographer explores the myth of Baba Yaga, a witchlike character who haunted the Slavic folktales Williams's Ukrainian great-grandmother told him as a child.—Marina Harss (Baryshnikov Arts Center; Oct. 12-15.)
Movies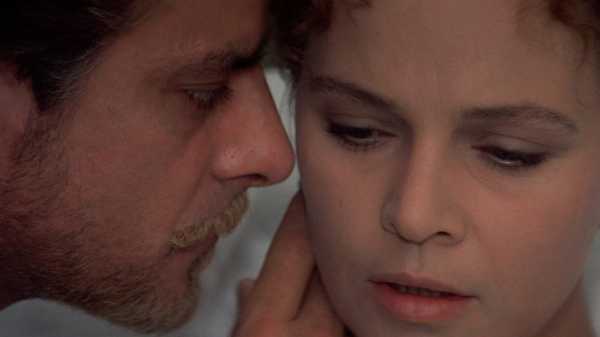 Luchino Visconti's "The Innocent."Photograph courtesy MUBI
Ira Sachs's Paris-set melodrama "Passages," one of the year's best movies so far, is now streaming on MUBI. To accompany it, he has programmed a series for the site which includes another great romantic drama, "The Innocent," the Italian director Luchino Visconti's final film, from 1976, a sumptuous and seething tale of the Roman aristocracy in the late nineteenth century. It's centered on a dashing libertine (Giancarlo Giannini) who takes a lover (Jennifer O'Neill) and leaves his neglected wife (Laura Antonelli) free to follow her own romantic pursuits—but after he jealously reconciles with her she turns out to be pregnant by another man, leading to tragic results. The opulence of the settings and the refined manners of the characters mask the brutality that prevails in high society—above all, the ruthlessness of men's pride and power.—Richard Brody (Streaming on MUBI.)
Art
Isamu Noguchi was one of the last century's greatest sculptors, and the Noguchi Museum is one of New York's loveliest places. Now is a particularly good time to visit, thanks to the filmmaker Marie Menken's avant-garde short "Visual Variations on Noguchi" (1945-46), the subject of the compact but essential exhibition "A Glorious Bewilderment." Menken knew how to handle a Bolex camera, and in this film she zips around sculpture after sculpture of Noguchi's, delighting in the curves and hidden textures. When you turn to the sculptures themselves (the sea urchin-like "E = MC2" is a standout), they almost seem to vibrate, so infectious is Menken's energy. She could have called the film "Noguchi: A User's Manual."—Jackson Arn (The Noguchi Museum; through Feb. 4.)

Pick Three
The staff writer Rachel Syme shares her current obsessions.
1. Fall is, to me, the most glamorous season, and not just because of the preponderance of tweed; it's a time for sharpening up after the melted insouciance of summer. Everyone is, for a glorious moment, trying—before the winter doldrums send us slinking to the sofa. You can clearly spot the effort at the Metropolitan Opera, where, to quote a widely circulated meme, dressing up is so back. My current favorite Instagram account, @lastnightatthemet, documents the peacocking at Lincoln Center. To experience New York's best people-watching for yourself, buy a Family Circle seat for under fifty dollars and bring opera glasses.
2. I always choose a new scent for fall, and this year I'm leaning into Dior's L'Or de J'adore. In 2021, Dior named Francis Kurkdjian—the fragrance savant behind the very popular Baccarat Rouge 540—its creative director for perfume, and L'Or is his much anticipated first release. It lives up to the hype, twisting jasmine and orange blossom into a surprisingly complex composition. An elegant, grownup, full-fat perfume, it smells like pulling yourself together.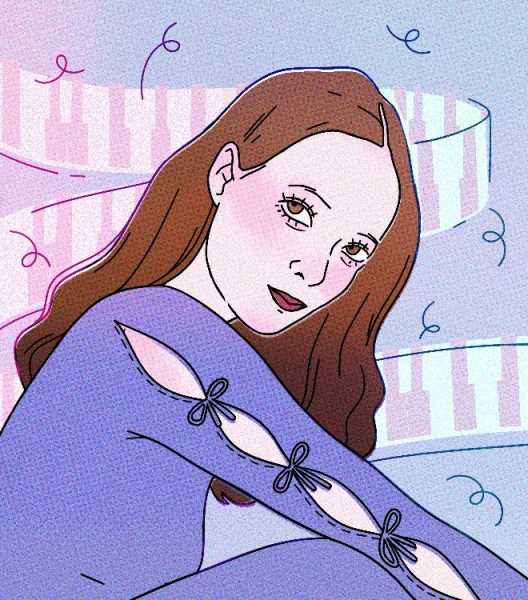 Illustration by Sunny Wu
3. There's no better time to throw a dinner party than October, when friends are still willing to brave the chill and make a journey for pot roast. Parties demand a soundtrack, and you cannot go wrong with "Bewitched," the new album from the Chinese Icelandic chanteuse Laufey, whose delicate, warbly vocals and bossa-nova ditties have gone viral on TikTok. She's been called the Norah Jones of Gen Z, but I hear a cross between Snow White and Astrud Gilberto—ideal background music for lingering into the night.
P.S. Good stuff on the Internet:
Dwight Garner keeps muffuletta in the freezer
Jeremy Strong at the Jets game
The trailer for Sofia Coppola's "Priscilla"
Sourse: newyorker.com