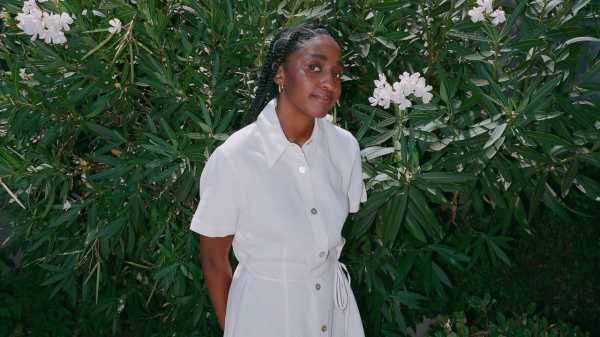 Save this storySave this storySave this storySave this story
On an unseasonably warm day in April, the actor and comedian Ayo Edebiri stood in a brightly lit kitchen, considering a cannolo. Edebiri is one of the stars of the television series "The Bear," set in a run-down sandwich shop inherited by Carmy (Jeremy Allen White), a chef who leaves a career in fine dining to reclaim his family's business following his brother's death. Where Carmy is overwhelmed by debts, grief, and mutinous kitchen staff, Edebiri's character, an ambitious young sous-chef named Sydney, aims to impose order on the chaos. That day in April, dressed in a clean white shirt, a pressed navy apron, and a red bandana, she was shooting a scene for the show's forthcoming second season at a soundstage on Chicago's West Side. In each take, Edebiri tried something different, modulating her intensity and tone—first sarcastic, then sincere. Between shots, she bent over to study the dish, querying the show's culinary producer about the ingredients and presentation. During one lull, she noticed that a few mostarda pearls had fallen off the pastry's shell. She plucked the beads from the plate and rearranged them. Then she laughed, realizing this wasn't really her job. "What am I even doing?" she muttered.
When she was in her mid-twenties, Edebiri began establishing herself as a comedian and writer on "What We Do in the Shadows," "Dickinson," and the animated hit "Big Mouth." Then she made the leap from the writers' room to the screen. Season 2 of "The Bear" will start airing this week, and later this summer she'll have a leading role in a rom-com, "Bottoms." Next year, she'll join the Marvel Cinematic Universe. Edebiri, now twenty-seven, remains stunned by the shift in her career. She was a production assistant on "Broad City" right after college, and used to go on coffee runs for its creators and stars, Abbi Jacobson and Ilana Glazer. Suddenly, they're attending her premières.
"It's crazy, because now they're people I know professionally," Edebiri told me in April. We met at a wood-panelled tavern near her hotel; she'd rushed home to deposit her Chihuahua mix, Gromit, after the episode shoot, and arrived slightly flustered, still keyed up from the day. She ordered for us at the restaurant—tartare, chicken curry, a steak-and-ale pot pie, and a side of broccoli with drawn butter—and as the server walked away Edebiri sank back into the leather booth. Her energy, which had been at a rolling boil, settled to a simmer.
Edebiri is a worrier by nature, a quality that often makes its way into her comedy. In one standup performance, from 2019, she describes an attempt to mediate her stress via weed. "If you're not familiar with taking an edible," she says, pacing the stage, "it's pretty simple: you ingest the edible, and you wait anywhere from, like, an hour and a half to the rest of your life for your most toxic memories to drop-kick you in the back of your throat and send you on a sweet little roller-coaster ride of all your most present anxieties and all the worst things you've ever done to the people who loved you the most." By the end of the speech, Edebiri is nearly hyperventilating. Recently, she posted to her Instagram story a playlist entitled "having a mental breakdown but I'm like 11," a collection of emotionally fraught songs from her youth. At dinner, Edebiri was waggish but nervous; when I bumped into her the next morning at a café, she was so uncomfortable that she was practically squirming. "You're not doing anything wrong—I just hate this process," she told me, before wedging herself behind a small table next to me and pulling out her journal. "I'm glad it's happening," she added. "It's just so unnatural." During our conversations, I noticed that Edebiri tends to guard her thoughts carefully, avoiding saying anything definitive for fear of locking herself in place. She ranges forward and backward in time, checking each thought against her past and future selves. "If I think about it, in high school, I didn't feel that way," she might say, following up with: "But, in five years, who knows?"
Edebiri grew up as an only child in Dorchester, a predominantly working-class neighborhood in Boston, where her family attended a Pentecostal church at least twice a week. Her mother, an immigrant from Barbados, was deeply religious, but her Nigerian father wasn't. "I was, like, 'You're going to Hell, bro,' " she recalled, only half-joking. As an adolescent, she would have panic attacks about the Rapture. If she woke up and her mom wasn't in her bed, Edebiri would worry that her mom had been transported to Heaven and that she and her dad had been left behind. But she loved church—it gave her a purpose and a way to care about the people around her that felt, she said, "like it had a deeper meaning." She credits the Bible with germinating her interest in storytelling: during her childhood, she journalled regularly and composed intricate, often surreal plots. At eight or nine, she drafted a fantasy novel about a girl who was an orphan. "All good stories are about children who are orphans," she told me wryly.
Film, too, was an early fixation. Edebiri remembers watching Westerns like "The Good, the Bad, and the Ugly" and "A Fistful of Dollars" with her father in their living room. And yet, she said, "I didn't really think of acting as a job that I could do. I wanted a real job that would make me money." For a long time, she didn't feel she had the right type of charisma, or the right looks, for a career in Hollywood. She'd mentioned this once before in an interview, and the response online made her cringe. "It was a lot of people being, like, 'We are so glad to have fucking ugly actors in the industry,' " she recalled with a snort.
Instead, she planned to study teaching, which her parents encouraged. Two and a half years into her time at N.Y.U., she began to have second thoughts. ("It was the opposite of any of those movies where a teacher is coming into a classroom and standing on the desk," she told Trevor Noah last year. "I stood on the desk and they were, like, 'Sit down.' ") She switched to a dramatic-writing major, which promptly reconfigured her relationship to culture. "I realized: it's O.K. that 'Babe' is one of my favorite movies, because, structurally, it's actually kind of a brilliant movie!" she said. "These things that I love—there's a reason. I've had taste!" Through the program, she met Rachel Sennott, a fellow-student and now a frequent comedic collaborator. The two wrote and starred in the Comedy Central web series "Ayo and Rachel Are Single," which premièred in 2020, and they appear together in "Bottoms." Back at N.Y.U., Sennott had also been the first to introduce Edebiri to the city's standup scene, badgering her to perform at a show in an acquaintance's apartment in their senior year. "I was, like, 'You gotta leave me alone,' " Edebiri said. Too late, Sennott replied. She was already on the lineup.
After graduation, Edebiri ran herself ragged in her pursuit of comedy. She signed up for open sets and picked up gigs at venues across Manhattan and Brooklyn, sometimes performing multiple times in one day, ping-ponging around the city for shows at 4 P.M., 6 P.M., and 9 P.M. She played up her youth and developed a style punctuated by exaggerated motion—a leg kicked out in a fit of agitation, a hand jabbed at the audience for emphasis—which lent her sets a distinctive, frenetic energy.
In Edebiri's routines, everyone is under scrutiny, including herself, whether she is cracking jokes about being a stealth gentrifier—undetected by virtue of her Blackness—or questioning her own taste in men and women. "It's very inspiring to know that Rosa Parks died so that I could date white d.j.s," she said in a 2019 special on Comedy Central. "Like, my parents came to this country so I could get U.T.I.s from men named Casey." She often performs with a vocal fry that makes her sound like she's complaining to a friend—but, as she reaches the apex of the joke, her voice goes hard and insistent, hammering her point home.
Her sets soon led to writing gigs on shows like "Sunnyside," "Dickinson"(Edebiri wrote for Seasons 2 and 3, and appeared on screen as Hattie, the maid to Hailee Steinfeld's Emily), and "Big Mouth." Nick Kroll, one of "Big Mouth" 's creators and stars, had encountered Edebiri during a standup show in Los Angeles, where they were sharing a bill. "She was, like, twenty-four, and already so in control of her voice," he told me. When Kroll invited her to interview for the "Big Mouth" writers' room, she spent the entire session talking about puberty. "I was just talking about me at, like, thirteen, being a freak," Edebiri said. "I was, like, 'I ruined it!' " Kroll remembered it differently. "Some people are funny on stage, but then they're not necessarily always funny in the room," he told me. Edebiri was funny in the room. Mitra Jouhari, a fellow-writer on "Big Mouth," said of Edebiri, "There's a real sharpness to what she does comedically, but at the center of it is true silliness and warmth. . . . And, you know, Ayo is also a little pervert, so she was a great fit in that way."
"Big Mouth" also presented Edebiri with her first major acting role, when, in 2020, she took over voicing the character Missy. Missy is biracial, and Jenny Slate, who is white, and had originated the role, stepped down after the Black Lives Matter protests. At first, Edebiri resisted the idea of auditioning. "I'm not trying out for this thing and then not getting it," she said to a colleague. "And then I have to write in the room every day, for, I don't know, Viola Davis."
Even before she took over the role, Edebiri identified with Missy. She often wrote for the character, digging into her own history as an "uncomfortable child" and a horny nerd. Like Missy, Edebiri attended predominantly white institutions (she went to high school at Boston Latin, a prominent public-exam school), which forced her to reckon with her racial identity at a young age. As Edebiri put it to E.W., "Missy's journey of discovering herself, her sexual identity, and her Blackness—even discovering that those are things that she needed to discover—are all things I definitely related to."
"Big Mouth" had begun to explore Missy's racial identity in earlier seasons, but the change in voice actors marked a critical transformation in the character's life—and in Edebiri's own. She now had a recurring role on one of Netflix's most popular series. But the casting decision also made her a target. Harassers have called her parents repeatedly, leading Edebiri to scrub their information from the Internet; she requested that their names not be included in this piece. Because most "Big Mouth" viewers knew her by her voice alone, she was still able to maintain a degree of anonymity; a larger live-action role would doubtless chip away at her privacy. But when she received an audition notice for "The Bear," in early 2021, she was drawn to Sydney as soon as she read the script. This sounds like a real person, she recalled thinking.
In 2019, Edebiri had gone for lunch with Christopher Storer, the creator of "The Bear," and at the end of their meal he said, "We're going to work together someday." After she was cast, he told her that he'd always wanted her to play Sydney. "I was, like, 'Well, you could've said that!' " Edebiri exclaimed with mock affront at our dinner in Chicago. She paused, reflecting. "I'm glad I didn't know, though, 'cause I probably would've bombed."
On set, Edebiri bounces between intense focus and jocularity. After they wrapped the pastry scene, Edebiri bounded toward craft services, swinging a giant water bottle. "Great kid. Beautifully out of her mind," the actor Edwin Lee Gibson said, with no further embellishment. Ramy Youssef, the creator and star of the series "Ramy," who would soon be directing an episode of "The Bear" himself, stood nearby. "Ayo has incredible access to her emotions, and she can pull from that access in seemingly effortless ways," he said, then sighed. "She's gonna delete my number for being too cool."
White, who stars opposite her as Carmy, told me he'd been struck by her naturalism from the first time they worked together. "I was bowled over in the moment, in the scene, which I think was kind of fitting for Syd and Carm." He noted that Edebiri and her character are similarly driven. "She's right there for you," he went on. "You get what you see, with Ayo." Her assiduousness has not gone unnoticed by other castmates. "She keeps a running track of everything that's going on at all times," Lionel Boyce, who plays the pastry chef Marcus, told me. Ebon Moss-Bachrach, who plays Carmy's cousin Richie, cited her tendency to compose lists of favorite films in specific subgenres. (He himself is on one such list, a collection of her favorite working actors.) When the opportunity arises to show off her encyclopedic knowledge of cinema, she takes it. "Ghibli food undefeated," she texted me during an exchange about favorite culinary moments on screen. "All of Tampopo. Babette's Feast, which is one of my dad's favorite movies. The Cook, the Thief, His Wife & Her Lover. Soul Food."
In explaining her choices as an actor, Edebiri quoted something she remembered Moss-Bachrach once saying to her: "It's boring to play characters who are happy." Earlier this year, she appeared on "Abbott Elementary," Quinta Brunson's mockumentary sitcom about teachers at a public school in Philadelphia, as Ayesha, sister to Brunson's Janine. She was borderline gleeful as she described why the role appealed to her: "I'm going on a show I love, and I'm playing a person who has an estranged relationship with her sister, and she hates that the cameras are there?" She laughed delightedly. Beyond "Abbott," most of Edebiri's characters are women with complex motivations that occasionally lead them to make messy choices, as when Sydney quits mid-service after an argument with Carmy. In such moments, Edebiri is able to communicate Sydney's vulnerability, anger, and fear, all at the same time.
As Sennott put it, "She's able to uphold multiple things." In "Bottoms," a biting, satirical twist on the high-school rom-com, Edebiri's character, Josie, co-founds a fight club in part to impress her crush, Isabel. At one point, Isabel head-butts another girl so hard that they're both knocked to the ground, and Josie watches, mouth agape, a mix of fear, lust, and apprehension flitting across her features. "She has the brain of a writer and a performer," Sennott said. "And I think she'd be an amazing director, because she's thinking about all of these things at once."
Edebiri has toyed with the idea. "I've been shadowing Chris and learning a lot about directing, which is a new . . ." She paused, looking for the right word. "I didn't want to say a new interest, and I didn't want to say thing, and I didn't want to say pursuit. Anyway, it's something new." Directing appeals to Edebiri's scrupulous nature. She likes being in control, a position that can be hard to maintain in an industry that seems increasingly volatile. Of acting, she said, "Sometimes you feel like the world's most powerful baby. Everybody dictates your life."
This year alone, in addition to "The Bear" and "Bottoms," Edebiri will appear in three feature films and enter production on "Thunderbolts," her M.C.U. début. But her momentum has provoked unease. "I get very nervous when people like stuff too much," she said. "I feel, like, as a child of the Internet, I know what that's like: Oh, we all like them? What's the thing that they're going to do where we all decide that we actually hated them the whole time, they were annoying, they were fake?"
This fickleness alarms Edebiri, whose instinct, on some level, is to wonder how long a good thing can last. Back in 2019, when she met Storer for the first time, he read a pilot she wrote about a girl who starts a punk band at a school in Massachusetts. "Part of that pilot that Chris read was me remembering that feeling of 'I think I'm going to stay in Massachusetts forever,' " she told me. "I can still feel that sliding door. I can still feel that other life pretty closely." ♦
Sourse: newyorker.com