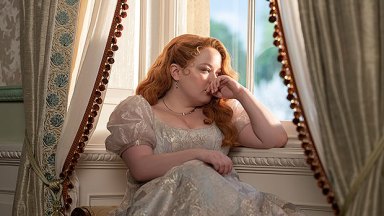 View gallery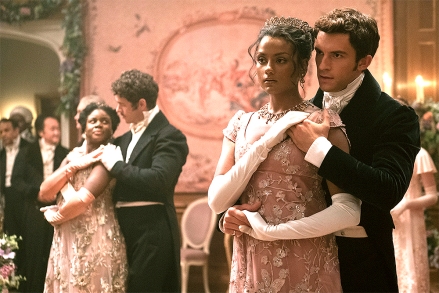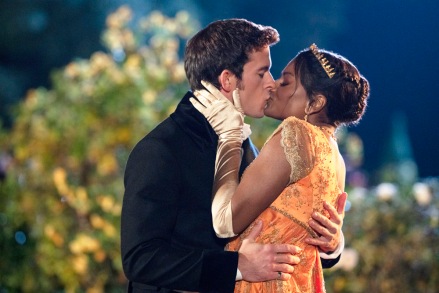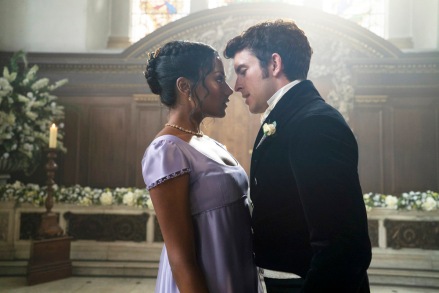 Image Credit: Netflix
Bridgerton season 3 does not have a release date yet.
The first photos were revealed at Netflix's TUDUM event.
Season 3 will focus on Colin and Penelope's romance.
Dearest readers, Bridgerton will be back for season 3 in the near future. The hype for Bridgerton season 3 has never been higher, and Netflix shared the first photos of season 3 at their TUDUM event in Brazil on June 17. The new photos include solo shots of Penelope and Colin, with Penelope looking stunning as she ponders by the window. Meanwhile, Colin has a different swagger to him this season and looks more dashing than ever. The additional photos show Colin and Penelope looking into each other's eyes.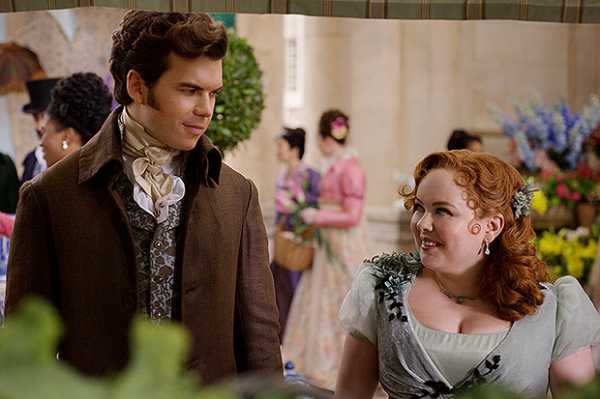 Colin and Penelope in 'Bridgerton' season 3. (Netflix)
While Benedict Bridgerton's love story would be next if the show was following the book series order, it's officially Colin Bridgerton and Penelope Featherington's time to shine. Netflix announced on July 20, 2022, that production is officially underway for season 3 and new cast members will be joining Penelope, Colin, and the rest of the crew. From the cast to the book order switch to an exciting spinoff, HollywoodLife has rounded up all the latest news about Bridgerton season 3 and more.
View Related Gallery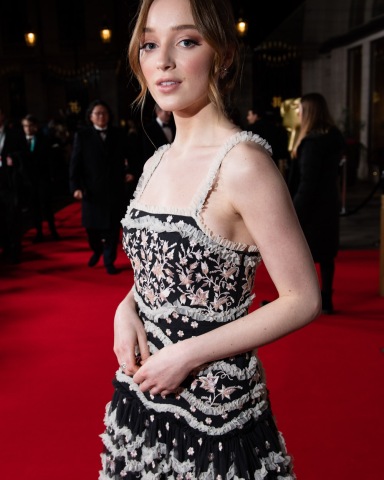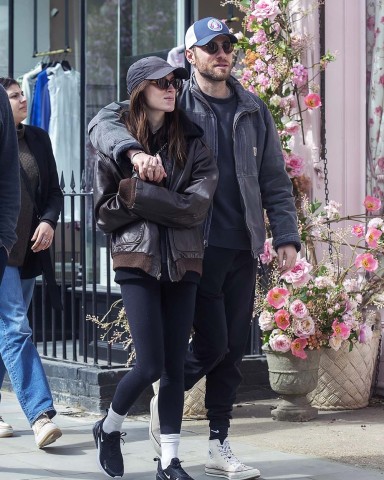 *EXCLUSIVE* London, UNITED KINGDOM – Love is in the air for Phoebe Dynevor! The "Bridgerton" star has confirmed her new romance with Cameron Fuller, and they looked absolutely smitten with each other during their recent outing in Notting Hill, London. They even made a stop at the trendy organic food store, Planet Organic, where they were joined by Fuller's father, Brad Fuller. Pictured: Phoebe Dynevor, Cameron Fuller BACKGRID USA 11 APRIL 2023 USA: +1 310 798 9111 / [email protected] UK: +44 208 344 2007 / [email protected] *UK Clients – Pictures Containing Children Please Pixelate Face Prior To Publication*
View this post on Instagram
Will There Be A Season 3 Of Bridgerton?
Yes, Bridgerton has been renewed for season 3 already. The Netflix series got the green light for seasons 3 and 4 back in April 2021, just months after the first season premiered. Lady Whistledown issued a statement in her Society Papers via Instagram: "Esteemed members of the Ton… It seems we have a rather special announcement. Bridgerton shall return for seasons 3 and 4. This author shall have to purchase more ink…"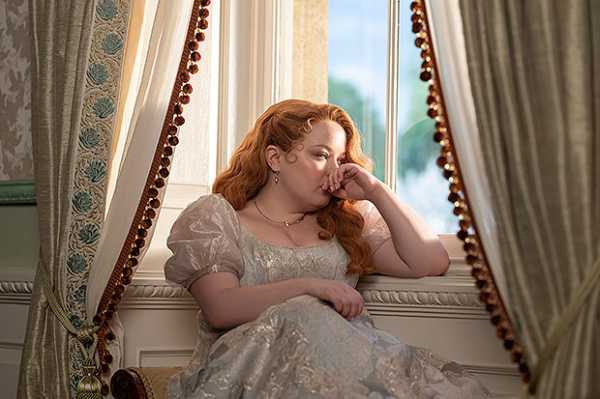 Nicola Coughlan as Penelope Featherington. (Netflix)
After the massive success of the first season, Netflix didn't waste any time revealing its plans for Bridgerton. "Bridgerton swept us off our feet," Netflix VP of Global TV Bela Bajaria said in a statement. "The creative team, led by Shonda, knew the material and delivered a beautiful, emotional, romantic drama for our members. They have some exciting plans for the future, and we think audiences will continue to swoon for this show. We're planning to be in the Bridgerton business for a long time to come."
Shonda Rhimes, who serves as an executive producer, released her own statement: "This two-season pickup is a strong vote of confidence in our work, and I feel incredibly grateful to have partners as collaborative and creative as Netflix. Betsy [Beers] and I are thrilled to have the opportunity to continue bringing the world of Bridgerton to a worldwide audience."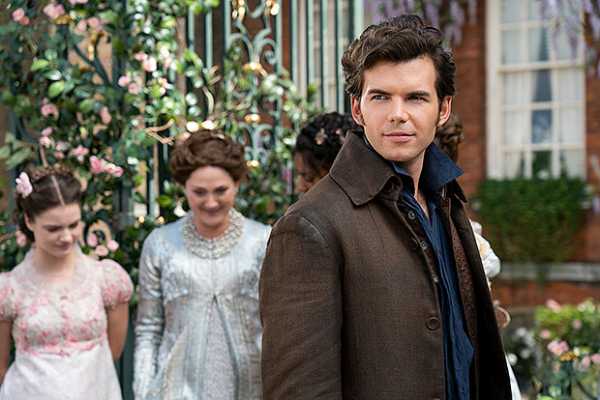 Luke Newton as Colin Bridgerton in season 3. (Netflix)
What Will Season 3 Be About?
The third book in Julia Quinn's Bridgerton book series, An Offer From A Gentleman, focuses on Benedict, the second oldest Bridgerton sibling. However, the show is switching things up in season 3. Nicola Coughlan, who plays Penelope, confirmed on May 15 that the third season will be all about Polin. Nicola revealed during Netflix's TUDUM event that the first episode of season 3 will be titled "Out of the Shadows."
She also read part of Lady Whistledown's first newsletter of season 3. "Dearest gentle reader, we've been apart for far too long. At last, London's smart set has made its return, and so too has this author. As the season begins, the question on everyone's minds is, of course, which newly-minted debutante will shine the brightest? The crop this year appears to be rather dazzling indeed. Unfortunately, not every young lady can attract the light."
Bridgerton star Nicola Coughlan just gave #TUDUM a sneak peek at Lady Whistledown's first newsletter from Season 3! pic.twitter.com/ktzLtubyhi

— Netflix (@netflix) September 24, 2022
"Bridgerton is back for its third season and finds Penelope Featherington has finally given up on her long-held crush on Colin Bridgerton after hearing his disparaging words about her last season," the official synopsis begins. "She has, however, decided it's time to take a husband, preferably one who will provide her with enough independence to continue her double life as Lady Whistledown, far away from her mother and sisters. But lacking in confidence, Penelope's attempts on the marriage mart fail spectacularly."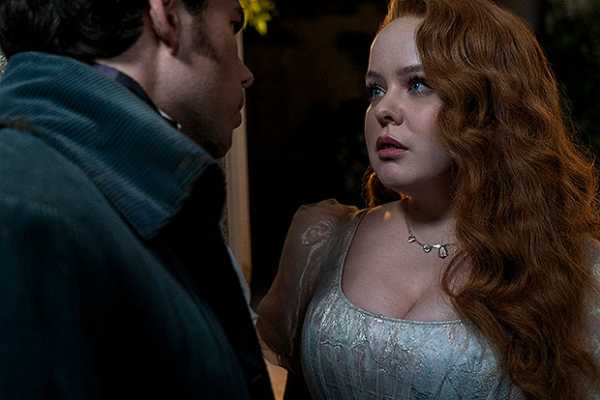 Luke Newton and Nicola Coughlan as Colin and Penelope. (Netflix)
The synopsis continues: "Meanwhile, Colin has returned from his summer travels with a new look and a serious sense of swagger. But he's disheartened to realize that Penelope, the one person who always appreciated him as he was, is giving him the cold shoulder. Eager to win back her friendship, Colin offers to mentor Penelope in the ways of confidence to help her find a husband this season. But when his lessons start working a little too well, Colin must grapple with whether his feelings for Penelope are truly just friendly. Complicating matters for Penelope is her rift with Eloise, who has found a new friend in a very unlikely place, while Penelope's growing presence in the ton makes it all the more difficult to keep her Lady Whistledown alter ego a secret."
"Like Lady Whistledown I've been keeping quite a big secret for quite a long time… but I can finally tell you that @bridgertonnetflix… Season Three is Colin and Penelope's Story," she wrote on Instagram. Her co-star Luke Newton, who plays Colin, commented, "Here we go."
Miss Penelope Featherington cannot remain a wallflower forever, as all plants thrive best in the sunlight. pic.twitter.com/ZcszXnbkmg

— Bridgerton (@bridgerton) May 16, 2022
Lady Whistledown also released a statement of her own regarding season 3 on May 16: "It is only fair that in this author's third year chronicling the marriage mart, Mayfair's social season should find its focus on a third son… as well as a third daughter. This author can confirm that the upcoming season shall follow none other than the budding relationship between Mr. Colin Bridgerton and one Miss Penelope Featheringon. With Penelope's days as a wallflower wearing thin, will she finally take bloom? Time will tell, and as always, so will this author."
Colin and Penelope's love story is the fourth book in the Bridgerton series, Romancing Mister Bridgerton. The same day as Nicola's Instagram announcement, the Irish actress sat down with Yvette Nicole Brown at Netflix's FYSEE Space's opening night ATAS panel to talk all about Bridgerton, according to Deadline. She brought up that season 3 would be about Colin and Penelope as their friendship grows into something more. In the midst of all that's going on with Polin, Penelope will be trying to keep up her secret life as Lady Whistledown.
The first two seasons of Bridgerton were based on The Duke and I and The Viscount Who Loved Me. Seasons 1 and 2 revolved around Daphne and Anthony's love stories. The show has already been renewed for season 4, which could circle back to Benedict's story.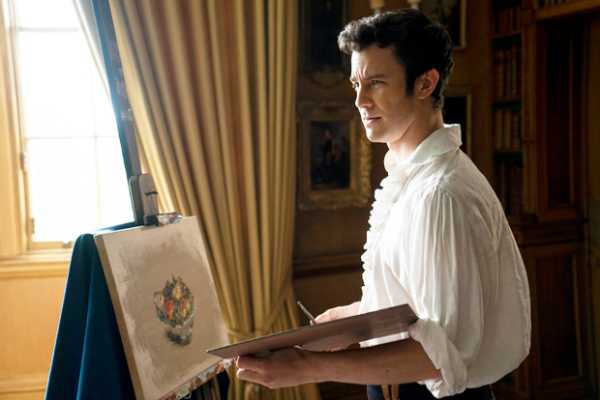 Luke Thompson as Benedict Bridgerton. (Netflix)
Benedict's book introduces Sophie Beckett, who is the daughter of an earl but has been forced to be a servant by her cruel stepmother. The story puts its own twist on the Cinderella tale. Sophie and Benedict first cross paths at a masquerade ball, and Benedict quickly becomes entranced by this mystery woman. We won't spoil the entire story, but let's just say these two get their fairy tale ending!
Bridgerton Season 3 Release Date
Netflix has not announced a release date for Bridgerton season 3 yet. The second season launched on March 25, 2022, and the first season premiered on Christmas Day 2020. Season 2 faced delays in production due to the COVID-19 pandemic. Filming didn't begin until March 2021 and wrapped 8 months later in November 2021.
Bridgerton season 3 should begin filming in 2022. The series could follow a similar trajectory as the first season and premiere in the latter half of 2023.
Bridgerton Season 3 Cast & Crew
Since season 3 is all about Colin and Penelope, Luke Newton and Nicola Coughlan are confirmed to return. They are expected to be joined by fellow cast members Luke Thompson, Claudia Jessie, Ruth Gemmell, Florence Hunt, Will Tilston, Golda Rosheuvel, Adjoa Andoh, Julie Andrews, and more. Hannah Dodd will be replacing Ruby Stokes as Francesca Bridgerton in season 3 and beyond.
Phoebe, who plays Daphne Bridgerton, told ScreenRant in January 2023 that she won't be in Bridgerton season 3. "Sadly not in season 3. Potentially in the future. But season 3, I'm just excited to watch as a viewer," she said.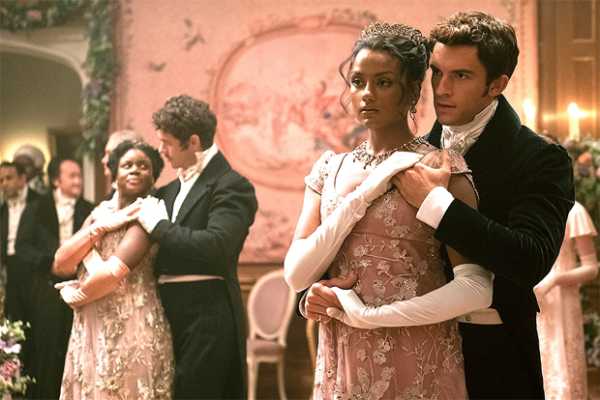 Simone Ashley and Jonathan Bailey as Kate and Anthony in season 2. (Netflix)
On July 20, 2022, three new cast members were announced. Daniel Francis will play Marcus Anderson. Marcus is a "charismatic presence who lights up any room he enters, attracting the notice of certain matriarchs in the ton — and the ire of others."
Sam Phillips will play Lord Debling, a "genial lord with unusual interests. But with wealth and a noble title to back up his eccentricities, he'll have no shortage of interest from young ladies this season."
James Phoon has joined the cast as Harry Dankworth. Netflix teased that "what Dankworth lacks in wit and intelligence, he more than makes up for with serious good looks."
Simone Ashley and Jonathan Bailey, who were at the center of season 2, will return as Kate Sharma and Anthony Bridgerton. "We're going to be back! Kate and Anthony are just getting started," Simone told Deadline. "We have the amazing Jess Brownell who is taking the lead as showrunner in season 3. In season 2, there was a lot of push and pull between Kate and Anthony, there were complications with the family, and then they find each other towards the end. I think everything is just starting. I'd like to see Kate just let go a bit more and play more in season 3 and kind of swim in that circle of love together. I think they both deserve it."
Regé-Jean Page is not expected to return as the Duke of Hastings in the seasons to come. Between seasons 1 and 2, it was announced that Regé-Jean would not reprise the fan-favorite role, even though he's married to Daphne. The Duke stayed at home while Daphne helped out her family in season 2.
Bridgerton's third and fourth seasons will also be getting a new showrunner. The show's creator and executive producer, Chris Van Dusen, is passing the baton to Jess Brownell. Jess will be the showrunner for seasons 3 and 4, with Chris still serving as an executive producer.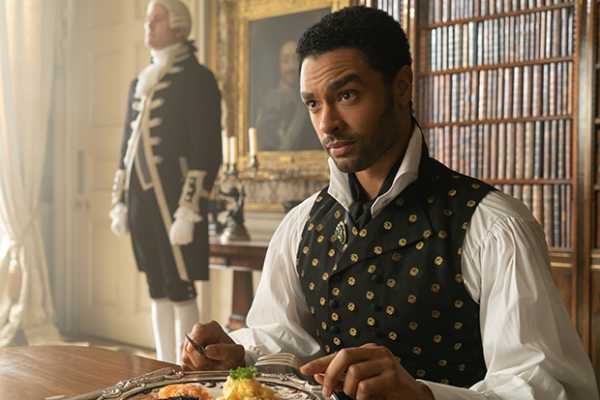 Regé-Jean Page as the Duke of Hastings. (Netflix)
"Bridgerton will always have a special place in my heart and I think I did what I set out to do," Chris told RadioTimes.com. He also added, "But at the end of the day, you know, it was time for me to move on, and hopefully create that magic again in the near future."
When Regé-Jean and Jonathan reunited at Milan Fashion Week in June 2022, there was speculation that this could be a hint at Regé-Jean's return. "No, I'm not going back to the show btw – the papers made that one up," Regé-Jean wrote on Instagram, setting the record straight.
At The Gray Man premiere in July 2022, the actor responded to rumors that the Duke of Hastings could be recast in future seasons. "They're free to do as they like," Regé-Jean told Variety.
How Many Seasons Of Bridgerton Will There Be?
Julia Quinn's Bridgerton book series follows all 8 Bridgerton siblings. With that information, we could be looking at a whopping 8 seasons of the Netflix series, and we're not mad about it. Netflix has not announced plans for seasons 5 and beyond — yet.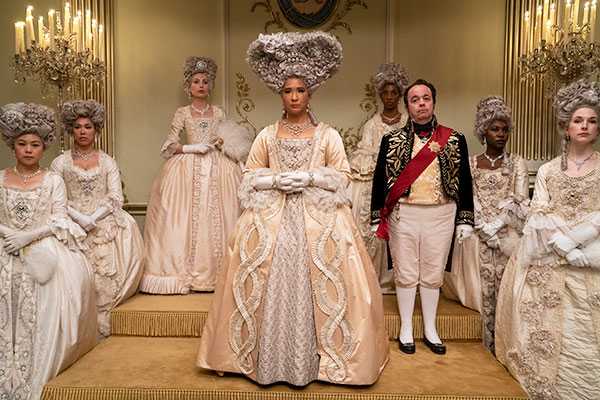 Golda Rosheuvel as Queen Charlotte. (Netflix)
Bridgerton's reign continues to expand. Queen Charlotte, the limited prequel series based on the early years of the monarch, became one of Netflix's most-watched shows of all time upon its release in May 2023. India Amarteifio and Corey Mylchreest, who play Queen Charlotte and King George III, have become two of Hollywood's biggest new stars.
"Many viewers had never known the story of Queen Charlotte before Bridgerton brought her to the world, and I'm thrilled this new series will further expand her story and the world of Bridgerton," Bela Bajaria, Netflix head of global TV, said in a statement. "Shonda and her team are thoughtfully building out the Bridgerton universe so they can keep delivering for the fans with the same quality and style they love. And by planning and prepping all the upcoming seasons now, we also hope to keep up a pace that will keep even the most insatiable viewers totally fulfilled."
Click to Subscribe to Get Our Free HollywoodLife Daily Newsletter to get the hottest celeb news.
Sourse: hollywoodlife.com