Save this storySave this storySave this storySave this story
Alex Barasch
Culture editor
You're reading the Goings On newsletter, a guide to what we're watching, listening to, and doing this week. Sign up to receive it in your in-box.
Since Stephen Sondheim's death, in 2021, the legendary composer has remained a steady presence on Broadway: a gender-flipped "Company" was succeeded by a spare but magnificent "Into the Woods," a baroque "Sweeney Todd," and, most recently, a transfer of "Merrily We Roll Along," starring Jonathan Groff, Daniel Radcliffe, and Lindsay Mendez. This latest—a revival of Sondheim's notoriously troubled work from 1981—is a triumph of chemistry and empathy. The show follows a trio of friends in reverse, from lonely middle-aged successes back to the tight-knit strivers they were in their twenties. Franklin Shepard (Groff) has the farthest to fall: he's the one who abandoned his friends to make his fortune in Hollywood. But Maria Friedman's production takes seriously the competing desires and compromises that got him there, capturing something real about the way a life sneaks up on you. The rapport between the leads makes the dissolution of their bond as wrenching as it is believable.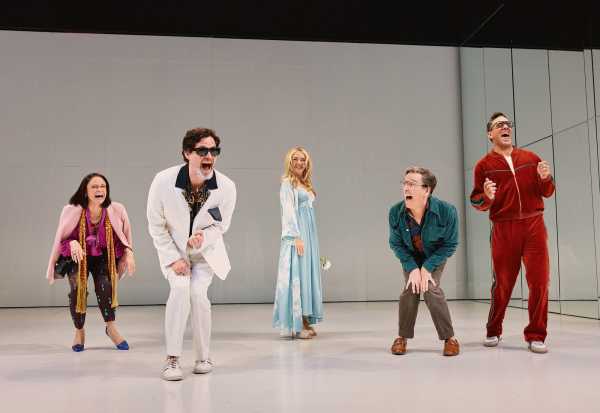 Photograph by Emilio Madrid
Friedman had known Sondheim for decades, first as an actor in and then as a director of his shows; another longtime collaborator, Joe Mantello, midwifed "Here We Are" (reviewed this week by Helen Shaw), Sondheim's final musical, which opened this week, at the Shed, in a state that might generously be called unfinished. The first act follows a group of wealthy friends who are continually stymied in their efforts to eat brunch; the second, which bears almost no trace of Sondheim, finds them all at a meal they're mysteriously unable to leave. Light satire is supplanted by a descent into Hell: infidelities are uncovered, a man confesses to a murder, and the world outside, it's implied, has literally ended. None of these plot machinations matter—the characters emerge cheerfully unchanged—and, with no songs to smooth the tonal whiplash or to distract from David Ives's disjointed book, I started to feel trapped, too. (By the time someone decides a human sacrifice is required to get them out of the room, I was prepared to volunteer.) Seeing this uneven experiment on the heels of "Merrily," whose problems were solved by years of tinkering, only underscored the loss. I couldn't help wishing that Sondheim had had more time.
Spotlight
Illustration by Jamiel LawNeo-Soul
Sampha loves to take his time, making him a special commodity in an age of instant gratification. The English singer-songwriter's early collaborations—with an impressive list of auteurs, including Beyoncé, Drake, and Frank Ocean—treated his vocals like ornate flourishes to upgrade a song's architecture. Some of his outsourcing felt like a personal delay: Sampha tinkering with and trying to perfect his own sound. His stunning, experimental début, "Process," from 2017, rewarded those waiting with a methodical album that blended electronic music with neo-soul as the singer grappled with losing his parents. After another extended hiatus, Sampha returns with the even more deeply considered "Lahai," finding inspiration in new fatherhood for vital music that ruminates on progress.—Sheldon Pearce (Webster Hall; Nov. 7-9.)
About Town
Opera
Anthony Davis's "X: The Life and Times of Malcolm X" had its première in 1986, but, despite favorable reviews, it went largely unrevived for decades. Now this poetic musical biography of one of the twentieth century's great civil-rights orators arrives at the Met for the first time. With a mix of minimalism, atonality, and jazz, the opera transforms Malcolm's confrontational declamations into something more mesmeric, like incantations, as in a potent Act I aria in which Malcolm (Will Liverman) sings, "You want the truth, but you don't want to know." Robert O'Hara's production, originally staged in Detroit, has stops in Seattle and Chicago—so it seems that companies are finally ready to listen.—Oussama Zahr (Metropolitan Opera House; select dates Nov. 3-Dec. 2.)
Dance
With its lists of compliments and come-ons, the Song of Songs is one of the most sensually suggestive parts of the Bible. "Song of Songs," a dance-theatre work by Pam Tanowitz and David Lang, is ardent but chaste. Lang's compositions analyze fragments of the scriptural text in limpid vocal harmony. Tanowitz's choreography is classical and largely indirect, with touches of folk dance and only hints of erotic pursuit and longing. In its formal beauty, "Song of Songs" resembles her earlier pieces "New Work for Goldberg Variations" and "Four Quartets," though it's a little paler. Here, both music and dance, refined in their repetitions, emphasize choral expression, communal love.—Brian Seibert (New York City Center; Nov. 9-11.)
Off Broadway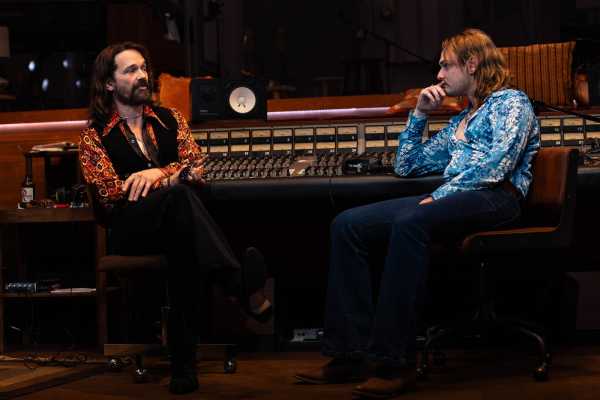 Photograph by Chelcie Parry
The exquisitely designed world-première production of David Adjmi's "Stereophonic" plunks viewers into a nineteen-seventies California recording studio, where, between snorts of cocaine and screaming matches, an up-and-coming rock band grinds away at an album. Seated behind the mixing board, the audience gazes into a glass-walled booth where the band lays down tracks (written—though you'd never guess it from how period-perfect they sound—by Will Butler, formerly of Arcade Fire). Sessions are continually delayed by Peter (Tom Pecinka), the band's perfectionist guitarist, who offers nonstop ideas (sometimes good) and feedback (never good), usually to the lead singer, Diana (Sarah Pidgeon, a standout in a strong ensemble), his long-suffering girlfriend. Adjmi and the director, Daniel Aukin, never soft-pedal the electric drama, but, as with some seventies rock classics, you may wish that it had been trimmed.—Dan Stahl (Playwrights Horizons; through Nov. 26.)
Indie Rock
The Chicago-based indie-rock band Slow Pulp exists in a near-constant state of dazed soul-searching. Across its two albums, the group has made a fuzzy kind of dream pop that scratches the brain with its muted textures. Emily Massey, the lead singer, has a gauzy voice that dissolves into quietly lush guitar beds, and Slow Pulp's clouded sound is mirrored by her lyrics, which navigate self-doubt. The band's 2020 début, "Moveys," proceeds briskly through its songs; this year's follow-up, "Yard," is mellower in its pursuit of introspection and fulfillment. Its closer, "Fishes," marks an important turn in Slow Pulp's evolution: toward greater trust in the self.—Sheldon Pearce (Bowery Ballroom on Nov. 1 and Nov. 4; Le Poisson Rouge on Nov. 2.)
Art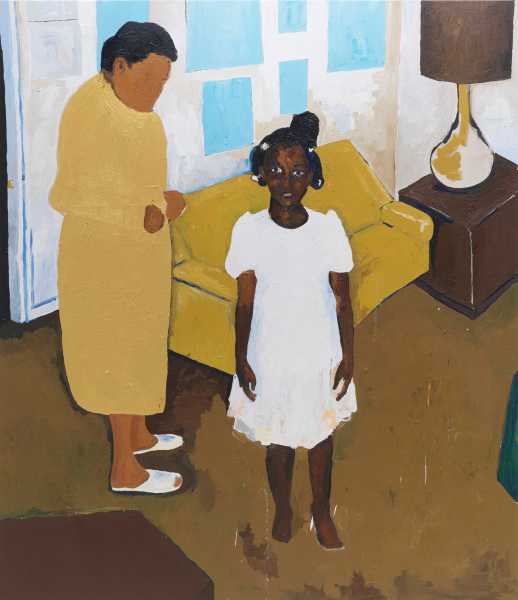 "the dress, ain't me," 2011Art work © Henry Taylor / Courtesy the artist / Hauser & Wirth; Photograph by Serge Hasenböhler
Henry Taylor, the sixty-five-year-old subject of "Henry Taylor: B Side," has lived in Los Angeles for years, and sometimes seems to have painted everyone who's spent any time there at all, from panhandlers and music moguls to his siblings and the Obamas. The richness of Black American community and the indignities of Black American life, in particular the violence of law enforcement, are his recurring themes. There's also an undeniable strain of impishness and amoral weirdness in his images: after a friend of his, the artist Noah Davis, died of cancer, Taylor painted the man as an adolescent (or a man trapped in an adolescent's body). Works like these may strike you as almost impolite—but, then, art has no obligation to behave itself.—Jackson Arn (Reviewed in our issue of 10/30/23.) (Whitney Museum of American Art; through Jan. 28.)
Movies
Among the many movies being released soon after their New York Film Festival screenings is one of the most accomplished recent débuts: "All Dirt Roads Taste of Salt," the writer and director Raven Jackson's first feature. It spans decades in the life of a Black woman named Mackenzie, who grows up in rural Mississippi in the nineteen-sixties and seventies. As a teen-ager, she's pried away from her home town after her mother's death; she also has to leave behind the young man she loves, a wrenching separation that leads to passionately dramatic twists and a legacy of secrets. Deftly intertwining time frames and paying rapt attention to faces and landscapes, Jackson—aided by the four actors who portray Mackenzie at different ages, and by the richly textured cinematography of Jomo Fray—unfolds the multigenerational saga with quiet, steadfast exaltation.—Richard Brody (In limited release Nov. 3.)

Pick Three
The staff writer Inkoo Kang shares current obsessions:
1. In 1988, an American mathematician named Scott Johnson was found dead, at the age of twenty-seven, off a seaside cliff in Australia. The police quickly closed the case, deeming it the suicide of a gay man amid the AIDS crisis, but his family had trouble believing that narrative, especially after the bodies of other gay men turned up at the bottoms of other cliffs. The Hulu docuseries "Never Let Him Go" poignantly chronicles the three-decade journey toward justice that the deep-pocketed Johnson family undertook to find Scott's killer at any price, while asking urgent questions about which types of families get to have their pain and loss recognized by officials.
2. Martin Scorsese adds another American epic to his storied filmography with "Killers of the Flower Moon," based on the New Yorker writer David Grann's 2017 book about the murders of dozens, if not hundreds, of oil-rich Native Americans in Oklahoma—an early-twentieth-century reprise of Manifest Destiny. The stakes and the spectacles are as grand as the evil is chillingly banal.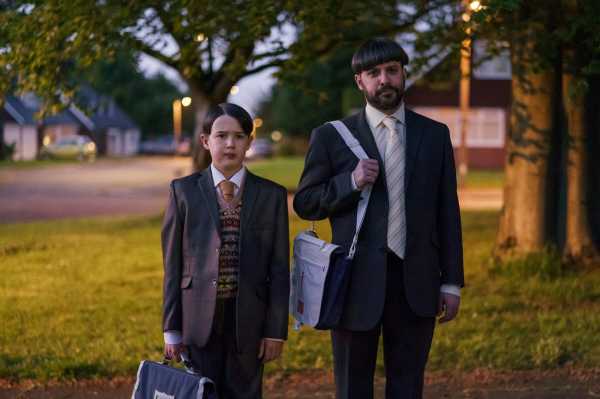 Photograph by James Stack / Courtesy Channel 4
3. The small but pernicious ways in which a pompous patriarch (played by Simon Bird) allows a local doomsday cult to slowly corrode his marriage and his relationships with his teen-age daughter and young son make up the dryly hilarious core of "Everyone Else Burns," a modest but incisive British comedy that's now airing on the CW. The characterizations deepen satisfyingly in the course of the six-part season, as each family member is forced to confront the costs of habitually denying their true desires, especially the young people who are still finding themselves.
P.S. Good stuff on the Internet:
"The Best Little Magazine in Texas"
Bob Newhart and Johnny Carson interrupt each other
A jazzy autumn playlist
Sourse: newyorker.com