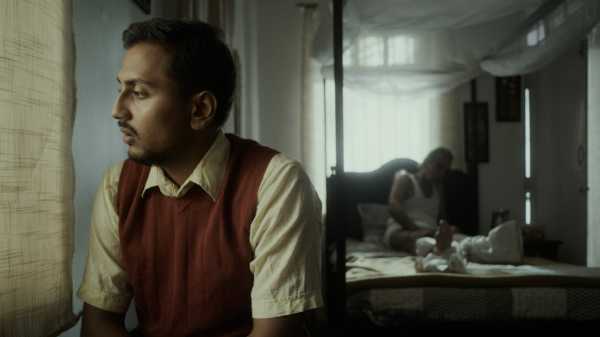 Save this storySave this storySave this storySave this story
The director Pratham Khurana wanted to tell the protagonist's coming-of-age story in a way that shows how proximity to death can change the people who go on living.
The work of a home health aide is not glamorous. In Pratham Khurana's short film "Nauha" (which translates to "Mourning"), a young man, Kishan, attends to a wealthy, elderly man he calls Babuji. Kishan has spent two years dressing, feeding, and giving Babuji sponge baths, while being on the receiving end of countless reprimands. The older man turns his head away when Kishan tries to feed him, and cries out as Kishan tries to bathe his feet that the water is too hot and then too cold. There is intimacy—Kishan sleeps on a mat next to Babuji's bed—but there is also resentment. Around a campfire one night with his friend Batti and the old man's guard, Ganesh, Kishan laments his current situation: "I'm ready to do anything and anywhere. Just not in this house."
When Babuji suffers a seizure and his health deteriorates, the trio take turns with a hand-pump ventilator while they await Babuji's son, who is travelling in from the United States. The work of taking care of Babuji doesn't change, but Kishan's attitude seems to. The film's dialogue is sparse, but Kishan's expressions signal his interior change. We see him looking pensive, taking care of his ward with greater tenderness. The director Pratham Khurana wanted to tell Kishan's coming-of-age story in a way that shows how proximity to death can change the people who go on living—often in unexpected ways. "I've observed many friends and family, including myself, reacting quite differently from their usual selves when they've experienced the loss of a loved one. I wanted to convey this unusuality," he wrote in an e-mail.
Khurana, who is himself young—around the same age as Kishan—made the film as his thesis project at Whistling Woods International, an art institute in Mumbai. The role of Kishan is played by one of his schoolmates, Azhar Khan, and Babuji is played by the veteran actor Uday Chandra. The mixture of seasoned and green performers is fitting for a film that shows the nexus of many worlds: old and young, wealthy and working class, rural and urban, traditional and modern. Toward the end of the film, we see Kishan waiting in line to buy blocks of ice that are being chopped by hand as an idling cyclist plays a game on his smartphone.
Khurana focusses on different varieties of transience. Babuji is approaching the end of his life; his son has moved from India to the U.S.; Kishan, we learn, has come to the city from the village where he grew up. To some extent, the level of dignity and amount of choice each person has is dictated by his class. Everyone is in transition.
Sourse: newyorker.com