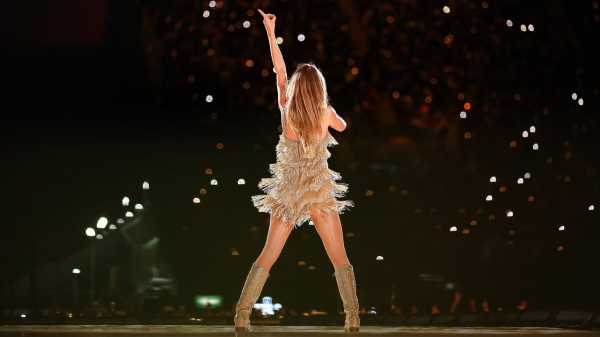 Save this storySave this storySave this storySave this story
I was struggling to sort fact, fiction, and rumor when it came to the Taylor Swift–Travis Kelce relationship. But then, on Friday night, I drove a group of fourth-grade girls to a Connecticut mall to see the movie "Taylor Swift: The Eras Tour," which earned nearly a hundred million dollars at the North America weekend box office, becoming the highest-grossing concert film of all time. By eavesdropping on the back-seat chatter of my daughter and her fellow Swifties, and later asking my kid some follow-up questions, I learned that Taylor and Travis, who is a "national football player," are "just friends for now—for now," and that, while Taylor did "get all the people talking" about a purported romance to drum up publicity for the "Eras" movie, she and Kelce are indeed going to start dating "for real" very soon. And, sure enough, the very next night, after Swift and Kelce made separate cameos on "Saturday Night Live," paparazzi caught them leaving the after-party hand in hand.
The girls' analysis of Swift-Kelce distills key aspects of the junior-Swiftie mind-set, both in its chaste wish-casting (flash back to circa-2009 Taylor, sitting on the bleachers awaiting her shot with the football star) and in its nuanced acknowledgment that Swift, as one of my passengers said, is the "greatest businesswoman": a savvy, even sly architect of her brand, yes, but fundamentally an honest broker. Even the greenest Swifties know, on some intuitive level, that they are being played, and they are happy to play along—not least because they have so many friends to play with.
In the late summer, I moved with my family to a new town, where we don't know anybody, and, within a couple weeks of school starting, my daughter, until then a casual listener of "Midnights," had been recruited as a militant Swiftie. It was easy to see why. I had missed the deadline to sign the kids up for soccer. We don't go to church. The house of Swift offered scripture in the form of song lyrics and vestments in the form of concert merch and friendship bracelets; it provided the social glue of communal devotion. I could only give my kid a new home; I needed Taylor Swift to help her find her people.
Inside the movie-theatre lobby—where I purchased a ten-dollar "Taylor Swift: The Eras Tour" water cup for each of the girls and a thirteen-dollar "Taylor Swift: The Eras Tour" bucket of popcorn for them to share—we joined mothers and daughters, groups of women in their twenties, young gay couples, and one elderly straight couple who wanted our little squad to know that "Taylor writes all her own music." The scene was a Swiftian Ren Faire: we saw approximations of the cheerleader outfit from the "Shake It Off" video, the Magic Markered-up T-shirt from "You Belong with Me," the black sequined hoodie-leotard from the Reputation tour, and a plenitude of the shimmery, sparkly floor-length gowns that exemplify Swift's Rodarte-meets-Chasing Fireflies aesthetic. The filmgoers had drawn pink glitter hearts around their eyes in honor of the "Lover" promo art and stacked friendship bracelets up to their elbows in homage to a lyric in "You're on Your Own, Kid." One woman mixed and matched her Swifts, pairing her frilly, moss-green "folklore" dress with the fuzzy jacket from the "Lavender Haze" video and underlining the 'fit with a pair of "Fearless"-vintage cowgirl boots. The costume, like the concert and the movie, moved deftly back and forth in Taylor time, in a spirit of fastidious reverence.
My colleague Amanda Petrusich has written that Swift's fans connect with her so passionately in part because of the star's " 'you guys' energy, a chatty, ersatz intimacy." The "Eras" movie bottles this exact vibe, presenting Swift much like a single gal out for her birthday, and she's invited seventy thousand of her closest friends, and it just happens to be her turn at the karaoke mike. She does a lot of the aw-shucks-who-me?! shtick that she has been plying forever, which was charming when she was a teen-ager, became grating and fake within a few years, and now scans as impeccable commitment to the bit. After "Cruel Summer," Swift—miming incredulity that all these people are here to see her, like, what?!?—tells her audience that they make her feel "so powerful"; toward the end of the concert, she claims to feel a little guilty that her audience has to endure just one last song (OMG sorry!). During the "evermore" set, Swift—who, in the first months of the COVID-19 lockdowns, built a home studio, wrote and recorded an entire album, and starred in and directed an elaborate music video, all under rigorous safety restrictions—describes her pandemic-era state as "a lonely millennial woman covered in cat hair, spending seven hundred hours a day watching TV." These feints at humility are ridiculous, and, at this point in Swift's career, they are spectacularly ridiculous—grand and outlandish, which is to say, befitting of a megastar.
Swift's career went through an awkward puberty in the mid-twenty-tens, when she seemed trapped in a middle school of the mind; her underdog persona began to harden into a martyr complex. (My favorite episode from this period was when Tina Fey, hosting the Golden Globes, made an extremely mild joke about Swift's serial-dating tendencies, to which Swift responded, "There's a special place in hell for women who don't help other women.") The "Eras" movie scarcely disavows any chapters from Swift's back pages that she might regret—or that she has simply outgrown—but at times it tempers its affectionate nostalgia with the faintest carefully calibrated sheepishness, as when Swift reincarnates the B.P.D. villainess of "Blank Space" and "Look What You Made Me Do," or the buttercream-frosting princess of "Enchanted." Whether she's striding down the catwalk in a cadence of confrontational glam or swirling her arms in faux-balletic glissandos, she's doing it in air quotes, and the person she is quoting is the younger Swift, whom she has not quite left behind.
This measure of remove, I think, also helps to illustrate Swift's extraordinary command over tweens and teens. The kids, rehearsing for the grown-up world, are trying on looks and poses and beliefs to see how they might fit, while Swift, deep into adulthood at thirty-three, is revisiting her old selves with a measure of ironic hindsight; the artist and her fans, in approaching the material at a slight distance, end up meeting in the middle and holding each other tight. The Platonic middle, at least to judge from Friday night, might be "Red": on songs such as "22" and "We Are Never Ever Getting Back Together," a jaded chaperone could watch her younger betters experience an ecstatic dissolving of the self into song—a pure, whooping joy.
It may feel churlish to object to any perceived excess of enthusiasm in this context. But there was one person in the audience whose Swiftian euphoria, letter-perfect in its recall of lyrics, was almost violent in its volume, inflammatory, shattering. She happened to be sitting directly behind my daughter and her friends, and her caterwauling gained in decibels and frequency as the movie proceeded. This girl was unreal—as if the drill sergeant from "Full Metal Jacket" were a Swiftie, or a colicky newborn, or a sentient jackhammer, or a Rangers fan. I tried to distract myself from all the screaming by thinking about screamy movies. (When she screamed, "I DON'T LIKE YOU!" during "Look What You Made Me Do," I wrote in my notebook, "Shelley Duvall in 'The Shining.' " When she screamed, "CHAMPAGNE! PROBLEMS!" during "champagne problems," I wrote, 'I'm a staaarrrrrrr.' ") The girls in my charge flinched from the onslaught, then wilted; they stopped dancing and slumped into their seats. One whispered that she had been hoping Taylor Swift would make a surprise appearance at this screening, but now she was hoping against it, because the girl behind them might become terribly ill.
Eventually, my daughter and her friends fled to the front of the theatre, between the first row and the screen, where they resumed dancing and singing along with every word. A few girls followed them, then dozens more. When I noticed the colicky drill sergeant coming down to the front, too, my heart sank. But there was nothing to worry about. She had evidently picked up on her community's signals and social codes and adjusted her voltage accordingly; she was dialled into the crowd now, and she was singing, not screaming, and she knew that her people could hear her. The girls milled around during some longueurs in the "Midnights" set, exchanging names and friendship bracelets. A high schooler had brought a whole tote bag of bracelets to hand out. One group of kids and then another held hands and danced in a circle, while others turned cartwheels around them. The music flowed through them and for them; they were more engrossed by one another than by anything on the screen, and Taylor beamed down at them from on high, half-forgotten for the moment, just another chaperone. ♦
Sourse: newyorker.com