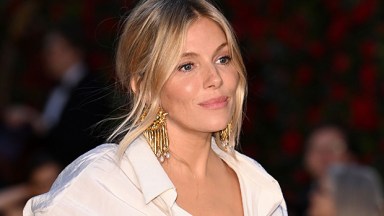 Image Credit: David Fisher/Shutterstock
Mama-to-be Sienna Miller positively glowed as she stepped onto the red carpet ahead of the Vogue World Fashion show in London on Thursday, September 14th! In photos you can see below, the Stardust beauty, 41, wore a cropped Schiaparelli Haute Couture plunging collared shirt in a creamy shade of white and a matching, poofy, mid-length skirt. She finished the look with classic black hose and black and clear slide stilettos, accessorizing with gold statement earrings. A gorgeous messy updo perfected the radiant look. She looked stunning from every angle as photogs snapped pictures at the event, held at London's Theatre Royal Drury Lane.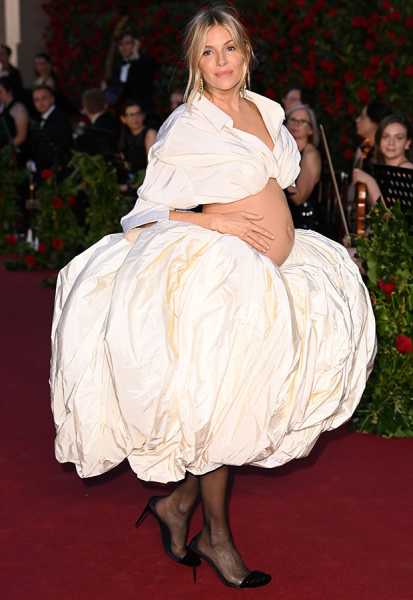 Sienna Miller arrives for the Vogue World Fashion Show in London on Sept. 14, 2023. (David Fisher/Shutterstock)
The British model and actress and boyfriend Oli Green revealed they are expecting a child with pregnant bikini photos taken in Ibiza in August, per PEOPLE. She had previously vacationed with Oli in St. Tropez. Sienna is already a mother to 10-year-old daughter Marlowe with ex Tom Sturridge.
It's no wonder she looked so natural and gorgeous on the red carpet — motherhood suits her, though she admits it's a mixed bag of emotions. In a 2019 interview, she said it's "exhausting." "It's so wonderful and painful at the same time," she told PARADE at the time. "I am forever trying to preserve and bottle these feelings and these moments. In the last few weeks, something changed. My daughter, Marlowe, lost a tooth, or her face is changing, and she was on a scooter, going away from me down the street and I had this clear feeling of 'Oh, my God, when she is a grown woman I'm never going to forget this image.' There's something about parenthood; the emotion is so close to the surface at all times and the ever-present fear of getting it wrong."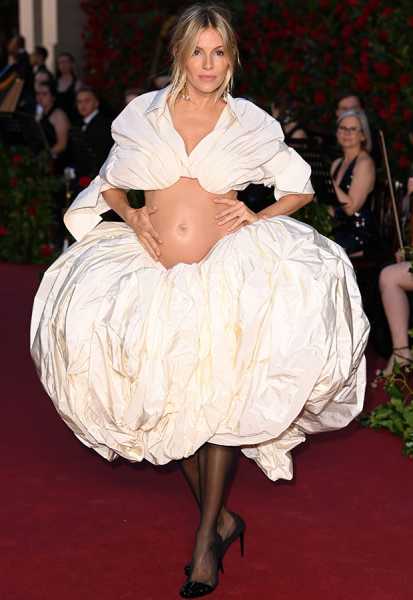 Sienna is expecting her second child. (David Fisher/Shutterstock)
And she once told Vogue that motherhood changes one's perspective. "You become aware that someone is just infinitely more important than you ever are and that is incredibly relieving," she said of welcoming her daughter in 2012. "I think it was the first time that I suddenly did the math on what life was and I'm grateful for that because it makes you treasure each moment."
Sourse: hollywoodlife.com