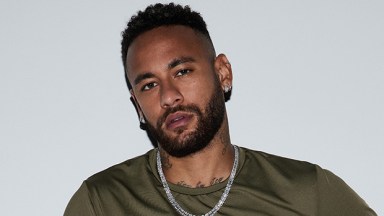 Image Credit: Donna Trope
A group of athletes got together and posed for Kim Kardashian's latest SKIMS Mens campaign on October 23! The 43-year-old featured Brazilian soccer star Neymar Jr., 31, San Francisco 49ers star Nick Bosa, 26, and the NBA's Shai Gilgeous-Alexander, 25, in the sexy new underwear campaign. "Introducing SKIMS Mens: the most comfortable underwear you'll ever own. 3 collections for your best performance sported by @neymarjr, @shai and @nbsmallerbear," the intimates line captioned the social media video.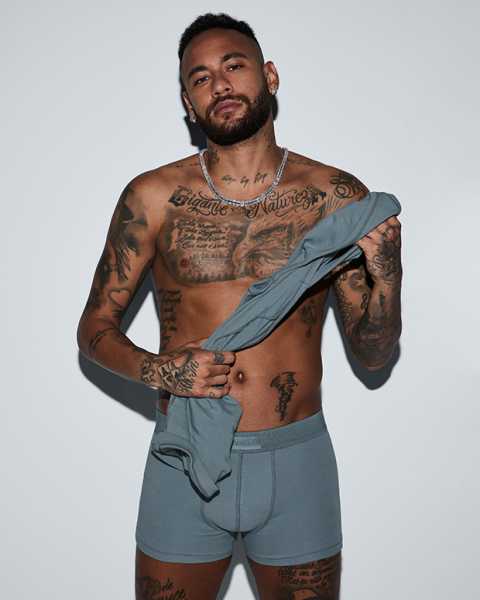 Neymar Jr. sports SKIMS briefs for the new mens campaign on October 23. (Donna Trope)
In one of the snapshots for the campaign, the 31-year-old rocked a green t-shirt complete with the SKIMS Mens Sport 5" Boxer Brief. Neymar completed the sporty ensemble with a simple silver chain and put his plethora of tattoos on full display. Elsewhere, he sported the same briefs in the color Kyanite but opted to go shirtless and simply held the t-shirt in his hands. Once more, Neymar showed off his many tattoos.
Nick, who is a football defensive end for the NFL, also sizzled in the new SKIMS briefs. The 26-year-old went shirtless and simply sported the figure-hugging Mens Sport 5" Boxer Brief in Light Heather Grey. Nick paired the underwear with nothing but a silver chain for the sizzling photo. He was also pictured in Mens Tank in Stretch and in the Mens Tank in Cotton. "Kim the woman that u are…marketing genius," one fan wrote on the social media photos, while another joked, "Kimberly I was not prepared for this."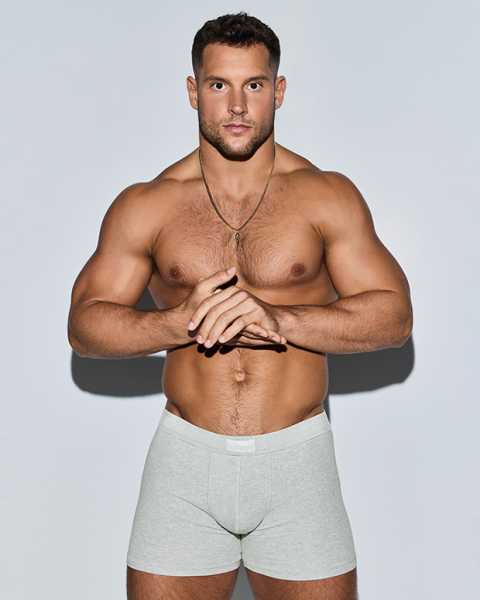 Nick Bosa sizzles in the new SKIMS Mens campaign on October 23. (Donna Trope)
Many SKIMS customers also gushed over Shai, who rocked both the Sport briefs in Gunmetal and the Cotton briefs in the color Chalk. "Omg he is gorgeoussssss [sic]," one fan commented on another campaign clip, while a second added, "SKIMS TAKE ALL MY MONEY PLEASE!!! I've been waiting for this." SGA rocked diamond stud earrings and a simple gold chain in several looks for the campaign. In the clip, he also shared his key style advice. "Make it work for you," he said. "Not everything can fit everybody the same way. Just figure out what you're comfortable in and run with it."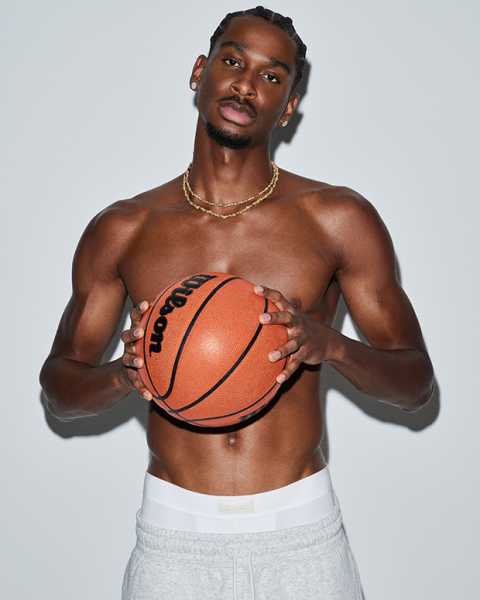 Shai Gilgeous-Alexander rocks SKIMS' Mens line for new October 2023 campaign. (Donna Trope)
The billionaire, who co-founded the company in 2019, revealed why she wanted to add a Mens line to SKIMS in a press email to HollywoodLife. "The expansion into the menswear space is a major milestone for the brand, and a testament to SKIMS' commitment to providing solutions for everybody," Kim explained. "To have an icon like Neymar Jr be the face of our launch campaign, along with NBA All-Star, Shai Gilgeous-Alexander and NFL's top Defensive Player Nick Bosa, I think speaks volumes to the way SKIMS has evolved into becoming a brand that can provide comfort for all audiences, not just for women."
View Related Gallery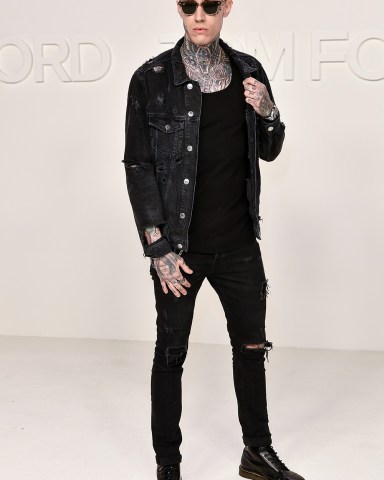 Trace Cyrus Tom Ford show, Arrivals, Fall Winter 2020, Milk Studios, Los Angeles, USA – 07 Feb 2020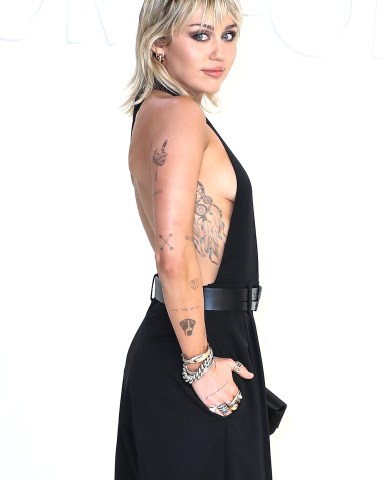 Miley Cyrus arrives at the Tom Ford: Autumn/Winter 2020 Fashion Show held at Milk Studios on February 7, 2020 in Hollywood, Los Angeles, California, United States. Tom Ford: Autumn/Winter 2020 Fashion Show – Arrivals, Hollywood, United States – 07 Feb 2020
Sourse: hollywoodlife.com