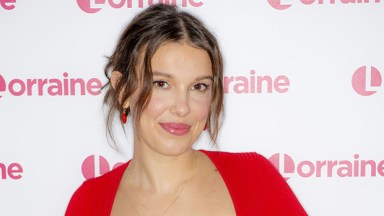 Image Credit: S Meddle/ITV/Shutterstock
Sizzling in denim! Millie Bobby Brown, 19, is having some "fun nights" and took to Instagram on November 14 to show off one of her recent sexy outfits. The Stranger Things star rocked a denim micro mini skirt complete with a black crop top and leather jacket. Millie finished her ensemble with a sultry smokey eye and a glossy pink lip, and wore her brunette tresses in loose waves.
(function() { var zergnet = document.createElement('script'); zergnet.type = 'text/javascript'; zergnet.async = true; zergnet.src = (document.location.protocol == "https:" ? "https:" : "http:") + '//www.zergnet.com/zerg.js?id=92014'; var znscr = document.getElementsByTagName('script')[0]; znscr.parentNode.insertBefore(zergnet, znscr); })(); View this post on Instagram
Throughout the carousel of photos, Millie was pictured posing playfully and even made sure to show off her diamond engagement ring. "Fun nights in denim," she captioned the post. After she shared the snapshots with her nearly 64 million followers, many took to the comments to gush over her look. "UR SO BEAUTIFUL MILL MILL," one admirer penned, while another added, "love you so much girl."
One fan was shocked at how grown-up Millie is. "This girl was underage yesterday, how did this happend [sic] ?" they asked. Another Millie stan gave extra compliments to the 19-year-old. "The IT girl of this new generation !!!" they penned. Finally, a fan swooned over the denim/crop top combo outfit. "This outfit is amazing," they said.
This is not the first time that Millie shared photos of this outfit! The teen previously took to Instagram on November 10 to share separate photos of the same ensemble to promote her partnership with Essentia water. "Had a great time wednesday night with my @essentiawater family celebrating their newest partnership," she captioned the post. "And if you're in NYC, check their page for something fun happening #EssentiaPartner." Several others took to the comments to gush over Millie once more, including the water company. "Great having you, Millie! Stay hydrated," they penned.
Millie's latest stylish photos come amid her engagement to Jake Bongiovi, 21. The brunette beauty took to Instagram on April 11 to announce the exciting news with a romantic photo. "I've loved you three summers now, honey, I want 'em all," she captioned the snapshot with Jon Bon Jovi's son. In the post, Millie smiled with her eyes closed as Jake embraced her from behind. Paris Hilton was one of the first to congratulate the couple in the comments. "Congratulations beautiful!" the 42-year-old penned.
Jake and Millie were first linked to each other in June 2021, as reported by PEOPLE.
View Related Gallery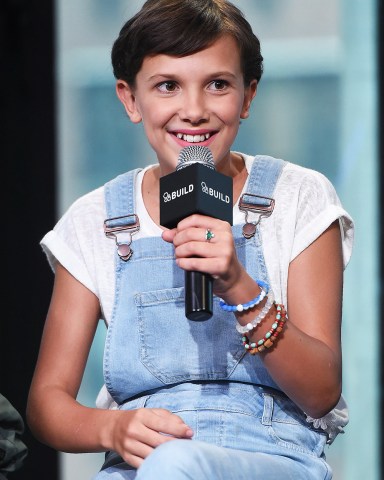 <a href="https://hollywoodlife.com/celeb/millie-bobby-brown/2/"><strong>Millie Bobby Brown's</strong></a> basically grew up right before our eyes. She started small, playing the pint-sized psychic power Eleven in 2016's <a href="https://hollywoodlife.com/pics/stranger-things-kids-grown-up-photos/"><em>Stranger Things</em></a>. Though Millie was just 12 years old when the show started, she was full of charm from the start. With every red carpet event, it was clear the young actress was becoming more and more poised. Since <em>Stranger Things</em>, she's also appeared in 2019's <em>Godzilla: King Of Monsters,</em> Netflix's 2020 mystery <em>Enola Holmes</em>, and its 2022 sequel. Branching out into business, she also founded her own beauty brand Florence By Mills. We love Millie so much we couldn't resist taking a look back at her over the years. Here, she can be seen promoting the first season of <em>Stranger Things</em> as a tween. So looked so fresh-faced and cute in her overalls. For more photos of Millie Bobby Brown, from her early days right up to now, look no further. Scroll through the gallery here.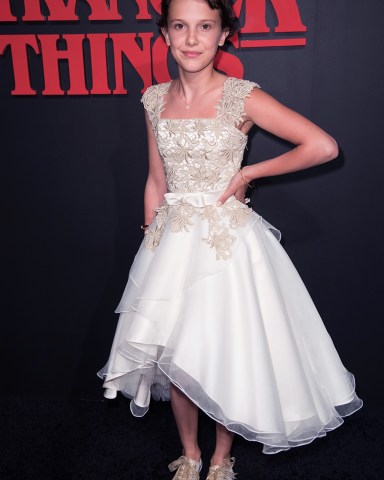 Millie Bobby Brown was darling at the world premiere of <em>Stranger Things</em> on Jul. 11, 2016. Who could have known what a hit the Netflix thriller would become?
Sourse: hollywoodlife.com