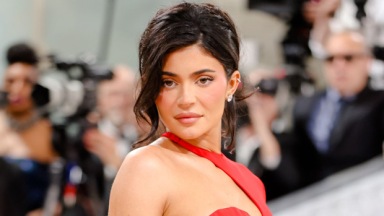 View gallery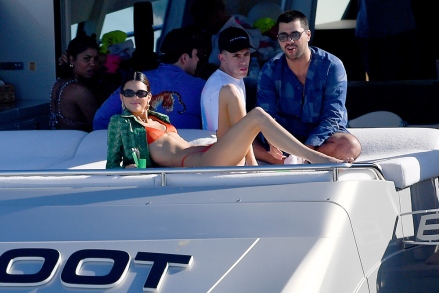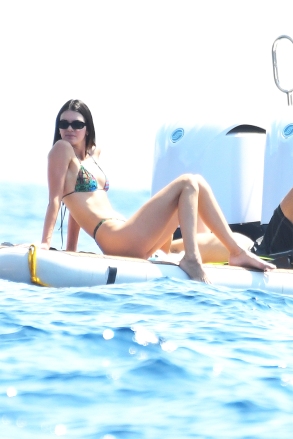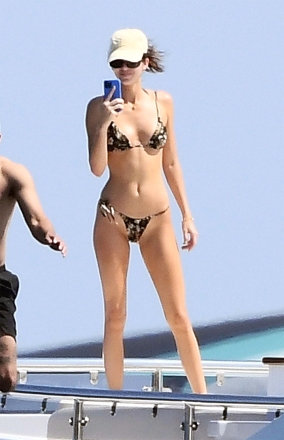 Image Credit: Carl Timpone/BFA.com/Shutterstock
Kylie Jenner, 25, is making the very most of bikini season in Los Angeles! In a sizzling new pair of backyard pics you can SEE HERE, the mom of two stretched out on a gray lounge chair to show off her flawless figure in a cherry red string bikini. The Kardashians beauty went barefoot and stared down the camera while combing her fingers through her silky brunette hair for the June 26 Instagram post. She wore a tasteful pair of gold earrings, some delicate bracelets and rings, and a sexy anklet for the shot.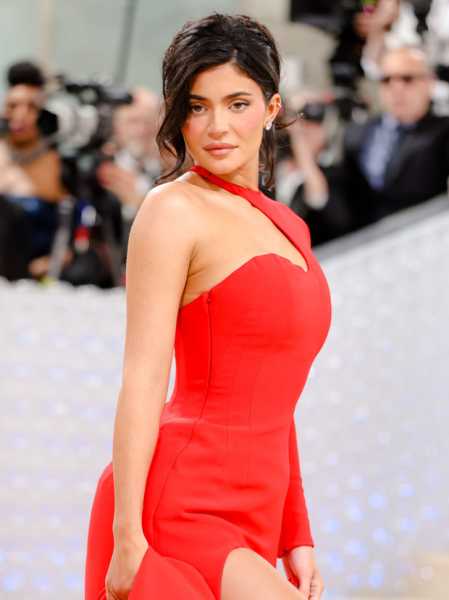 Carl Timpone/BFA.com/Shutterstock
In the second pic, Kylie leaned forward for a luxurious sip of red wine. Of course, Kylie being Kylie means even the wine glass had a finishing touch — a red hot Wine-O goblet accessory that matched the bikini. A gorgeous tree-filled yard and porch with stately column could be seen in the background. In the caption, she noted that "summer feeling," as the heat of the afternoon light appeared to be fading.
Plenty of the cosmetics mogul's 395 million fans rushed to the comments thread to enthuse over the sultry seasonal look. "@kyliejenner you are under arrest for stealing my heart," quipped a fan, while another wrote, "Rise and shine." "You're a fantasy," gushed a third.
While Kylie is undoubtedly a portrait of physical perfection, she recently addressed the "misconception" that she's had a lot of work done to achieve that. "I think a big misconception about me is that I've had so much surgery on my face and that I was some insecure person, and I really wasn't!" she told Homme Girls during an April interview. "Yeah, I love full lips and wanted full lips, but growing up I was always the most confident person in the room. I was the girl performing for everyone. I had my one lip insecurity thing, so I got lip filler, and it was the best thing I've ever done. I don't regret it. But I always thought I was cute."
When it comes down to it, though, Kylie also revealed she's adopted a minimalist attitude when it comes to her appearance. "I think less is more," she explained to the outlet. "I've really gotten down my full look, it's still the same look but way lesss. I'm just embracing my natural beauty, my freckles, and my bushy brows."
Click to Subscribe to Get Our Free HollywoodLife Daily Newsletter to get the hottest celeb news.
View Related Gallery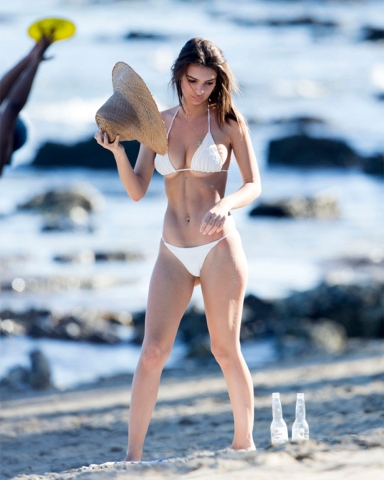 Emily Ratajkowski sun bathes at Paradise Cove in Malibu, CA. Emily showed off her stunning figure in a white bikini and large sunhat. She sipped beer as she relaxed with her boyfriend Jeff Magid. Pictured: Emily Ratajkowski,Jeff Magid,Emily Ratajkowski Jeff Magid Ref: SPL1459488 090317 NON-EXCLUSIVE Picture by: SplashNews.com Splash News and Pictures Los Angeles: 310-821-2666 New York: 212-619-2666 London: +44 (0)20 7644 7656 Berlin: +49 175 3764 166 [email protected] World Rights
EXCLUSIVE: Jeff Bezos and Lauren Sanchez spend their holidays in St-Tropez with famous wave surfer Laird Hamilton. 17 Jun 2023 Pictured: Jeff Bezos and Lauren Sanchez spend their holidays in St-Tropez with famous wave surfer Laird Hamilton. Photo credit: EliotPress/MEGA TheMegaAgency.com +1 888 505 6342 (Mega Agency TagID: MEGA996625_009.jpg) [Photo via Mega Agency]
Sourse: hollywoodlife.com