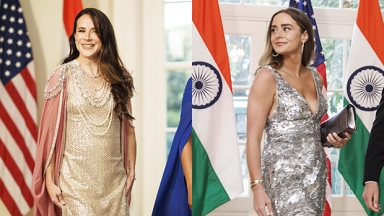 View gallery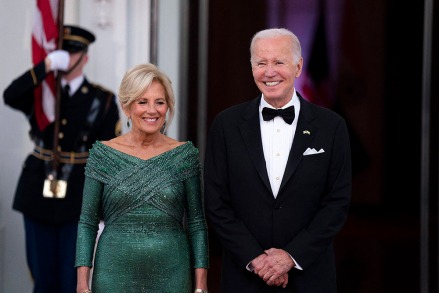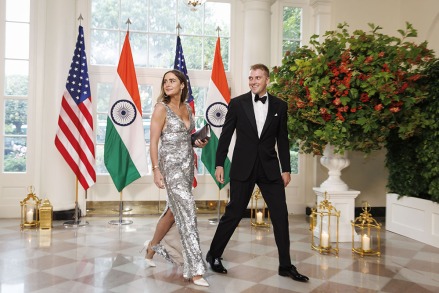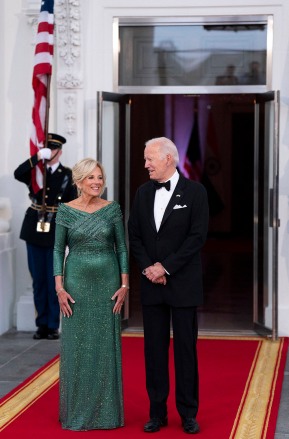 President Joe Biden's daughter Ashley and granddaughter Naomi were both gorgeous as they attended the state dinner with India on Thursday, June 22. Both women seemed like they were ready to have a great time while celebrating the bond that the U.S. shares with India. Each woman rocked a sparkling dress as they entered the party.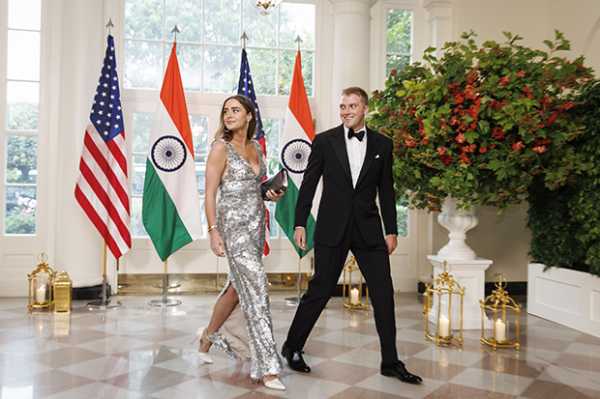 Naomi holds hands with her husband Peter Neal as they enter the state dinner with India. (Ting Shen/POOL/EPA-EFE/Shutterstock)
Joe's granddaughter Naomi, 29, sported a shimmering silver jumpsuit with sequins to the state dinner. She completed the look with a pair of matching heels and a clutch that went with it. Her husband, Peter Neal, went with a classic black tuxedo for the event.
Naomi's aunt Ashley, 42, dazzled in a sequined, off-white dress. She also had a salmon pink cape that perfectly matched the dress. She accessorized with a pearl necklace. She smiled for photographers as she entered the state dinner. Ashley attended the event with Seema Sadanandan, who is the criminal justice director of the ACLU.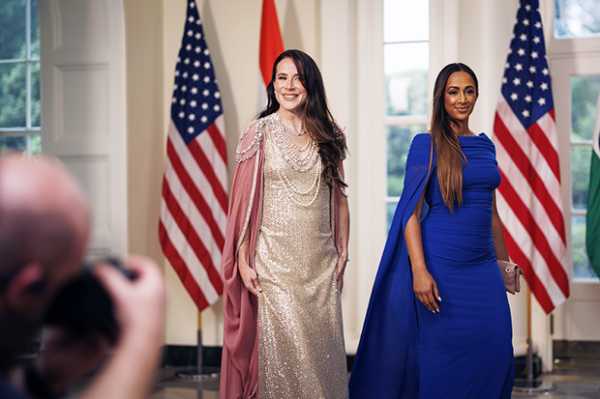 Ashley dazzles in an ivory gown at the state dinner. (Ting Shen/POOL/EPA-EFE/Shutterstock)
A handful of members of the president's family attended the White House state dinner with India. Besides his granddaughter and daughter, Joe's son Hunter Biden attended with his wife Melissa Cohen Biden, shortly after he reached a plea deal in his tax charges. Joe's brother James Biden also came with his wife Sara.
The state dinner came about seven months after Naomi attended another very special event at the White House: her wedding! She and Peter tied the knot on the South Lawn on November 19. Naomi has posted tons of gorgeous photos from their wedding day on her Instagram.
Joe and First Lady Jill Biden welcomed tons of guests, including celebrities and officials to the state dinner with Indian Prime Minister Narendra Modi on Thursday. On Thursday, the president posted a photo of himself and the first lady welcoming Modi to the White House ahead of the state dinner.
Click to Subscribe to Get Our Free HollywoodLife Daily Newsletter to get the hottest celeb news.
View Related Gallery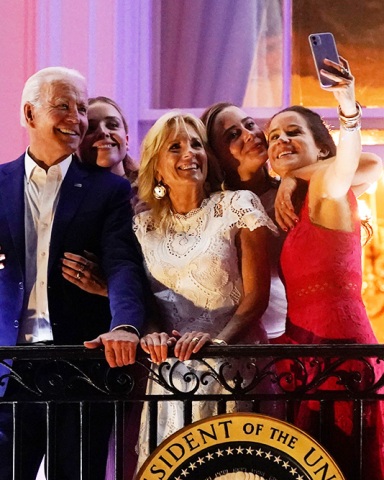 President Joe Biden poses for a photo with granddaughter Finnegan Biden, from left, first lady Jill Biden, granddaughter Naomi Biden and daughter Ashley Biden as they view fireworks during an Independence Day celebration on the South Lawn of the White House, in Washington Biden July 4, Washington, United States – 04 Jul 2021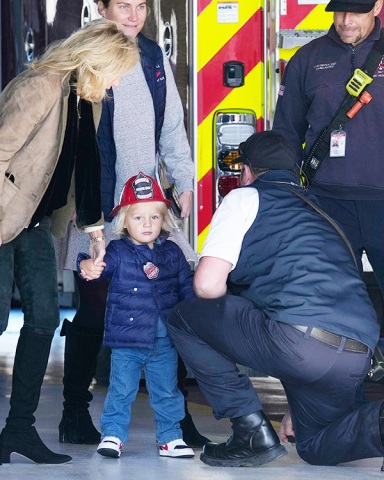 First Lady Jill Biden, left, holds the hand of her grandson Beau Biden, as they and President Joe Biden visit with firefighters on Thanksgiving Day at the Nantucket Fire Department in Nantucket, Mass Biden, Nantucket, United States – 24 Nov 2022
Sourse: hollywoodlife.com