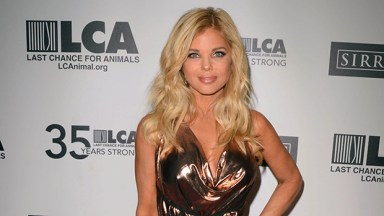 Image Credit: MediaPunch/Shutterstock
It's hard to believe Donna D'Errico is 55 years old when you look at the bikini photos that are on her Instagram. The actress and model posted a snapshot on September 6 of herself rocking a tied pink silk bikini that showcased her incredibly fit physique. Donna had her brunette hair done up in a neat back bun as she stared directly at the camera in the sultry shot. Again, this woman is in her 50s, which is absolutely nuts!
View this post on Instagram
Donna rocked little to not makeup which allowed her to show off her natural beauty in her new photo. The Baywatch beauty had a bandaid on her left shoulder, but the reason why is unclear. Donna showed off her bombshell body to her 2 million Instagram followers in the photo that appeared to be taken in her bedroom. Donna's undone bed, a large mirror, and part of her bathroom could be seen in the background.
In her caption, Donna mentioned that she just got back from traveling somewhere far away. "Jet lag has entered the chat," she wrote, adding the hashtags "sleepyhaze" and "quickymorningvibes." Donna's followers called the model a "smoke show," a "dream girl," and "beautiful," in a bunch of complimentary messages in the comments section of the photo. She also racked up over 34,000 likes, and counting, on the post.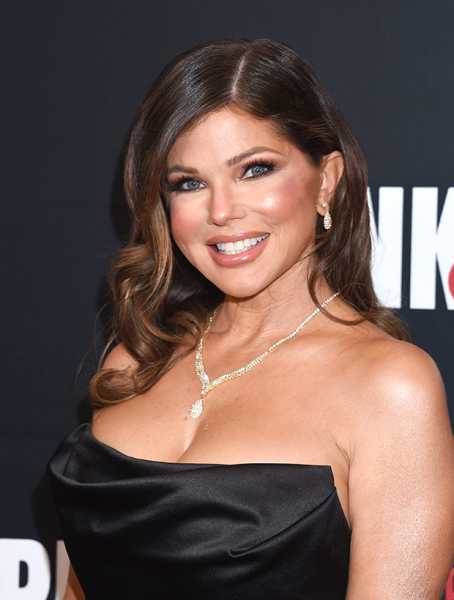 Donna D'Errico at the London Hotel in June 2022 (Photo: Broadimage/Shutterstock)
Donna proudly shows off her sexy body on her Instagram as well as her OnlyFans, which she started in the summer of 2022. A few months after her OnlyFans account went live, Donna told HollywoodLife EXCLUSIVELY that she didn't think she'd get so successful on the platform so quickly. "I thought I was gonna be on there a couple of weeks or a month and then you know, I would have made my point, that I can still wear a bikini," she said in a January 2023 interview. "But now not that I'm on there I'm having a ball and making great money."
"I've stayed on there because it turned into a second business, [the money] is no joke," she also said to HL at the time. "And, unlike a lot of celebrities on there who have agencies that run their accounts and hired chatters impersonating them in the chats, it's really me on there. I spend a few hours a day personally on there, chatting with people. And I keep it very clean. I can post the stuff that I'm selling on there, on Instagram. But I'm having fun because there's no censorship. There's nobody bullying me. Everybody's complimentary, I'm having a ball."
Donna definitely appreciates the lack of censorship that's on OnlyFans. She posts her less-explicit pictures, like her latest bikini photo, on Instagram. Either way, Donna is keeping the smoking-hot content coming for her fans!
Sourse: hollywoodlife.com