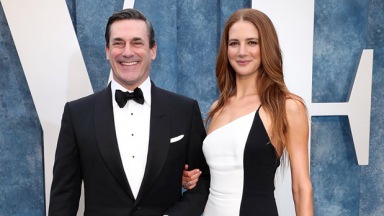 View gallery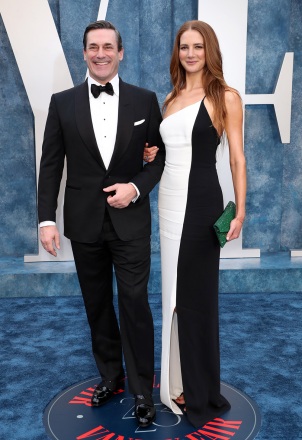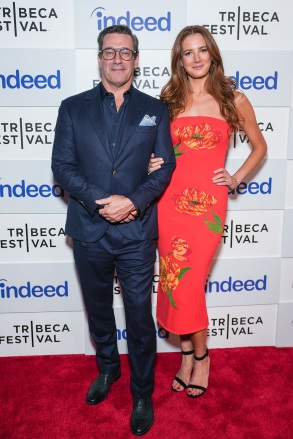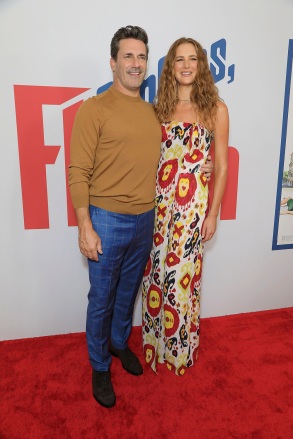 Image Credit: Matt Baron/BEI/Shutterstock
Anna Osceola chose a jaw dropping gown as she married Jon Hamm, 52. The 35-year-old actress went for a plunging white dress with a strapless bustier style top, channeling the 1950s (perhaps a nod do the pairs' Mad Men past) in images obtained by Page Six. The dress flowed into a long skirt with a high front slit, which could be seen in images snapped at their Big Sur, California celebration on Sunday, June 25. A platform white sandal could be seen poking out of the bottom of the dress as she kept the rest of her accessories simple with a dainty bracelet and necklace set.
Jon was snapped looking over the moon as he walked arm-in-arm with his new wife in Anderson Canyon after saying their "I do's," which overlooked the gorgeous ocean as the sun went down. In other photos, she can be seen walking down the aisle reportedly to James Bond's 1967 theme song "You Only Live Twice."
View Related Gallery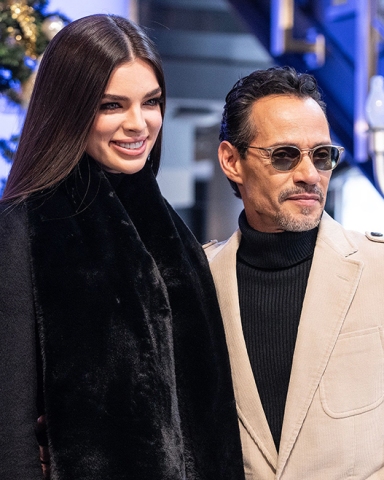 Nadia Ferreira and Marc Anthony pose on grand staircase during visit to Empire State Building. Marc Anthony helps to ceremonial lighting of ESB in gold on Maestro Cares golden anniversary. NY: Marc Anthony visits Empire State Building, New York, United States – 05 Dec 2022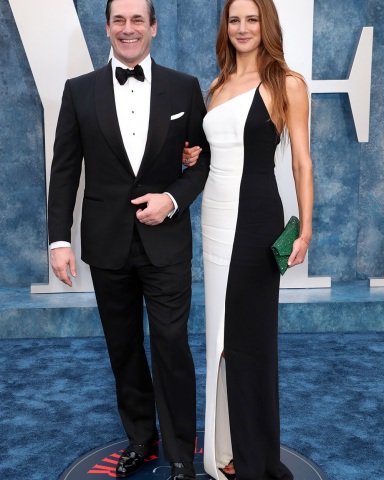 Jon Hamm and Anna Osceola Vanity Fair Oscar Party, Arrivals, Los Angeles, California, USA – 12 Mar 2023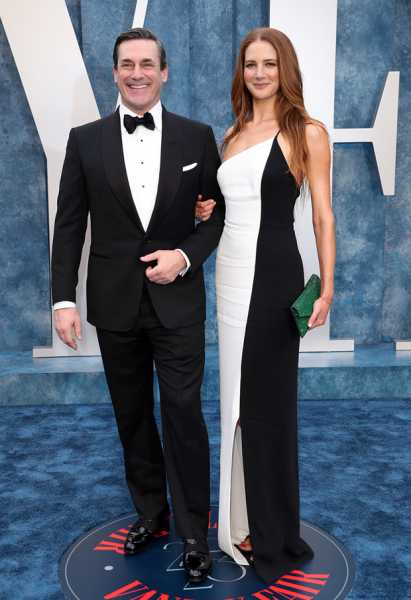 Jon Hamm and Anna Osceola are seen attending the Vanity Fair Oscar after party in 2023. (Matt Baron/BEI/Shutterstock)
The location of the couple's wedding had particularly special meaning, as it's where the Mad Men finale was shot in 2014 — an episode which Anna's character Clementine had a particularly large role. In the pivotal episode, Jon's character Don Draper comes up with one of his best advertisements ever: the "Hilltop" Coca-Cola campaign.
A number of celebrities were in attendance for Anna and Jon's big day, including Brooke Shields, Paul Rudd, Billy Crudup (who recently also just got married to Noami Watts), Larry David and Tiny Fey.
The wedding comes nine years after Anna and Jon first met on the set of AMC's Mad Men, and just over three years into their romance. The two are believed to have started dating in 2020, and made their red carpet debut in March 2022 at the Mercedes-Benz viewing event in Beverly Hills, followed by Vanity Fair's exclusive after party. Reports of an engagement broke in Feb. 2023.
Jon has previously told Howard Stern that he was "very much in love" with his partner in Sept. 2022. "It's good and comfortable, and it's a feeling about taking care of someone else and being taken care of," he said to the longtime talk show host. He added that Anna had "opened up the possibility of things like being married, having kids, you know, defining a new version of happiness, life, wellness."
Click to Subscribe to Get Our Free HollywoodLife Daily Newsletter to get the hottest celeb news.
Sourse: hollywoodlife.com