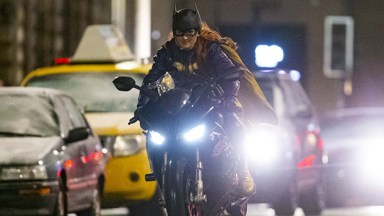 Image Credit: Ewan Bootman/Shutterstock
Comic book and action movie fans were ecstatic after DC Studios' Batgirl completed filming in 2022. However, Warner Bros. Pictures shocked moviegoers when it suddenly axed the project. Now that the filmmakers and the cast have spoken out about the cancelation, fans want to know the reason why Batgirl remains unreleased.
Keep reading to learn everything we know about why Batgirl never hit the big screen.
Why 'Batgirl' Got Canceled
According to multiple outlets, Batgirl's hefty budget racked up to $90 million by the time it entered post-production. The original release date was intended for the end of 2022 by Warner Bros. and its subsidiaries HBO Max and DC. The character Barbara Gordon, a.k.a. Batgirl, was portrayed by actress Leslie Grace, and the movie was set to include the return of Michael Keaton's Batman as a preview of 2023's The Flash.
Nevertheless, the studio announced in August 2022 that Batgirl would not be released. According to multiple outlets, Warner Bros. canceled the movie to cut costs and because of its new direction to be more selective with theatrical releases. Additionally, DC Studios defended its choice by claiming that the film was not meant for theaters.
How DC Studios Responded to the 'Batgirl' Cancelation
Five months after Batgirl was abandoned, DC Studios cochair Peter Safran explained what led to the unprecedented decision. Though he noted that DC plans to "include" the character "in [their] story," the studio executive defended the reason for the film's cancelation.
"On the Batgirl front, I saw the movie, and there are a lot of incredibly talented people in front of and behind the camera on that film," Peter explained, before adding, "But that film was not releasable, and it happens sometimes. That film was not releasable. I actually think that [president and CEO of Warner Bros. Discovery David] Zaslav and the team made a very bold and courageous decision to cancel it because it would have hurt DC. It would have hurt those people involved."
Peter added that Batgirl "would not have been able to compete in the theatrical marketplace" and that "it was built for the small screen."
What the 'Batgirl' Cast and Crew Have Said
In February 2023, Leslie weighed in on the DC cochair's "not releasable" comment during her interview with Variety.
"There were a bunch of scenes that weren't even in there," she noted. "But the film that I got to see, with the scenes that were there, was incredible. There was definitely potential for a good film, in my opinion."
Once The Flash hit theaters four months later, Batgirl's directors Adil El Arbi and Bilall Fallah admitted to Insider they were "sad" upon watching it since their film would have set the stage for Batman's onscreen return.
Though Adil and Bilall emphasized their "love" the director and producer of The Flash, the filmmaking duo "felt [they] could have been part of the whole thing."
"We didn't get the chance to show Batgirl to the world and let the audience judge for themselves," Adil added. "Because the audience really is our ultimate boss and should be the deciders of if something is good or bad, or if something should be seen or not."
Sourse: hollywoodlife.com