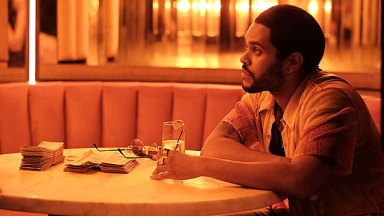 View gallery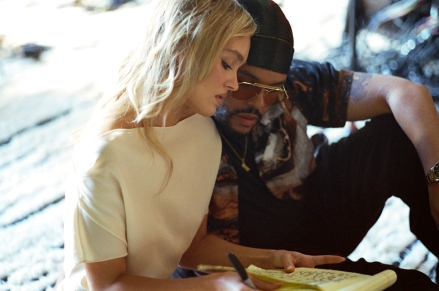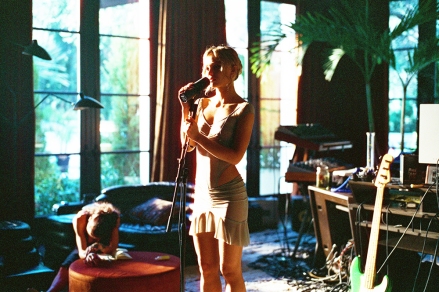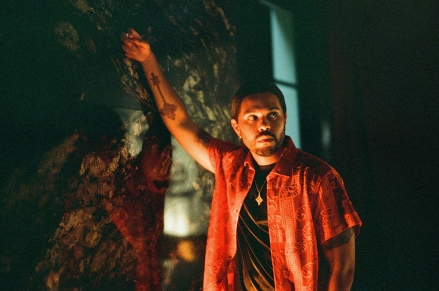 Image Credit: HBO
Episode 2 of The Idol begins with Jocelyn summoning her team to her house. She wants to play them her remix of "World Class Sinner." She texts Tedros that she's nervous but excited to share it with them. She explains to her team that she got inspired and made the song her own.
Her remix is overtly sexual, and her record label exec, Nikki, is adamant that this version of the song is not going to happen. The song is already a hit. They're not changing it. Jocelyn is stubborn and threatens to release the song on her own.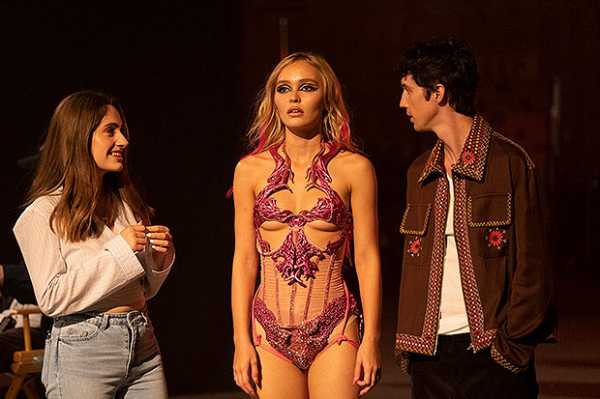 Jocelyn with Xander and Leia. (HBO)
Nikki goes off on Jocelyn and basically says she has no choice in the matter. She brings up having to cancel Jocelyn's tour, despite Jocelyn saying she could do it when her mother got sick. They've managed to pick up the pieces of Jocelyn's career, and they're not about to go in a totally different direction. Jocelyn storms off.
Leia and Xander try to defend Jocelyn's vision to Nikki. Jocelyn cries in her room, and Chaim attempts to comfort her. Jocelyn continues working on the song and has to put a glass of ice on her crotch in order to feel stimulated. She calls Tedros and remembers their first night together. He's already mentioned that she needs a new team that "believes" in her.
The next day, Jocelyn films the music video for "World Class Sinner." There's a lot of back and forth with her team, and she's determined to keep filming a certain scene until it's just right. The shoot spirals out of control. Jocelyn wants to push the shoot by a day and rework it.
Nikki begins asking about Dyanne, Jocelyn's backup dancer. She's already thinking about a plan B. Destiny tells Chaim what she knows about Tedros. Tedros is sketchy, to say the least. Chaim is starting to really worry, especially after learning Jocelyn had to have cuts on her thighs airbrushed.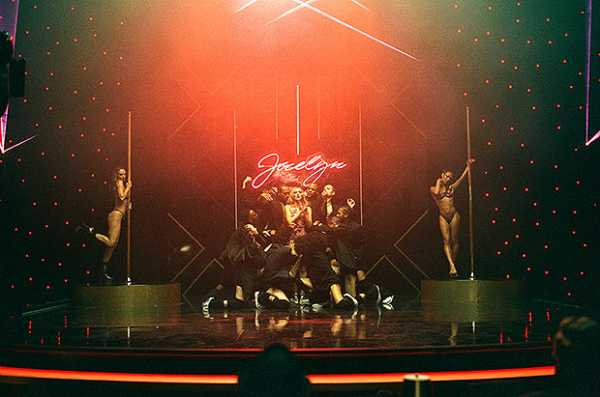 Lily-Rose Depp as Jocelyn. (HBO)
The shoot continues to be a disaster. Jane hears Dyanne sing and automatically wants to get her into a recording studio. Jocelyn rallies and performs to perfection, but the camera is out of focus so the take was all for nothing. She's devastated and exhausted.
Jocelyn takes off her shoes, and they are all cut up and bleeding. Her thighs are also rubbed raw. She starts crying and calls out for her mom. That makes everyone in the room pause. Jocelyn begins to break down in tears. She wants to power through the shoot, but Nikki says it's time to go home. She's carried off by Xander and Leia.
Nikki is ready to leave Jocelyn behind and put Dyanne front and center. She tells the Vanity Fair writer that her story is about to get a whole lot bigger. Chaim goes to see Jocelyn at home. He has an honest conversation with her. Changes have to happen. She begs him not to give up on her.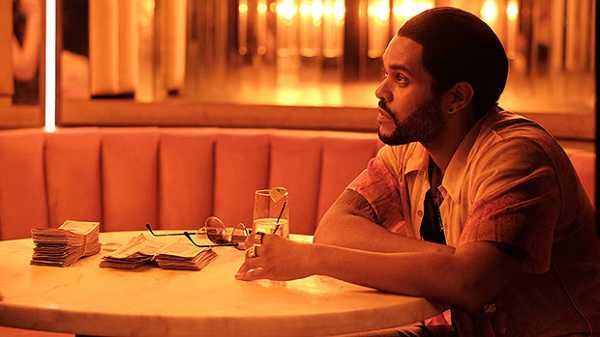 The Weeknd as Tedros. (HBO)
Out of options, she calls Tedros. Turns out, he's also working with Dyanne. Tedros and his crew — sans Dyanne — come over to Jocelyn's house to party. Jocelyn tells Tedros that she believes her career is over and her tour will be canceled. Tedros tells her exactly what she wants to hear. She hangs on his every word and listens to everything he tells her to do.
After a racy tryst in the bedroom, Jocelyn hears Chloe, one of Tedros' followers, performing on the piano. Chloe is insanely talented. Jocelyn makes her way to Chloe. Tedros' other followers crowd around Chloe as well. Tears fall from Jocelyn's eyes as she sings Chloe's song. Leia is also in the room, and she looks incredibly worried about the road Jocelyn is speeding down.
Click to Subscribe to Get Our Free HollywoodLife Daily Newsletter to get the hottest celeb news.
Sourse: hollywoodlife.com