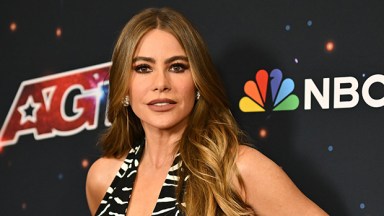 Image Credit: Rob Latour/Shutterstock
Season 18 of America's Got Talent just got a bit more dramatic! After Howie Mandel, 67, made a joke about his co-judge, Sofía Vergara's new single status, the 51-year-old quickly exited the stage during the Sept. 13 episode of the competition series (watch VIDEO HERE). "Do you see anybody in the audience tonight that you're interested in?" the Deal or No Deal alum asked, to which she responded with her jaw dropped. "That's it!" she quipped as she got up to walk off the stage. "I think she's done!" added co-host Terry Crews, 55.
View this post on Instagram
Howie's joke comes on the heels of the Modern Family alum's divorce from Joe Manganiello, 46, which made headlines on Jul. 17. Soon after a video of the moment landed on social media, many fans of the show took to the comments to react to the joke made at Sofia's expense. "OOPSIES! Looks like @howiemandel may have hit a bit of a 'nerve'. #AGT @AGT @AGTAuditions," one fan wrote, while another quipped, "@howiemandel why do you keep picking on Sofia concerning her new status? Not cool! Grow up!"
This is not the first time that the 67-year-old brought up Sofia's divorce either, as he joked about her being single during an episode of AGT last month. "I have one word of advice. If you're looking for eligible bachelors, you should have talked to Sofia, because she's in the market right now," Howie quipped on Aug. 22. In response, the brunette beauty played it off and cheered, "Yeah!" as she threw her arms up.
During an interview with Entertainment Tonight following the joke last month, Howie clarified that it was in good fun. "Online people said it was too soon and it was tasteless," he explained to the outlet. "It's not too soon! It's too soon when she's still married. Last season was too soon. Even if she saw it coming. I don't think she did. I'm just saying, that was too soon. As soon as she's free, as soon as they live in separate homes, the door is open, people!"
Later, Howie claimed that Sofia "approved of the joke" and even "thought it was funny." He emphasized that Sofia later took to social media and posted a selfie after the show. "She posted afterwards. But the internet is mad," he added. Sofia and the True Blood alum married in 2015 and ended their marriage this summer. The couple did not welcome any children, however, Sofia has one son, Manolo Gonzalez Vergara, 31, from a prior relationship.
Sourse: hollywoodlife.com