Image Credit: NBC
Olivia Eden's auditions in the October 10 episode.
Olivia is from New Jersey.
Olivia is just 15 years old.
The Voice always discovers incredible young talent. Olivia Eden takes the stage during the October 10 episode of The Voice and impresses Niall Horan with her song choice. The coaches are blown away by how young Olivia is! Could Niall have another Gina Miles on his hands?
So, who is Olivia Eden? She's got a unique voice that could take her very far in the competition. Scroll down to learn more about this rising star.
Olivia Performs Niall's Song for Her Blind Audition
Olivia sings a beautiful rendition of Niall's song "This Town" for her Blind Audition. Naturally, Niall is the first to turn his red chair. Reba McEntire soon follows. Despite not turning for her, John Legend tells Olivia that her "tone is really beautiful." Gwen Stefani, who also didn't turn, says that Olivia is "gonna go far."
Niall points out that Olivia has "so much maturity" in her voice, despite her young age. Reba admits that she was "blown away" by Olivia's performance.
Olivia Has Support From Her Entire Family on The Voice
As Olivia performs, her family is backstage cheering her on. Olivia's mom and dad stand next to Carson Daly, along with Olivia's brother and sister.
Olivia Is From New Jersey
Olivia hails from Long Valley, New Jersey. Being only 15, Olivia is still in high school! She's got a bright future ahead of her, that's for sure.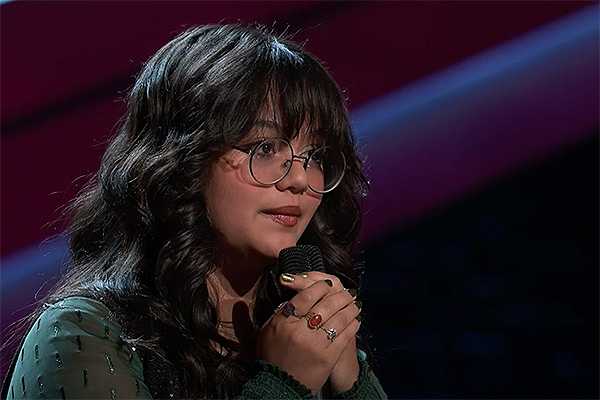 Olivia Eden during her audition on 'The Voice.' (NBC)
Olivia Has Released an EP
Olivia dropped her debut EP, take one (acoustic), this year. The EP includes five acoustic tracks, including songs like "insatiable," "word thief," and more. Her music is available on Spotify and Apple Music.
Olivia Has Been a Street Performer
Olivia already has experience performing for crowds of all sizes. She posted a video of herself performing Taylor Swift's "Our Song" on the streets of Morristown, New Jersey, in 2022. "The best way to spend a night," she wrote on Instagram.
Sourse: hollywoodlife.com