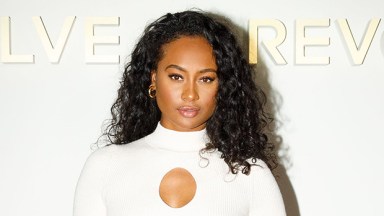 Image Credit: Samantha Deitch/BFA.com/Shutterstock
Kayla Nicole, 31, took to Instagram on October 10 to share a carousel of photos of herself in a mini cut-out silk dress. The influencer shared the photos from what appeared to be a prior trip to Italy. "I actually prefer my dinner in a different country," she joked in the post's caption. Kayla looked effortlessly chic in the mini dress, which left little to the imagination with a revealing side profile.
(function() { var zergnet = document.createElement('script'); zergnet.type = 'text/javascript'; zergnet.async = true; zergnet.src = (document.location.protocol == "https:" ? "https:" : "http:") + '//www.zergnet.com/zerg.js?id=92014'; var znscr = document.getElementsByTagName('script')[0]; znscr.parentNode.insertBefore(zergnet, znscr); })(); View this post on Instagram
The 31-year-old, who previously dated Travis Kelce, completed her sexy ensemble with gold droplet earrings, sky-high heels, and matching gold bracelets. She rocked her raven-hued tresses in a short bob complete with chic Hollywood curls. In the last slide, Kayla showed off her nude glossy lip and puckered up for the camera. Notably, her adorable butterfly tattoo was also on full display in the last photo.
Soon after she shared the glamourous photos, many of her 727K followers flooded the comments with their compliments on her dinner attire. "Ughhh [sic] gorgeous boo," one fan gushed, while another added, "Ate and left no crumbs! that dress." A few other of Kayla's fans couldn't help but advise her to ignore the haters. "I love you Kayla Nicole. Be well, live boldly and with intention, and keep rising above the hate!!!" a third admirer penned, while a fourth chimed in with, "class, intelligence, and beauty. No wonder some hate you girl… continue to shine and wear your crown proudly."
Kayla's latest post comes one day after she shared an open letter for other Black women via Instagram. "Dear Black girl, they may call you a traitor for falling in love. You'll hope the ones closest will protect you, but you will quickly find out that people don't protect what they don't value," she began in the now-viral video. "They'll say you're too much, too provocative, too boisterous, too outspoken, and in the same breath, tell you that you aren't enough."
View this post on Instagram
Further in the clip, the brunette beauty went on to advise fellow Black women that their "value" lies not in their monetary value, but on the inside. "They'll say you deserve the backlash and embarrassment. Because of your Blackness, you should have known better, she went on. "They'll even try to tie your value to your net worth. But Black girl, please remember your value lies elsewhere. Your value is deep within your heart." Although Kayla did not name any names, some fans online speculated that she was referring to Travis' romance with Taylor Swift.
She concluded the clip by advising others to not engage with haters. "You don't have to participate in this tumultuous, often one-sided journey. Preserve your heart, even when they try to quantify your character and test your boundaries, you do not have to engage," Kayla said. "You do not have to respond because there is power in your silence." The 34-year-old NFL star and his ex dated on-and-off from 2017 until their most recent split in 2022.
Sourse: hollywoodlife.com