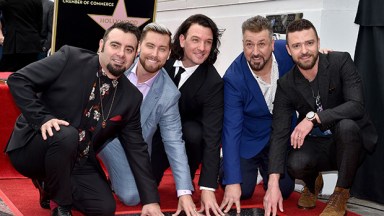 Image Credit: Hahn Lionel/ABACA/Shutterstock
NSYNC fans are having the best year. After the beloved boy band revealed they reunited for their first track in over two decades, they took to Instagram to tease the big release with a throwback to an iconic photo. In the clip, which you can SEE HERE, JC Chasez, Lance Bass, Joey Fatone, Justin Timberlake, and Chris Kirkpatrick gathered in a studio looking friendly, Simple Plan's "I'm Just a Kid" playing in the background.
Though their chic suits definitely indicated they'd reached maturity, the group appeared to be remembering their younger selves as they suddenly struck a pose from an old photo as it flashed on the screen. In it, every band member raised a hand or finger to their mouth, with the exception of JC, who looked on mischievously. T shirts and denim jackets were their uniforms of yesteryear.
"Who had us pose like that?!" they quipped in the September 19 caption. The group, which just announced they'll drop reunion track "Better Place" on Sep. 29 with the Trolls Band Together soundtrack, sent fans into a frenzy with the clip and photo.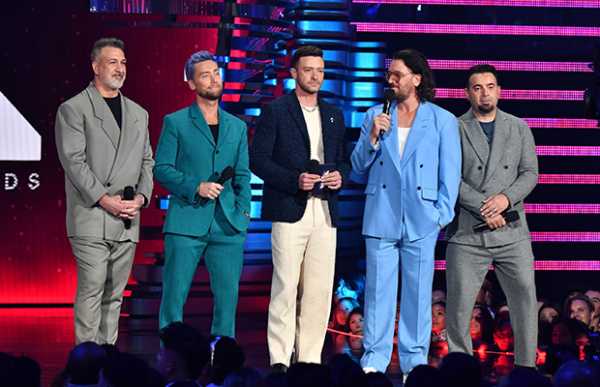 Andrew H. Walker/Shutterstock
"Pls stop teasing us, we're old now and our hearts can't handle it! (Back to re-learning choreo ….)" wrote a fan, while a second admitted, "This is healing my inner child." A third follower remarked, "Did I watch this 5 times to see every single one of you? Yes. Yes, I did." "I literally cannot handle this content. I need an inhaler. *//\//sync for life baby," gushed a fourth.
Others practically begged for a reunion tour. "If you aren't going on tour then this is all cruel," penned a fan, alongside a laughing emoji, with another pleading, "Please go on tour while I still have movable joints please!!!"
While it's unknown whether there will be a formal reunion, Joey did once speak out about what that might look like. "I think it's more of a celebration if we ever did something like that," he told PEOPLE back in March. "It's more of a coming-together. I know people want to be like, 'Just do a reunion, do a reunion.' But I think we would want to do new songs. Why would we want to just promote… I get it, everybody loves it, but newer generations don't know who we are."
Sourse: hollywoodlife.com