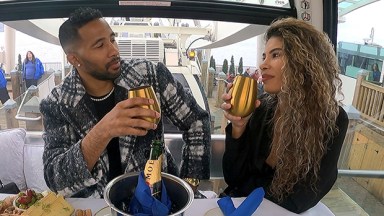 Image Credit: Netflix
Love Is Blind season 4 cast member Jackie Bonds claimed that Josh Demas broke up with her because she had a conversation with his ex-fiancée, Monica Rodriguez.
"[I'm] still sick about it low-key. I love that man," Jackie, 27, admitted during an Instagram Live session on Monday, September 18. "I was like, 'Damn, I had all these life plans with you,' you know? And then you just don't even care. And I'm like, 'That's crazy, over a conversation with somebody?' It don't matter."
The dental assistant recalled how she "begged" the engineer to reconsider his decision, but she couldn't persuade him in the end.
"I tried to fix it, I tried to mend it," Jackie continued. "I did everything I could, and what's crazy is that looking back at these messages, I look like a begging ass bitch, and I never beg no one to be with me. … It is what it is."
Jackie has deleted most traces of Josh, 31, from her Instagram page, with the exception of a few images from the Netflix reality series.
The pair first met in the pods in 2022 while filming Love Is Blind. While they seemed to have a connection at first, Jackie chose to be with Marshall Glaze. The two got engaged by the end of the season, which was revealed during the After the Altar special. However, Marshall's proposal was not shown to viewers. He and Jackie's relationship started to crumble once they began to argue most of the time. After Marshall called her a "project" that he needed to fix once they got married, Jackie called off their engagement.
Following Jackie and Marshall's split, she and Josh reconnected. Monica later revealed during the After the Alter special that she and Jackie were once "best friends," but that didn't last. Jackie accused Monica of being "messy" and "vindictive," whereas Josh called Monica "disrespectful" and a "clout chaser."
In spite of their icy relationship with Monica, Josh and Jackie's relationship seemed to be growing stronger. In May, she answered fan questions about their romance during an Instagram Stories Q&A.
"I always dreamed for a love like this," she wrote at the time. "He is my person. I love him. I'd marry him a thousand times over [and] have 49 kids with. The love I feel for him is unimaginable."
Sourse: hollywoodlife.com