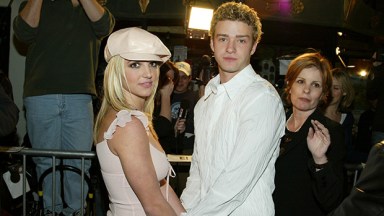 Image Credit: Bei/Shutterstock
Britney Spears ignited a social media firestorm after revealing that she had an abortion with Justin Timberlake in her memoir, The Woman in Me. Fans revisited her 2003 song "Everytime" and its music video, alleging that the imagery and lyrics point to her past pregnancy. Keep reading to find out whether the track was inspired by Britney's abortion with Justin.
Is Britney Spears' 'Everytime' Music Video About Her Abortion?
There is no concrete evidence that proves the "Everytime" music video or song was about Britney's abortion. However, the timeframe has peaked fans' interest. The Princess of Pop released the slow, heartwrenching ballad about one year after she and the NSYNC band member broke up. So, many social media users revisited the clip on YouTube to share their thoughts.
"I'm in tears for Britney," one YouTube user commented in October. "This poor woman loved nothing more than being a mom. … The world should be ashamed at what they put this poor woman through with the media, especially Justin."
Another commenter even alleged that the "real meaning" of "Everytime" was her past pregnancy with Justin. "I don't even want kids myself, but I can really feel Britneys pain and longing for the child she lost," the online user wrote. "I always loved this song, but now I love it even more."
The music video begins with Britney sitting in a limo with her boyfriend as they get hounded by paparazzi and screaming fans. The couple then get into a heated altercation — she pushes him away while he throws a vase of flowers against a wall. After they apparently break up, the pair's toxic relationship habits unfold.
Toward the end of the video, Britney discovers a gash in the back of her head while she is in the bathtub. She supposedly bleeds out and drowns, while her boyfriend unsuccessfully tries to save her. Viewers then see Britney walk through a hospital to witness multiple patients' procedures. One of them gives birth to a baby girl. Meanwhile, Britney is wheeled away into an ambulance while photographers and fans swarm her once again.
Britney Spears' 'Everytime' Lyrics Reveal Someone Is 'Haunting' Her
The chorus of the song indicates that someone — whom she only calls "baby" — is "haunting" Britney.
"Every time I try to fly I fall / Without my wings," she sings. "I feel so small / I guess I need you, baby / And every time I see you in my dreams / I see your face It's haunting me / I guess I need you, baby."
Toward the end of the track, the Grammy Award winner begs the person to "please forgive [her]."
"My weakness caused you pain," Britney continues. "And this song's my sorry … At night I pray / That soon your face will fade away."
What Did Britney Spears Say About Her and Justin's Abortion?
In her memoir, The Woman in Me, the "Womanizer" artist recalls Justin allegedly not wanting to share a child with her at that point in life.
"It was a surprise, but for me, it wasn't a tragedy," Britney explains in an excerpt obtained by PEOPLE. "I loved Justin so much. I always expected us to have a family together one day. This would just be much earlier than I'd anticipated. But Justin definitely wasn't happy about the pregnancy. He said we weren't ready to have a baby in our lives, that we were way too young."
The "Cry Me a River" artist has not publicly commented on Britney's pregnancy allegation. The two dated from 1999 to 2002 and were considered music's most iconic couple at the time.
Sourse: hollywoodlife.com