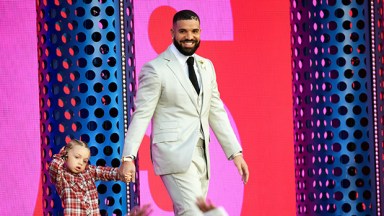 Image Credit: Rob Latour/Shutterstock
Drake's son Adonis is featured in his dad's new music video for the song "8AM in Charlotte," which dropped on Thursday, October 5. The video opens with Drake, 36, interviewing his son, 5, about a piece of artwork that he drew. He shared the story that he was trying to tell in the drawing before the song kicked in. Throughout the video, the rapper had Adonis close by, as he performed his latest single.
The clip begins with Drake asking Adonis about a drawing that he's holding. It's filmed over his shoulder, and the drawing can be seen, including the goat that will be featured on his new album cover along with other drawings. "Adonis, tell me about your beautiful piece of artwork that you sold me," the proud dad said.
8AM IN CHARLOTTE @Drake pic.twitter.com/tDvrAvjpTl

— OVO Sound (@OVOSound) October 5, 2023
Adonis proceeded to explain what he was drawing. "The goat was running away from the other monsters and the other animals, and a flower blocking the way. So the flowers of fire, the racing car was maybe helping the goat, and there were some stairs, whose a jail stairs. And there was one person who was on top, and he got killed by the track," he said.
Drake also asked him about writing "SBW" on the page, and his son said that he simply liked the letters. "So it's almost like a little story," Drake said. "Daddy's name is next to the goat. Does that mean that Daddy's the goat?" Adonis then said that it was "daddy goat." Drake seemed to be making a play on the acronym "GOAT," which stands for "Greatest of All Time."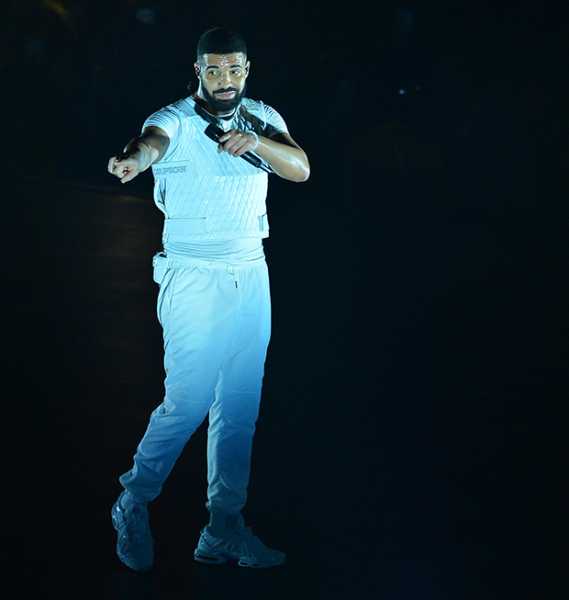 Drake performs at a 2018 concert. (JLN Photography/Shutterstock)
Shortly before the song began, Drake said, "That makes perfect sense to me, and do you want to talk about how much money you got for your beautiful drawing?" Adonis then said, "Oh please," as he kept looking at his drawing, and the song began.
In the music video, Adonis was by his side dancing in a hoodie that said "Hate Survivor," as his dad danced in a black outfit covered with colorful designs. In another shot in the video, Drake rocked the same sweater while Adonis was sitting next to him.
The new single is seemingly for his upcoming album For All The Dogs, which is expected to drop on Friday, October 6. Drake showed he's a super supportive dad because he's using one of Adonis' drawings as the cover artwork for the new album. He revealed the album cover and that his son had drawn it in an August Instagram post.
View Related Gallery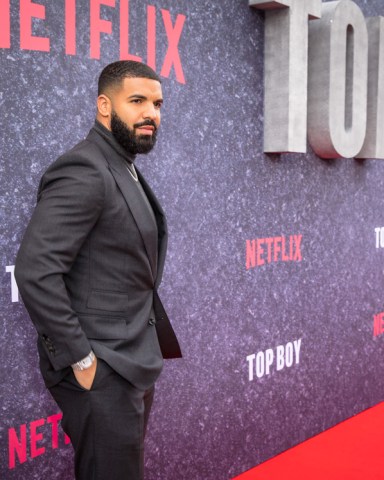 Drake 'Top Boy' TV Show premiere, London, UK – 04 Sep 2019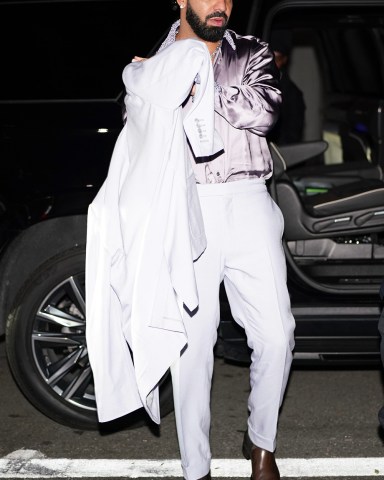 Drake arrives at his birthday party at Sexy Fish In Miami. Pictured: Drake Ref: SPL5496900 251022 NON-EXCLUSIVE Picture by: Pichichipixx / SplashNews.com Splash News and Pictures USA: +1 310-525-5808 London: +44 (0)20 8126 1009 Berlin: +49 175 3764 166 [email protected] World Rights
Sourse: hollywoodlife.com