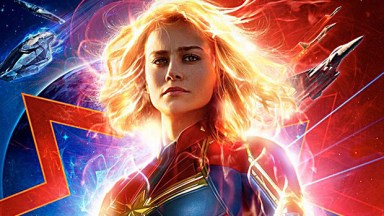 Image Credit: Courtesy of Marvel
The Marvels will hit theaters on November 10, and though the latest Disney film received mixed reviews, Marvel Cinematic Universe fans are ecstatic about it. And as with many MCU projects, fans are dying to know if there is a post-credits scene. Warning: spoilers ahead!
Does 'The Marvels' Have an After Credits Scene?
Yes, The Marvels reportedly has a post-credits scene. Only a handful of lucky fans and critics were able to access early screenings of the film, and ComicBook.com reported that the film has two scenes after the end credits roll. However, other outlets claimed that there is only one scene, but this might be because there is reportedly a mid-credits scene followed by an actual post-credits clip.
Many fans already took to X (previously known as Twitter) to spoil the end-credits scene for future viewers. Multiple fan accounts claimed that Hawkeye star Hailee Seinfeld reprised her role, Kate Bishop, alongside Ms. Marvel.
According to other viral videos that spoil the post-credits scene, viewers see a red and black tornado forming on the screen until it seemingly reveals Elizabeth Olsen's character, Wanda Maximoff. She was last seen in 2022's Doctor Strange and the Multiverse of Madness.
What Is 'The Marvels' About?
The Brie Larson-led movie takes place after the events of 2019's Captain Marvel. Brie's character, Carol Danvers (a.k.a Captain Marvel), destroyed the Supreme Intelligence, which caused the civil war to occur among the Kree. Now, Kamala Khan, a.k.a Ms. Marvel (Iman Vellani), and Monica Rambeau, a.k.a. Photon (Teyonah Parris) and Carol band together to defeat the new threat, Dar-Benn.
What Happens at the End of 'The Marvels'?
According to multiple outlets, Monica sacrifices herself at the end of the film because Dar-Benn opens a dimensional portal that led to another universe. It is vital for the three superheroes to close this hole in order to stop it from vacuuming their universe. Monica chooses to get to the other end of the portal while Carol and Kamala use their powers to close it. As a result, Monica gets stuck in the other universe.
Upon entering the other universe, Monica wakes up in what appears to be a laboratory and sees her mother, Maria Rambeau, lying on a bed next to her. X-Men's Beast informs Monica that she is in a universe that is parallel to hers, where she is actually Captain Marvel instead of Carol.
Sourse: hollywoodlife.com