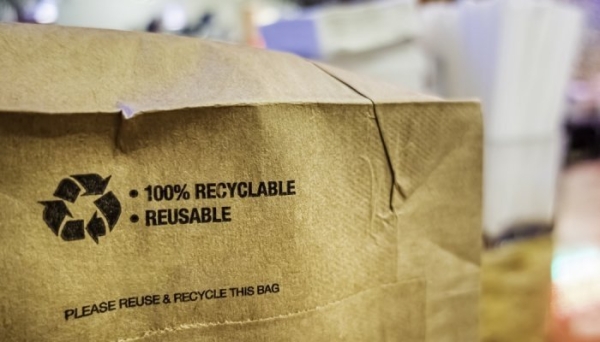 While the amount of food wasted in Europe in 2021 remained stable according to official figures, estimated at 131 kg per capita, packaging waste has never been so present in trash cans. In fact, the European Union has seen a record rise in this kind of waste over the last 10 years.
From parcels for online purchases to coffee-to-go cups, packaging is almost everywhere, and the recent figures published by Eurostat, the statistical office of the European Union, unveil the scale of packaging waste in the EU.
According to these figures, the generation of packaging waste per inhabitant rose by 10.8 kg between 2020 and 2021, the biggest increase seen in the last 10 years.
Since these figures compare the start of the Covid-19 pandemic with the year that followed, the end of lockdowns and other restrictions, as well as the return to offices, could be seen as potential driving forces. Except that this mass of waste has soared by almost 32 kg compared to 2011. All in all, a European generates a total of 188.7 kg of packaging waste per year.
Paper, plastic, glass, metal…
As a result, the EU generated a total of 84 million tonnes of packaging waste in 2021, of which 40.3% were paper and cardboard. The rest was composed of plastic (19%), glass (18.5%), wood (17.1%) and metal (4.9%).
The good news is that plastics are being recycled better than ever before. Over the last decade, between 2011 and 2021, the quantity of this type of waste has risen by 26.7%, while the recycling rate has also risen to 38.1%. Today, the average European generates 35.9 kg of plastic packaging waste, of which 14.2 kg is recycled.
However, the situation varies from one EU member state to another. Some, such as Slovenia (50%), Belgium (49.2%) and the Netherlands (48.9%), manage to give a second life to almost half of all plastic, whereas this is the case for less than a quarter of such waste in Malta (20.5%), France (23.1%) and Sweden (23.8%).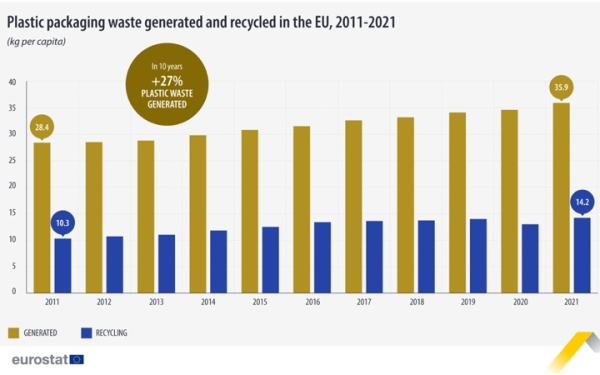 As far as the rest of the world is concerned, few countries provide with statistics as detailed as the European Union regarding the production and recycling of packaging waste, but the OECD figures show a constant and very rapid increase in the quantity of packaging produced every year.