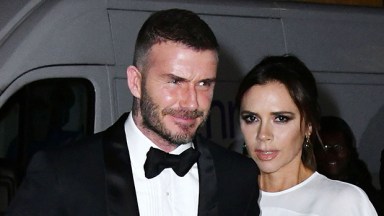 Image Credit: Nils Jorgensen/Shutterstock
Even David, 48, and Victoria Beckham, 49, tease each other! The A-listers were candid about their relationship and more during their Netflix docuseries, Beckham, which premiered on October 4. In one confessional, the former Spice Girl claimed to be from a "working class" family. Her husband jokingly corrected her. "We both come from families that work really hard," she explained. "Both of our parents work really hard. We're very working class."
David Beckham roasting Victoria Beckham wasn't on my bingo card. Absolute mic drop moment. 😂 pic.twitter.com/7WSJDGgC8x

— JUMBLE BAG (@JumbleBag) October 5, 2023
David promptly popped his head in through the door and encouraged Victoria to be "honest" with viewers. "I am being honest," the 49-year-old clapped back. He then asked his wife to reveal "what car" her father drove her to school in during her younger years. The fashion designer initially attempted to shy away from the question, only to reveal her fancy ride. "OK, in the '80s, my dad had a Rolls Royce," she said. Victoria went on to claim that her answer was "not a simple" one, while her hubby bluntly replied, "Thank you," and shut the door.
Soon after a video of the scene landed on social media, many of their fans took to the comments to react. "Appreciate him keeping it real there," one admirer tweeted, while another added, "This was so funny." A third fan couldn't help but point out that David's upbringing was legitimately "working" class. "He actually grew up working class so he's legit pissed," they quipped to a fan who called Victoria's comment "terrible behaviour [sic]." A fourth fan also encouraged people to marry someone with a sense of humor like David's. "Hahah that's the kind of spouse people deserve," they joked.
In addition to discussing their upbringing, Victoria and the global soccer star revealed challenges during their relationship in the documentary. The proud mother-of-four also express how "unhappy" she was during the 2003 rumors that David had stepped out of their marriage. "It was the most unhappy I have ever been in my entire life," she said. "It wasn't that I felt unheard because I was always mindful of the focus that he needed."
Later, the songstress called the period when David played for Real Madrid a "nightmare" due to the long-distance aspect of their marriage. "It was the hardest period because it felt like the world was against us," Victoria said. "Here's the thing — we were against each other if I'm being completely honest." At the time, she was in England raising their two eldest sons Brooklyn (b. 1999) and Romeo (b. 2000). Later, the lovebirds welcomed two more children including a third son, Cruz (b. 2005) and daughter Harper (b. 2011).
View Related Gallery
<a href="https://hollywoodlife.com/celeb/david-beckham/"><strong>David Beckham</strong></a> and <a href="https://hollywoodlife.com/celeb/victoria-beckham/"><strong>Victoria Beckham</strong></a> are not only British icons, but they're also parents to three incredibly stylish and talented sons: <a href="https://hollywoodlife.com/celeb/brooklyn-beckham/"><strong>Brooklyn</strong></a>, <a href="https://hollywoodlife.com/2021/10/26/david-beckham-son-cruz-look-alike-photo/"><strong>Cruz</strong></a>, and <a href="https://hollywoodlife.com/pics/romeo-beckham-pics/victoria-beckham-show-front-row-fall-winter-2019-london-fashion-week-uk-17-feb-2019"><strong>Romeo</strong></a>. Brooklyn Joseph Beckham was born on March 4, 1999, and has grown into a handsome young man with a passion for fashion and photography. He's often seen at fashion shows and events, sporting a unique blend of streetwear and high-end designer pieces. Middle son, Cruz David Beckham, was born on February 20, 2005, and he's branched out a bit from his family's love of fashion and sports. He's released his own singles and has a huge following on social media. Their youngest Romeo James Beckham was born on September 1, 2002. He's following in dad's footsteps as a football player and is already earning major attention from pro scouts. It's no wonder why the Beckhams are one of the most stylish families in the world. The brood was dressed to the nines for Victoria Beckham's London fashion show for the autumn/winter 2019 season. Along with the family was Brooklyn's then-girlfriend <strong>Hana Cross.</strong> Ready for more pics of the Beckham family? See all their best family photos right here.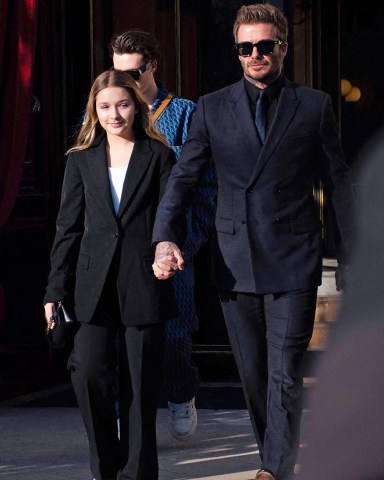 The Beckham family seen leaving their hotel ahead of Victoria Beckham's fashion show during Paris Fashion Week. Photo by ABACAPRESS.COM Pictured: Harper Beckham,David Beckham Ref: SPL5526956 030323 NON-EXCLUSIVE Picture by: AbacaPress / SplashNews.com Splash News and Pictures USA: +1 310-525-5808 London: +44 (0)20 8126 1009 Berlin: +49 175 3764 166 [email protected] United Arab Emirates Rights, Australia Rights, Bahrain Rights, Canada Rights, Greece Rights, India Rights, Israel Rights, South Korea Rights, New Zealand Rights, Qatar Rights, Saudi Arabia Rights, Singapore Rights, Thailand Rights, Taiwan Rights, United Kingdom Rights, United States of America Rights
Sourse: hollywoodlife.com