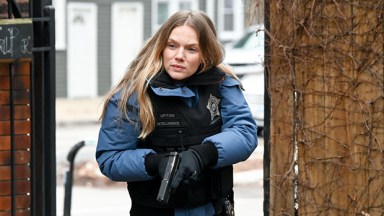 Image Credit: NBC
Tracy Spiridakos will be leaving after Chicago P.D. season 11, Variety is reporting. It's unknown how much her character, Hailey Upton, will be featured in the upcoming season. Tracy first joined Chicago P.D. in season 4 as a recurring player before being promoted to series regular in season 5. She has become a core part of the One Chicago universe. HollywoodLife has reached out to NBC for comment.
It's unclear how Upton will leave Intelligence, but she'll likely be joining her husband, Jay Halstead, out of the country. Jesse Lee Soffer left Chicago P.D. in season 10. Halstead decided to return to the Army in a new job tracking down drug cartels in Bolivia. He's remained married to Upton, who stayed behind in Chicago.
When Jesse's exit was announced, Tracy penned a touching note to her co-star. "I guess the word is out…Jesse, what can I say, you're the absolute best," Tracy wrote on Instagram. "Thank you for your kindness, your guidance and your friendship. You're the greatest onscreen husband a girl could ask for. I'll miss being on set with you every day. I can't wait to see what the world has in store for you next. #upsteadforever."
Tracy Spiradakos as Hailey Upton on 'Chicago P.D.' (NBC)
Back in March 2023, Jesse told HollywoodLife exclusively that he wouldn't rule out a Chicago P.D. return in the future. "Never say never. I don't know. I don't believe there's any plans for it right now," Jesse said. "I certainly haven't heard anything, but never say never. I wouldn't be opposed to it." (Maybe Halstead will return for Upton's exit?)
Chicago P.D. remains on hiatus until the SAG-AFTRA strike ends. Season 11 was put on hold when the WGA and SAG-AFTRA went on strike to fight for fair deals with the AMPTP earlier this year. The WGA strike ended in September 2023, but the actors' strike is still ongoing. Once the SAG strike is over, Chicago P.D. season 11 will get underway. Given the current situation, the show does not have a premiere date, but Chicago P.D. season 11 will definitely not return until 2024.
Sourse: hollywoodlife.com