The crème de la crème of our makeup bags!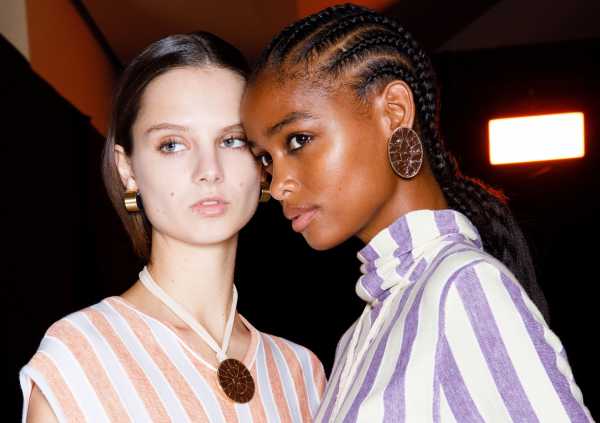 Ask ELLE editors what their top foundation picks are and they'll spend a lifetime explaining why they prefer tints over full-coverage formulas, or which base blurs their most stubborn skin concerns. Simply put: ELLE editors keep the foundation market running, no-makeup makeup trends be damned.
However, we know you don't have time to scroll through an endless list of the best foundations out there so we narrowed it down to 19. Whether you want a filter-like finish or a no-blemishes-left-behind full coverage option, shop ELLE's favorite foundations below.
Advertisement – Continue Reading Below
Beautiful Skin Foundation
Charlotte Tilbury
$44 AT NORDSTROM
$44 AT BLOOMINGDALE'S
"My skin goal is to look so glowy that I glisten so hard in the sun and all my friends need sunglasses to look at me. This new foundation from Charlotte Tilbury does the trick. It's blendable, dewy, and looks just like my skin—only better."
— Tatjana Freund, Beauty E-Commerce Writer
Soft Matte Complete Foundation
NARS
$40 AT SEPHORA
$40 AT JCPENNEY
"You know what they say: It's always the one you least expect that swoops you off your feet. Nars' Soft Matte Foundation has been pushed around my foundation draw for quite some time, so I decided to bring it along during my summer vacations to see what the hype was about. Every makeup look with this foundation is a hit because not only is she a team player, but she can withstand any weather, any work shift, and any naps (shhh, we've all been there)."
— Nerisha Penrose, Beauty Commerce Editor
Even Better(TM) Makeup Foundation Broad Spectrum SPF 15
Clinique
$31 AT NORDSTROM
$22 AT WALMART
$31 AT ULTA BEAUTY
"I'm not big on makeup, but skincare is paramount. Clinique remains the only foundation that gives ample coverage and doesn't cause breakouts. I've been using it since I was a teenager and it never disappoints."
— Claire Stern, Digital Deputy Director
Power Play Foundation
COVER FX
$44 AT ULTA BEAUTY
$64 AT WALMART
$44 AT DERMSTORE
"It's really tricky trying to find a foundation for my more neutral undertones. Not only does this CoverFX option hit the mark, but there are so many shade options that I can even find a match after being in the sun."
— Nykia Spradley, Interim Beauty Director
Slip Tint Dewy Tinted Moisturizer SPF 35
Saie
$32 AT SEPHORA
"During the winter months, staying hydrated is key, and the Saie Slip Tint stands up to the task. The hyaluronic acid leaves my skin feeling moisturized, while the light but buildable coverage provides a natural, dewy finish. Plus, it has SPF 35 to keep you protected all day."
— Emily Burns, Assistant Beauty Editor
Liquid Touch Weightless Foundation
Rare Beauty by Selena Gomez
$29 AT SEPHORA
$29 AT JCPENNEY
"This foundation takes the cake (while not feeling cakey)! I wear this foundation nearly every day, so if you're looking for lightweight and consistent color, then this base is for you. It comes in a variety of shades [48 to be exact] and pairs nicely with your everyday serum or cream. The applicator wand glides on effortlessly but I'd recommend applying with a beauty sponge if you want that dewy look."
— Leah Romero, Senior Digital Designer
Skin by Mented Foundation
mented cosmetics
$30 AT ULTA BEAUTY
$30 AT QVC
"During the warmer months when I need a bit more shine control, a few swipes of this stick foundation mattifies oily areas while covering up my discoloration and blemishes. I go two shades lighter in the same formula when I need a concealer."
— Nykia Spradley, Interim Beauty Director
Intensive Skin Serum Foundation SPF 40
Bobbi Brown
$50 AT NORDSTROM
$45 AT WALMART
$69 AT SAKS FIFTH AVENUE
"I don't like to keep a million products around, which means I love anything that can pull double duty. This foundation not only gives the light to medium coverage I'm looking for but the SPF 40 means I can feel extra protected throughout the day. Plus, this sleek packaging makes me feel fancy every time I pull it out."
— Madison Feller, Staff Writer
Skin Long-Wear Weightless Foundation SPF 15
Bobbi Brown
$49 AT SEPHORA
$25 AT NORDSTROM
$50 AT ULTA BEAUTY
"My criteria for a great foundation are as follows: It doesn't cake or flake, it looks natural enough to trick my Instagram followers, and it plays nicely with my other products. Bobbi Brown hasn't been a go-to brand for me since I stole my mom's eyeshadow as a kid, but this product changed that instantly. It blends like nothing else, makes me look super glowy, and looks great in photos, which is all I ever want. I keep gifting bottles to my friends, and now we're like a perfectly-blended, blemish-free squad."
— Tatjana Freund, Beauty E-Commerce Writer
Fit Me Matte + Poreless Liquid Foundation
Maybelline New York
$8 AT ULTA BEAUTY
"I absolutely love this Maybelline New York poreless foundation. I have sensitive skin, and this drug store reliable has never given me any trouble. For anyone looking for that perfect matte finish, this is it. Bonus: It stays on all day." — Rose Minutaglio, Staff Writer
Sunshine Skin Tint Clean SPF 30 Foundation
Milk Makeup
$42 AT SEPHORA
"My skin is not a fan of full coverage foundation. The finish is always dry and flaky…not a good look! So I will always gravitate towards a tint or CC cream. This foundation from Milk Makeup is perfect because it adds a decent amount of coverage, isn't drying, and has SPF! The product also includes plant-derived squalane that will leave your skin looking plump and moisturized." — Emily Burns, Assistant Beauty Editor
Say What?! Foundation
Uoma Beauty
$49 AT UOMABEAUTY.COM
"'Say what?' is exactly what you'll say in your head when you witness the magic of this foundation. This deceitful little gem startled me when I first pumped the product onto my face. But once I blended everything out, I looked like a more poreless, smooth, radiant version of myself." — Nerisha Penrose, Beauty Commerce Editor
Complexion Rescue Tinted Hydrating Gel Cream Broad Spectrum SPF 30
bareMinerals
$24 AT AMAZON
$34 AT JCPENNEY
$34 AT MACY'S
"I've been using BareMinerals Complexion Rescue for almost my entire adult life. Sometimes I'll try to switch to other brands for fuller coverage, or because they get great reviews, but I always end up coming back to my tried and true fav. It's the only foundation that covers up my rosacea, doesn't cake or dry, and leaves my skin looking glowy. I layer it on top of the Becca Backlight Primer and voila! It's the epitome of effortless no-makeup makeup." — Jessica Roy, Digital Director
BarePro Longwear Powder Foundation
bareMinerals
$21 AT AMAZON
"I've used BareMinerals' powder foundation since high school, but what I love about its newer performance-wear foundation is that it really evens my skin tone and covers all my blemishes without feeling heavy—and the color lasts. In the summer, I have oily skin too, so having a good matte foundation helps keep my skin's sheen in check. BareMineral's powder foundations generally feel barely there for me but still work miracles on my skin. And it never breaks me out: a major plus!"
— Alyssa Bailey, News and Strategy Editor
Ultra HD Invisible Cover Foundation
Make Up For Ever
Source: www.elle.com