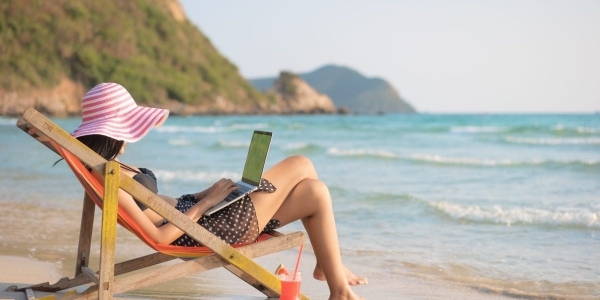 Sometimes packing up and moving your laptop to work remotely abroad feels like a big commitment. So why not just take a secret vacation instead? It involves less packing, anyway. 
Known as a "hush trip," working remotely somewhere else for a couple of weeks without letting your boss know is the latest projected trend for workers unwilling to commit to living abroad but looking for a break—a test of digital nomadism, if you will. 
"For some individuals, full-on digital nomadism is too extreme. That's precisely why 'hush trips' have the potential to be the newest travel trend in 2023," writes Becky Pokora, a credit card and travel rewards adviser for Forbes. It's essentially a secret "workcation" or "bleisure" travel. Pokora says hotels, recognizing the nascent trend, are offering discounted rates for those looking to stay a bit longer.
They have a big group to capitalize on: More than half (56%) of adults say they're very or extremely likely to partake in a hush trip in this year, finds a survey conducted by RV rental marketplace RVShare and Wakefield Research, which polled 1,000 working Americans. Thirty-six percent of Gen X and millennials already have one planned.
These workers might be what Bloomberg calls "stealth workers," who will do everything from donning a sweater in their Airbnb in Tulum to logging in as early as 2 a.m. to hide from their bosses that they're not working near company headquarters. But while hush trips sound sneaky, they might not be such a bad thing.
Consider the remote employee based in Germany who secretly worked from the Canary Islands during the winter: He told Insider that the trip helped his mental and physical health. The morale boost increased his productivity, he said, something he attributed to being promoted to a leadership role. Research shows that a vacation can help increase morale, motivation, and productivity. (It's worth noting, however, that a vacation isn't always a long-term solution for chronic burnout, as the issues will still greet you like unattended dishes when you return.)
It's everything a boss paranoid about productivity could want. The only caveat is that if a hush trip is extended from the short stint it's supposed to be, it could create cybersecurity concerns or legal issues for companies who aren't registered properly in other states or countries.
Bosses' best bet, then, might be devising flexible plans for workers to take workcations they don't need to hush about, like Google's "work from anywhere" policy that allows Googlers to work from any desired location for four weeks out of the year.
After all, "we're going through a massive kind of philosophical transition in the way we view work," Kim Ades, CEO of Frame of Mind Coaching, a career coaching firm for leaders, told Fortune. That means finding a compromise that benefits both workers and bosses.
Paranoid about productivity, many CEOs have been pushing for employees to return to the office, where they hope to keep an eye on them and foster the company's culture. But data shows employees can work just as well from home.
Until bosses accept that, workers steadfast on maintaining flexibility will continue to lead a silent rebellion by turning a blind eye to in-office mandates or trying out alternative lifestyles in search of a better work-life balance that the U.S. seems to lack: looking for second passports, embarking on digital nomad lifestyles, taking mini-retirements, or going on hush trips.