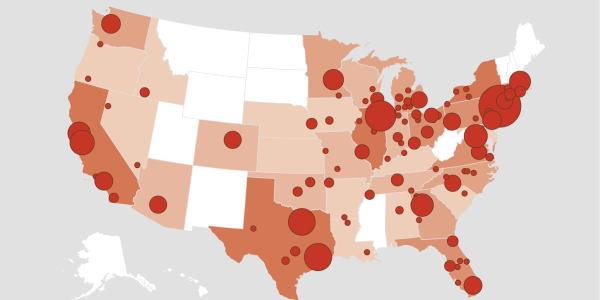 In the late 1950s, when the Fortune 500 was still just a wee babe, the big cities that dominated the index were pretty obvious: New York and Chicago reigned supreme. But now, the era of high inflation and remote work has American cities singing a different tune. As with the housing market, so with the corporate headquarters sweepstakes: The southeast and southwest are hot in more ways than their climate, and the expensive coasts are passé. And then there's Chicago.
During the inflationary age, CEOs are cutting costs in most places (if not always in their own salaries). A major way to budget these days is to relocate headquarters, as some big names in tech and finance move from Silicon Valley and the Big Apple to less pricey areas. In general, large companies aren't afraid to ship out of town and set up shop elsewhere. 
Looking back at the geographic description of Fortune 500 companies over the past three years, we found that some cities are gaining speed, while others are losing steam. And looking back to the late 1950s, we see a sea change in American business. 
New York City, which once dominated, is still the king, but sits on an ever-smaller throne. The northeast in general has been dethroned, as New York, Chicago, Detroit, Pittsburgh and Cleveland accounted for nearly half of the Fortune 500 in 1957. While it's true the earliest form of the index only tracked industrials, the landscape is vastly different today, and the south is, well, hot. 
Without mincing words, here are the winners and the capital "L" losers in 2023.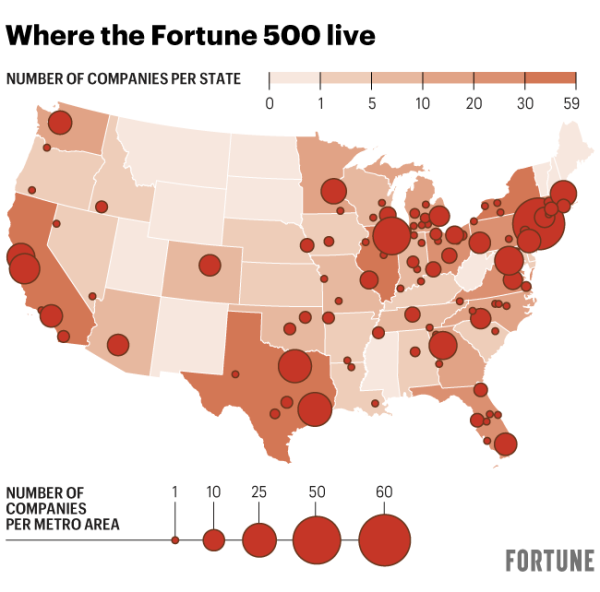 Courtesty of Nick Rapp
Don't mess with Texas
Even though New York City remains the top city for Fortune 500 companies (housing 44), the state of Texas is rising. As Fortune's Paolo Confino reports, the lone star state has the greatest number of Fortune 500 companies of any state for the second year in a row: and they account for $2.6 trillion in revenue and $226.5 billion in profit. 
Houston has the title of second most popular headquarters city for Fortune 500 firms, the Gretchen Wieners, if you will., with 22 of them headquartered in the city, though not nearly the levels of Regina George/New York. 
Unsurprisingly, energy is the name of the game in Texas, as 26 of the 55 companies that call the state home are from this industry, including the big man on campus, ExxonMobil. 
What makes Texas, or Houston for that matter, so appealing for corporations? Mostly the low cost of living and lack of taxes on businesses. Even Exxon has tightened its belt in the inflationary age, though, shedding its "God Pod" and consolidating its upper management's formerly exclusive luxury suite into its preexisting Houston campus.
Atlanta and Dallas are next up
If American Idol has taught us anything, it's that being second place can be a blessing in disguise. It's no secret that when people and companies move because a place is affordable, they often make a ripple effect that ends up negating the very pull of the city in the first place. Once you've heard of a bargain city, it's likely already hiking up in prices and no longer that sweet of a deal. Of course, companies have bigger wallets to scrape from, but for homeowners, Houston is starting to feel pricier.
In come our second and third place winners, Atlanta and Dallas, respectively. Atlanta was a fourth place city just three years ago, and while just going from 14 to 15 companies, it has gained a spot. Atlanta started making its ascent during the '90s, when it hosted 12 companies. While the southern city might offer more of a bargain for CEOs, their presence hasn't always correlated with economic growth for locals. The city has the widest income inequality based on race in the U.S., according to Atlanta Wealth Building Initiative. And Fortune 500 companies aren't really helping the matter. 
"So far, the substantial corporate presence in the city—Coca Cola, CNN, and Delta are all headquartered there—hasn't trickled much down to generate a thriving Black middle or working class," wrote Fortune's Ellen McGirt, "Neither has the presence of relative newcomers looking to leverage the waiting pool of Black talent, many of whom have become increasingly unwilling to relocate to white tech corridors like Silicon Valley or the Pacific Northwest."
Dallas consistently ranks as the fifth most populous place for Fortune 500 companies to call home. Just because they're at the same standing doesn't mean that the home of the Cowboys isn't growing. In three years, it's gone from hosting nine to 11 companies and has gradually taken the place of Philadelphia, which was fifth in 1995, when Dallas was ninth.   
A look back—and a nod to the losers
For a look back at the Fortune 500 over time, we considered not only 1957 as a representative year of the early days of the index, but also 1995, when services and financial firms were added to the 500.
In the 1950s, New York dominated as home to 136 out of the 500 companies, while Chicago was home to 47, Pittsburgh 22, and Detroit and Cleveland had 18 and 16, respectively. Of course, Pittsburgh, Detroit and Cleveland fell out of the top five, although Pennsylvania's steel city is clinging to a four-way tie for seventh place. Still, Pittsburgh's number of Fortune 500 companies has shrunk by more than 60%.
In 1995, New York and Chicago remained at the top but now with only 49 and 17 companies, much closer to their current, shrunken state. Houston had crept up by this point, taking third place with 16 companies.
Over the last three years, New York City has been consistently first place, and looks to hold that crown for some time to come, having double the number of second-placed Houston. That being said, NYC is an infamously difficult place to afford, even for companies. And some headquarters aren't simply worth the price, as downtown still remains a bit empty on most days of the week due to remote work. The ongoing commercial real estate crisis (or "apocalypse") poses a long-term headwind to New York's top spot.
Chicago, meanwhile, continues to wane, being bumped from third to fourth place as Atlanta ascends. Over the past three years, the windy city has declined from 15 to 13 companies. Compared to their prominent spots in the 1957 list, they've each declined by over 70%, quite a fall. For now, the bargains for corporate headquarters lie south.